Main Street Capital Corporation: Safe, Growing 6.9% Dividend Paid Monthly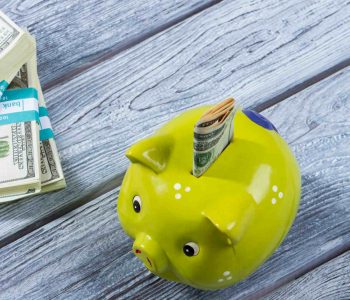 Main Street Capital Stock: High Dividend & Stock Growth
Main Street Capital Corporation (NYSE:MAIN) is an excellent, overlooked stock that provides investors with long-term growth no matter how you look at it.
MAIN stock provides a frothy, monthly dividend with a yield of 6.9%. That's pretty impressive when you consider that Wall Street is swooning, with the 10-year Treasury rate climbing to 1.6%. Main Street Capital stock also has a long history of providing investors with strong capital appreciation.
And thanks to the company's unique business model, there's every reason to believe it will continue to reward investors.
What does Main Street Capital do? Unlike most financial services companies, Main Street Capital is pretty straightforward. The company borrows money from investors at low interest rates and then lends that money to small and midsized businesses at higher interest rates. (Source: "Summary Fact Sheet as of December 31, 2020," Main Street Capital Corporation, December 31, 2020.)
Thanks to strict regulations from Washington, D.C., which have forced banks to cut back lending to midsize companies, this is an underrepresented field, meaning Main Street Capital doesn't face the same kind of competition it would from big banks if it invested in larger companies.
Main Street Capital targets middle-market companies with annual revenues between $10.0 and $150.0 million and earnings before interest, taxes, depreciation, and amortization (EBITDA) between $3.0 and $20.0 million. The average investment size is $13.5 million.
The equity that Main Street Capital Corporation loans out comes with pretty favorable conditions. Most of the loans have variable rates, which means they rise as interest rates do. Moreover, because its equity has senior status, Main Street Capital gets paid before anyone else does.
The combination of profitable companies and senior status loans has resulted in an exceptionally low default rate for Main Street Capital.
In addition to making money from loans, Main Street Capital also takes an equity position in each company it lends to. Its portfolio currently stands at about 175 companies.
Since 2008, MAIN Stock Has Never Decreased Its Monthly Dividend
This setup has provided Main Street Capital Corporation with a steady income stream, which it passes on to investors. Since 2008, the company's recurring monthly dividend has never decreased. In fact, the dividend has experienced massive growth, advancing 86% from $0.33 per share in the fourth quarter of 2007 to $0.615 per share in the second quarter of 2021.
That works out to $0.205 per share each month, or 6.9% on an annual basis.
Main Street Capital also supplements its monthly dividends with special dividends. To date, it has doled out $4.04 per share in special dividends.
The payout remains safe, too. In the fourth quarter of 2020, Main Street Capital reported net investment income of $36.6 million ($0.59 per share) and distributable net investment income of $42.3 million ($0.63 per share). (Source: "Main Street Announces 2020 Fourth Quarter and Annual Results," Main Street Capital Corporation, February 25, 2021.)
Main Street Capital Stock Trounces the Broader Market
High-yield stocks generally come with a risk/reward trade-off, as in they give you a big dividend but you say goodbye to your initial investment. But this isn't the case with Main Street Capital.
As you can see in the chart below, MAIN stock is one of the most reliable stocks on Wall Street. From 2009 to 2019, it soared by 981%, at a compound annual growth rate of 26.8%.
Main Street Capital stock is down 3.3% year-over-year but up 257% since the March 2020 low and up 17.7% year-to-date. It still needs to climb an additional 10% just to get to its pre-coronavirus-fueled sell-off highs.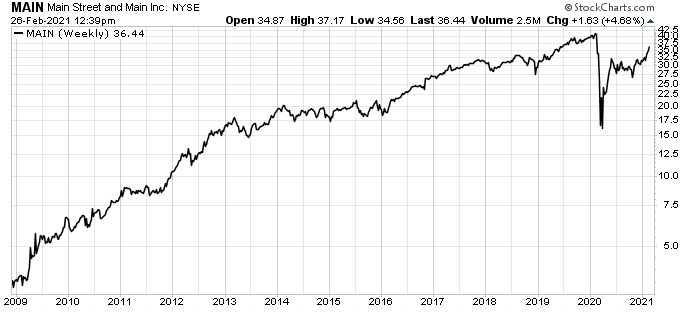 Chart courtesy of StockCharts.com
Even when you factor in the 2008–2010 recessionary period and the March 2020 stock market crash, MAIN stock is still trouncing everyone else.
Since late 2007, when Main Street Capital stock first went public, to today, the total market return (with dividends reinvested) is 565.8%. Over the same period, Main Street Capital's peer group is up 424.8%, the S&P 500 is up 221.8%, the Russell 2000 is up 186.3%, and the KBW Nasdaq Regional Bank Index is up 2.4%.
The Lowdown on Main Street Capital Corporation
Thanks to its diverse portfolio and favorable lending terms, Main Street Capital Corporation is a cash cow for income-starved investors.
As mentioned earlier, MAIN stock provides a frothy, stable monthly dividend that has never decreased. Moreover, its share price consistently outperforms the broader market and its peers, regardless of what kind of economic cycle we're in.