Main Street Capital Corporation: Finally, A Safe High-Yield Stock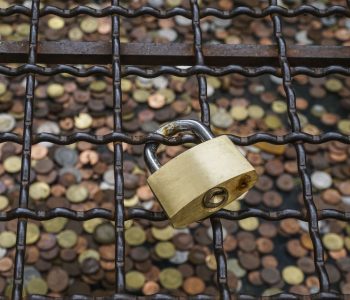 iStock.com/bbbrrn
Main Street Capital Corporation Now Pays 7%
I usually avoid high-yield stocks, and for good reason.
Each day, I screen the market for new investment ideas. And with a few mouse clicks, you can pull up dozens of high-yield securities. Right now, for instance, 120 stocks now pay out more than 10%. 
Those yields might sound great, until you look at the companies behind them; they're mostly junk. The companies behind these high-yield stocks often fail to generate enough cash to cover their distributions. In most cases, it's only a matter of time before the payout gets slashed. 
That said, sometimes you do find exceptions. Over the years, I've found pockets of safe high-yield stocks buried in the trash. You just need to shift through a lot of rubbage. And recently, I found one of these "pockets" in the lending business: Main Street Capital Corporation (NYSE:MAIN).
Main Street's business model is pretty straightforward to wrap your head around: the company lends money to other businesses and collects interest payments. The profit comes from the spread between the yield earned on these loans and its cost of capital. 
But here's what separates Main Street Capital Corporation from traditional banks: it generally targets only firms with between $50.0 million to $100.0 million in annual sales. In other words, these aren't fledgling tech startups or mom-and-pop operations; these are real companies with real cash flow. 
This has emerged as a lucrative niche in recent years. Because of hefty new regulations out of Washington, D.C., banks have cut back lending to midsize companies. So with less competition, Main Street has the freedom to charge hefty interest rates on deals.
Tight lending conditions also allows management to enforce strict conditions on loans. Most of Main Street's loans come with variable rates, which will automatically increase as interest rates start to rise. Furthermore, Main Street typically enjoys senior status on their loan deals. So if a borrowing runs into financial difficulty, the company gets paid before anyone else. 
This has created a great income stream for shareholders. Management has boosted the regular monthly dividend on 23 occasions since 2007, which now tops $0.201 per share. These payments are supplemented through semi-annual special dividends. Combined, that means shares pay an upfront yield of six percent. 
I love this dividend policy. First, the small, monthly distributions create an income stream investors can count on. The special dividends, however, fluctuate with the profitable of the business. That allows executives to reward shareholders in a boom year and conserve cash during lean times. Wall Street seems to like the formula, as you can see in the chart below: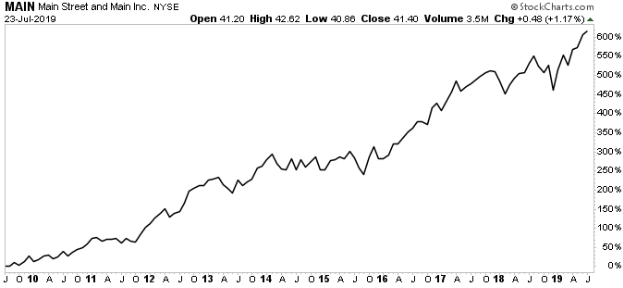 Chart courtesy of StockCharts.com
Of course, Main Street Capital Corporation comes with potential downsides. If the economy stalls, the company could see an uptick in defaults. That said, the company has positioned itself for any downturn by diversifying its loan book, enforcing strict loan covenants, and restricting loans to only the highest-quality businesses.
For those reasons, income investors should give this high-yield stock a second look.