Magic Software Enterprises Ltd: 119% Dividend Increase…from a Tech Stock?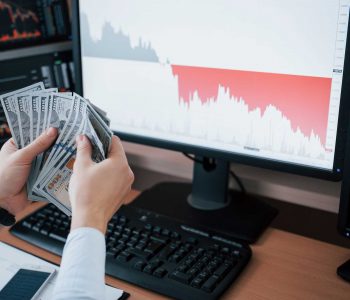 Why This Dividend Stock Looks Interesting
Tech stocks and dividends don't always go hand in hand. In fact, even the most established tech companies may choose not to pay a dividend. For instance, Amazon.com, Inc (NASDAQ:AMZN) and Alphabet Inc (NASDAQ:GOOGL) both have market capitalizations of over $1.0 trillion, but neither of them has paid a single penny in cash dividends.
And yet, a much, much smaller tech company has just given an enormous "pay raise" to its shareholders.
I'm talking about Magic Software Enterprises Ltd (NASDAQ:MGIC), a global enterprise software company headquartered in Or Yehuda, Israel. The company provides enterprise-grade application development and business process integration software solutions, as well as a wide range of integration and IT professional services.
With a market capitalization of around $700.0 million, Magic Software Enterprises Ltd isn't really big enough to make headlines often in financial media. It's also not a particularly well-known name among dividend investors for the simple reason that it pays dividends semi-annually rather than quarterly. However, its latest announcement should be brought to the attention of income investors.
On Thursday, August 13, Magic Software announced that its board of directors had declared a semi-annual cash dividend of $0.175 per share. The dividend will be paid on September 10, 2020 to shareholders of record as of August 27. (Source: "Magic Reports Second Quarter and First Half 2020 Financial Results with Record-Breaking Operating Income of $9.8 million, reflecting a 22% Year Over Year Growth, and Announces Distribution of Semi-Annual Cash Dividend of $8.6 Million for the First Half of 2020," Magic Software Enterprises Ltd, August 13, 2020.)
Considering that the company's previous semi-annual dividend was $0.08 per share, the new payment represented a 118.8% increase.
In other words, this small-cap tech stock has more than doubled its payout.
The business looks pretty solid, too. The company reported earnings on the same day as its latest dividend announcement. The report showed that, in the second quarter of 2020, Magic Software generated $86.5 million in revenue, which represented a 12% increase year-over-year. (Source: Ibid.)
Keep in mind that due to the COVID-19-related shutdowns, the second quarter of this year was an extremely difficult period for a lot of businesses around the world. And yet, this little-known tech company managed to churn out a double-digit percentage top-line growth rate.
And things get even more impressive as you move to the bottom line. For the quarter, Magic Software's adjusted operating income grew 14% year-over-year to $12.2 million. Adjusted net income came in at $0.17 per diluted share, up 21% from the $0.14 per share earned in the year-ago period.
The reality is, even though MGIC stock is not a popular ticker, the company has been running a solid business.
It serves more than 3,000 customers around the globe, including well-known companies like BNP Paribas S.A., GE Capital, Sennheiser electronic GmbH & Co., and Sharp Corporation.
The business is also geographically diverse, with the U.S. accounting for less than 50% of the company's total revenue. (Source: "Financial Fact Sheet," Magic Software Enterprises Ltd, last accessed August 13, 2020.)
And while the world economy still faces a lot of uncertainty going forward, Magic Software has reaffirmed its guidance. Management continues to expect the company to generate $350.0 million to $360.0 million of revenue in full year 2020, which, on a constant currency basis, would translate to an annual growth rate of 7.5% to 10.6%.
Now, I should point out that it wasn't always sunshine and rainbows for dividend investors of Magic Software stock. In particular, the company's previous semi-annual cash dividend of $0.08 per unit was 48.7% lower than the $0.156 per share semi-annual payment that came before that. (Source: "MGIC Dividend History," Nasdaq.com, last accessed August 13, 2020.)
Still, with the newly declared semi-annual dividend of $0.175 per share, the company's payout is now above the pre-pandemic level.
Magic Software Enterprises Ltd (NASDAQ:MGIC) Stock Chart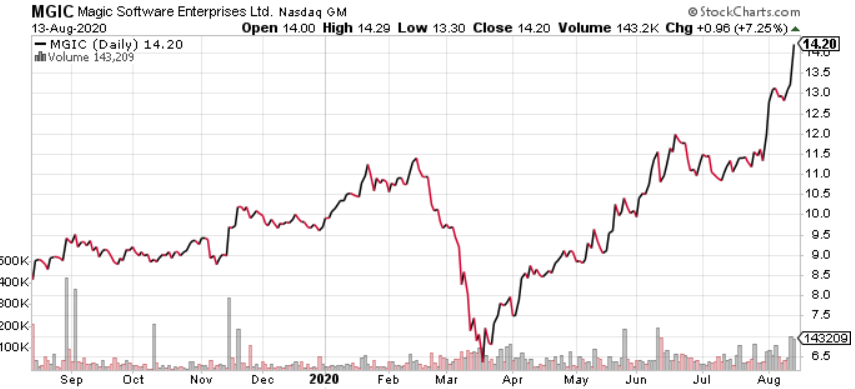 Chart courtesy of StockCharts.com
Bottom Line on Magic Software Enterprises Ltd
Trading at $14.20 per share, MGIC stock has an annual dividend yield of 2.5%.
The yield itself does not seem like much, but long-time shareholders of the company should be happy. Over the past 12 months, Magic Software stock surged 64.9%. For income investors who want to get a piece of the action of the booming enterprise software industry, MGIC is worth a serious look.