7.7%-Yielding Magellan Midstream Partners Stock Up 16.6% Year-Over-Year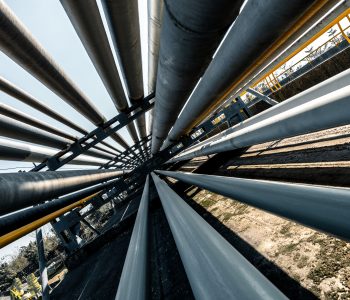 Why MMP Stock Is Compelling
The surprise cut to oil production from our friends at the Organization of the Petroleum Exporting Countries Plus (OPEC+) has given a significant boost to oil-related stocks like Magellan Midstream Partners LP (NYSE:MMP).
Before OPEC+ announced it would be voluntarily cutting production by about 1.1 million barrels per day this year, oil prices had been trending lower on concerns about rising interest rates and a potential recession. The cartel said it wants to support oil prices at $80.00 per barrel, but most analysts expect them to broach $100.00 per barrel by the summer.
Since April 2, when OPEC+ made its announcement, oil prices have surged higher than $80.00 per barrel. Some of the biggest initial winners in the wake of the announcement and resultant oil-price hike were pipeline stocks, including Magellan Midstream Partners stock.
Magellan Midstream Partners is a master limited partnership that transports, stores, and distributes petroleum products. (Source: "Overview of Magellan Midstream: March 2023," Magellan Midstream Partners LP, last accessed April 4, 2023.)
The company has the longest pipeline system for refined petroleum products in the U.S., with access to nearly 50% of the nation's refining capacity. Magellan's infrastructure includes 9,800 miles of pipeline, 54 terminals, and more than 100 million barrels worth of storage capacity for petroleum products (i.e., crude oil, gasoline, and diesel fuel).
The partnership is basically a toll operator to oil companies. If the oil companies want access to Magellan Midstream Partners' essential infrastructure, they have to pay for the privilege. Magellan's business model primarily involves fee-based, low-risk activities, which account for more than 85% of the company's future operating margin.
Like with other midstream energy companies, Magellan Midstream Partners LP's contracts include inflation escalators. In mid-2022, the company's fees increased by an average of six percent. Moreover, the partnership's contracts are take-or-pay, which means its clients need to pay up even if they don't use Magellan's pipelines. This provides the company with steady cash flow, which it uses to fuel its high-yield dividends and share buybacks.
21 Years of Uninterrupted Dividend Growth
In 2022 alone, MMP stock returned more than $1.3 billion to investors through quarterly cash distributions and equity repurchases. Magellan Midstream Partners LP, which has raised its dividend annually for 21 consecutive years, targets annual dividend growth of at least one percent.
After 21 years of dividend increase, you'd expect Magellan Midstream Partners stock's payout to be safe, and it is. In 2022, the company generated distributable cash flow of $1.1 billion, or 1.3 times the amount needed to pay its 2022 distributions. (Source: "Magellan Midstream Reports Fourth-Quarter 2022 Financial Results," Magellan Midstream Partners LP, February 2, 2023.)
In 2023, the partnership expects to bring in distributable cash flow of $1.2 billion and have distribution coverage of 1.4 times. Longer term, Magellan Midstream Partners is targeting annual distribution coverage of at least 1.2 times.
MMP stock currently pays quarterly dividends of $1.0475 per unit, which works out to, as of this writing, an inflation-crushing dividend yield of 7.7%. (Source: "Cash Distributions & Qualified Notice," Magellan Midstream Partners LP, last accessed April 4, 2023.)
As mentioned earlier, Magellan also returns value to its shareholders through share buybacks. Over the last three years (through the fourth quarter of 2022), the company repurchased 26 million units of its own stock for $1.3 billion. This reduced its total outstanding units by 11%.
The buybacks have helped increase the returns from Magellan Midstream Partners stock. Since 2020, including the unit buybacks, the returns from MMP stock have expanded at a compound annual growth rate (CAGR) of eight percent. Without the buybacks, the CAGR would have been four percent.
Magellan Midstream Stock Trading at Record Levels
Even before OPEC+ announced their planned oil production cuts and the price of oil started rising, shares of Magellan Midstream Partners LP were doing exceptionally well. In late January, MMP stock hit a new record high of $59.39.
Magellan Midstream Partners stock has retraced a little since then, but—as of this writing—it's still up by:
Eight percent over the last six months
Nine percent year-to-date
16% year-over-year
MMP stock has been performing exceptionally well for more than two decades. Since going public in February 2001, Magellan Midstream stock has advanced by an impressive 2,798%. Over the same period, the S&P 500 has only gone up by 199.8%.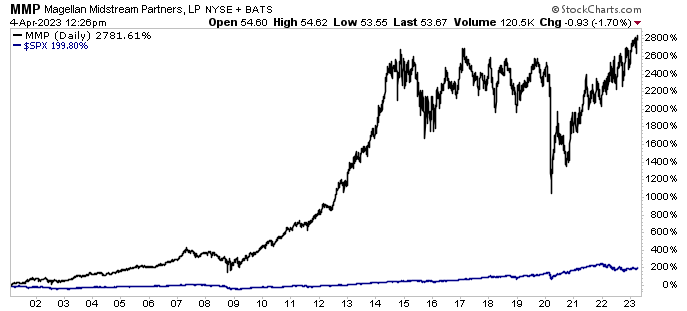 Chart courtesy of StockCharts.com
The Lowdown on Magellan Midstream Partners LP
What's not to love about Magellan Midstream Partners stock?
Its straightforward, primarily fee-based, business model with built-in toll escalators generates a stream of cash flow that has helped support MMP stock's ultra-high-yield dividends (that have increased for 21 consecutive years). In addition to providing the best payouts in its industry, Magellan Midstream Partners stock's share price has been on fire lately.
The company is an investment-grade master limited partnership with the longest refined petroleum product pipeline system in the U.S. With an infrastructure that will be needed for decades, Magellan Midstream Partners LP should continue rewarding buy-and-hold income hogs for years to come.