Magellan Midstream Partners, L.P.: This Dividend "Triple-Play" Yields 6%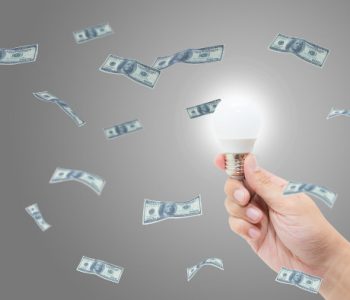 iStock.com/narith_2527
A Home Run for Investors?
It's the "triple-play" of dividend investing.
I love to see companies with outsized margins, growing cash flows, and a long history of dividend payments. Throw in a decent upfront yield, and you have the recipe for a top dividend stock.
With all of these attributes in hand, it's no wonder that income investors have fallen in love with Magellan Midstream Partners, L.P. (NYSE:MMP). The pipeline owner has boosted its distribution for 17 consecutive years. Those small, steady increases add up over time. Today, the stock comes with a dividend yield of almost six percent.
But can this business continue to deliver such robust dividend increases going forward? Possibly. Let's dive into this payout.
First off, Magellan's distribution sits on a solid foundation.
In 2017, the business generated $1.0 billion in distributable cash flow. Through that period, management paid out $803.0 million in distributions. (Source: "Magellan Midstream Partners, L.P. Form 10-K," Magellan Midstream Partners, L.P., February 16, 2018.)
In other words, Magellan paid out 80% of the cash it generated. That figure sits near the upper end of my comfort zone for most dividend stocks. But given the recession-proof nature of the pipeline business, unitholders don't have much to worry about.
These cash flows will likely continue to grow, too.
New technologies have unlocked vast quantities of oil and natural gas across the country. To accommodate the boom, the industry needs more of everything, from pipelines and terminals to storage plants and processing facilities.
Magellan has found itself right in the middle of this bonanza. With more barrels flowing through its network, the partnership has seen revenues surge over the past few years. And with production outstripping capacity, pipeline businesses like Magellan have also managed to raise tariffs.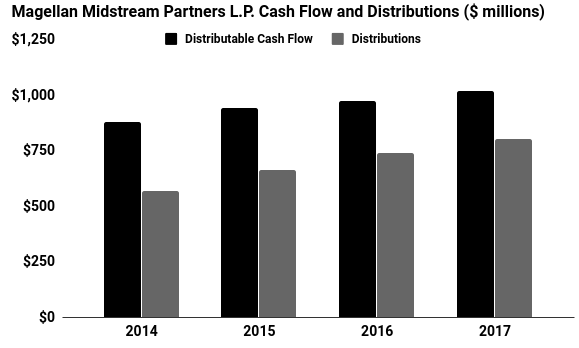 (Data source: Ibid.)
Over the next few years, analysts see the partnership's profits growing a high-single-digit clip. Most of those profits should get passed onto unitholders.
Of course, these figures aren't set in stone.
Magellan finances much of its expansion with debt. If interest rates rise, the partnership's ability to take on new projects—and, by extension, pay out higher distributions—would be curtailed.
A prolonged slowdown in the oil patch would also clip the company's earnings. Even though commodity prices don't directly impact Magellan's profits, a downturn in the energy market would eventually mean fewer barrels of oil flowing through its pipelines.
Risks aside, Magellan has a lot of the characteristics I look for in a top dividend stock. And when you line up so many factors, it often results in a grand slam home run for investors. This income "triple-play" will likely deliver outsized returns for unitholders over the next few years.