Magellan Midstream Partners, L.P.: This 7% Yield Could Double in Five Years
iStock.com/thexfilephoto
Magellan Midstream Partners, L.P. Worth a Serious Look
If you're looking to earn more investment income, this boom presents one of the biggest opportunities over the next decade.
Regular readers know the potential of America's shale revolution. New technologies, such as horizontal drilling and hydraulic fracturing, have unlocked vast quantities of energy. This boom has turned the country into the Saudi Arabia of natural gas and an exporter of refined oil products like gasoline.
The problem? Soaring production has outstripped the industry's ability to physically move and store all of these hydrocarbons. That has created fortunes for pipeline companies, as they can boost tariffs on existing supply routes and expand operations.
Case in point: Magellan Midstream Partners, L.P. (NYSE:MMP). The partnership owns 9,700 miles of refined product pipelines, in addition to terminals, storage tanks, and processing facilities. And by quietly buying up strategic infrastructure assets, Magellan has earned jaw-dropping profits from America's shale revolution.
For proof, take a quick glance at the partnership's financial statements. Last quarter, Magellan's toll income jumped seven percent year-over-year to $460.7 million. Management also boosted their earnings guidance, projecting distributable cash flow of $1.2 billion in 2019. (Source: "Magellan Midstream Reports First-Quarter 2019 Financial Results," Magellan Midstream Partners, L.P., May 1, 2019.)
Most of this money will likely get passed on to unitholders. Magellan has tripled the size of its distribution since 2009, boosting its payout even through the last financial crisis. Today the company pays a quarterly distribution of $1.00 per unit, which comes out to an annual yield of almost seven percent. (Source: "Investors," Magellan Midstream Partners, L.P., last accessed June 18, 2019.)
And Wall Street, it seems, has started to catch on. Investment research house Johnson Rice & Company L.L.C. initiated coverage on the partnership last month, begging its clients to start buying. Several large hedge fund managers, including billionaire T. Boone Pickens, have accumulated large positions. (Source: "Magellan Midstream Partners Lp (MMP) – Hedge Fund Holdings," Insider Monkey, last accessed June 13, 2019.)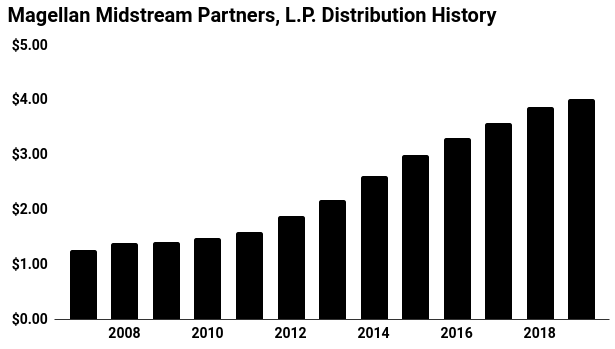 (Source: "Investors," Magellan Midstream Partners, L.P., op. cit.)
The Bottom Line on MMP Stock
Of course, like any stock, there's no guarantees with Magellan Midstream Partners. Because the partnership's distributions resemble bond coupons, higher interest rates would crush the unit price. Any downturn in the oil patch would also slow the pace of future distribution hikes.
That said, I expect those returns to keep rolling in. Management has a long list of potential expansion opportunities, with a secured project backlog topping $500.0 million. Fee hikes, cost cuts, and debt refinancing should also provide opportunities to boost the company's cash flow. (Source: "MLP & Energy Infrastructure Conference," Magellan Midstream Partners, L.P., last accessed June 18, 2019.)
Income investors should take notice.