Magellan Midstream Partners, L.P.: This 7% Yield Keeps Growing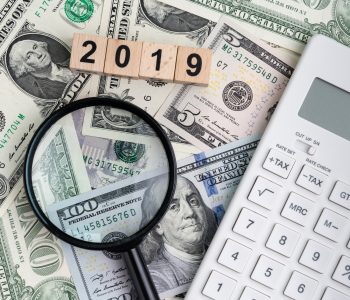 iStock.com/Nuthawut Somsuk
1 Top Dividend Stock for 2019
In the past, I have told readers about a group of dividend stocks that would outperform the market in the years ahead.
I call these stocks "guaranteed oil pension checks." They enjoy entrenched market positions, generate steady cash flow, and have grown earnings faster than most large-cap companies.
Better still, these stocks offer high yields. Many in this group pay out dividend yields twice as large as blue-chip stocks like Procter & Gamble Co (NYSE:PG) and The Coca-Cola Co (NYSE:KO).
That's why I predicted money would pour into these names in 2019, as well as in the years ahead. We've seen this with two little-known dividend-payers I discussed last year, Enbridge Inc (NYSE:ENB) and Williams Companies Inc (NYSE:WMB).
These stocks have rallied 22.5% on average over the past few weeks. Meanwhile, the S&P 500 has returned only 10% over the same period.
In short, if you're looking for safe, high yields, you should turn to these "guaranteed oil pension checks." And today, we have the chance to buy another top name in this space at a bargain price.
Like Enbridge and Williams, most people have never heard of Magellan Midstream Partners, L.P. (NYSE:MMP). Management has carved out a lucrative niche in the energy business, shipping refined petroleum products across the country. The partnership owns 9,700 miles of pipelines, shipping products like gasoline, jet fuel, and heating oil.
In short, these assets serve as the "toll roads" of the energy patch. Magellan earns a small fee on each barrel that flows through its network. The partnership's customers include oil giants like ConocoPhillips (NYSE:COP), Chevron Corporation (NYSE:CVX), and Exxon Mobil Corporation (NYSE:XOM).
These giants turn to Magellan Midstream Partners, L.P. for one basic reason: they don't have any choice. On most of the routes the partnership serves, Magellan owns the only pipeline between points A and B. Rivals just can't get approval to build another link from landowners and regulators.
For investors, this translates into steady income. Magellan Midstream Partners, L.P. has hiked its distribution more than sixfold since going public in 2001. Today, units pay a large, upfront yield of 3.9% yield. That's more than double the S&P 500.
And the partnership might just be getting warmed up. Thanks to new drilling technologies, the industry has unlocked vast swaths of oil and gas across the country. Some analysts predict the United States could become a net energy exporter by 2020—the first time in over 70 years.
Magellan Midstream Partners has started to cash in. Thanks to a shortage of energy infrastructure, management has raised fees on existing routes. Executives have also plowed billions into building new pipelines, storage terminals, and processing plants.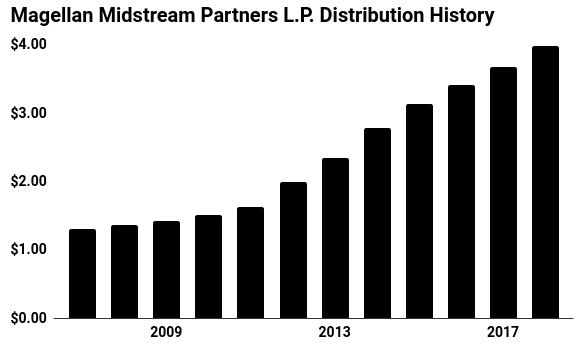 Source: "Cash Distributions," Magellan Midstream Partners, L.P., last accessed February 11, 2019.

Despite this, units of MMP still trade near 52-week lows. Investors have lost interest in traditional dividend stocks, looking to make faster returns in technology or other sectors.
That has left units cheap, trading at less-than-15-times operating cash flow. For comparison, the average company in the S&P 500 trades at around 21 times operating cash flow.
But you want to look at stocks like MMP when it's in Wall Street's doghouse. It's the same sort of situation we saw with Enbridge and Williams last year.
And I don't expect the sell-off to continue for much longer. Magellan is a cash cow business with growing cash flows. And with a number of big growth catalysts, this business will run laps around other large-cap stocks like PepsiCo, Inc. (NASDAQ:PEP) and McDonald's Corp (NYSE:MCD) in the years ahead.
That's why I expect money to pour into Magellan Midstream Partners, L.P. and "guaranteed oil pension checks" like it over the next few years.
If you're looking for a safe place to make money right now, I recommend looking into this group of stocks today. They likely represent the best investment opportunity of 2019 and beyond.