Magellan Midstream Partners, L.P.: 7% Payout Keeps Growing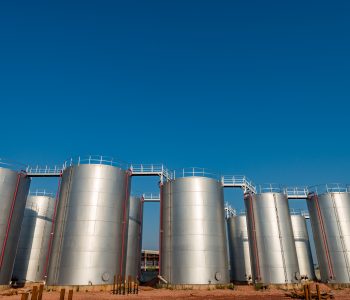 Is Magellan Midstream Partners, L.P.'s Payout Safe?
The nation's shale revolution has revived the American energy industry. It has also created opportunities for American investors.
In 10 years, new technologies have unlocked billions of barrels of oil and gas from shale fields across the country. The United States has gone from begging hostile countries for supplies to stealing their customers. And thousands of ordinary people have made fortunes in the process.
One of the big winners from this bonanza: pipeline owner Magellan Midstream Partners, L.P. (NYSE:MMP). With more barrels flowing through its facilities, profits have surged. And with a yield topping seven percent, income investors have taken notice.
But can you really bank on Magellan's big payout? Any prospective unitholder will want to dig into the financials before trusting such a high yield. Let's review the numbers.
Magellan has my favorite trait when evaluating the dividend safety of any stock: a conservative management team.
In 2019, the partnership's distributable cash flow topped $1.3 billion. From that total, executives paid out only $921.6 million in distributions. (Source: "2019 Annual Report," Magellan Midstream Partners, L.P., last accessed February 25, 2020.)
That comes out to a payout ratio of 71%. Generally, I like to see businesses keep this figure below 90% to give management a little bit of wiggle room. So Magellan sits well within my comfort zone.
Those cash flows will likely keep growing, too.
Each year, Magellan Midstream Partners, L.P. boosts the fees on its existing routes by two or three percent. Higher volume should grow slowly but relentlessly over time.
Further out, the completion of new pipeline projects should pad the company's bottom line. Production growth continues to outstrip available infrastructure, especially in shale fields like Bakken, Eagle Ford, and Permian Basin. That means plenty of demand for new pipelines, storage tanks, and processing facilities.
Tallied together, Wall Street projects that Magellan will grow its cash flow at a mid-single-digit annual clip. But given management's tendency to beat expectations, those numbers could be conservative.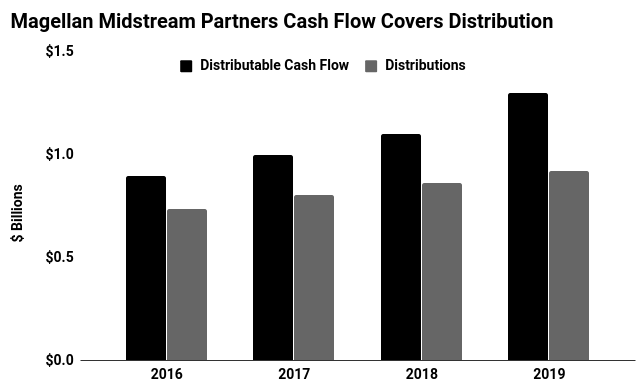 (Source: "Financials," Magellan Midstream Partners, L.P., last accessed February 25, 2020.)
So what could go wrong here? A prolonged slowdown in the oil patch would bite into profits.
Magellan Midstream Partners, L.P. charges fees on every barrel flowing through its network, so the partnership doesn't have direct exposure to energy prices. But if weak commodity prices drag on, producers will stop drilling new wells. That would mean less income for Magellan and fewer dividend hikes for unitholders.
But at the moment, this partnership has given itself plenty of wiggle room to survive any slump in the energy industry. That means investors should be able to trust its seven percent payout.