Magellan Midstream Partners, L.P.: Energy "Toll Road" Yields 7%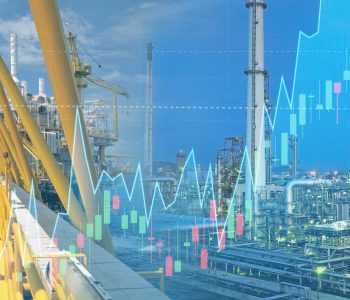 iStock.com/think4photop
Magellan Midstream Partners, L.P. Hikes Distribution
I coined the acronym "ROCK" to describe businesses with Recurring revenues, Outstanding margins, Capital-light operations, and a Kingpin position. Those features allow ROCK companies to generate gargantuan free cash flow and pay out growing dividends.
If you want to earn more income in the stock market, then you want to give ROCK businesses a look.
One such business is Magellan Midstream Partners, L.P. (NYSE:MMP). The partnership operates a network of oil and gas pipelines, which generates steady, ongoing toll income. Because it often makes sense to have only one pipeline between two destinations, Magellan enjoys a monopoly position in most of the markets it serves. As a result, management can extract large fees from its customers.
You can see these attributes show up in Magellan's financial results.
Last quarter, the partnership reported $0.21 in profit on every dollar of capital invested in the business. Distributable cash flow jumped 22% year-over-year to $318.0 million. That represents a jaw-dropping figure, considering that most companies now squeeze out any profit growth whatsoever. (Source: "Magellan Midstream Reports First-Quarter 2019 Financial Results," Magellan Midstream Partners, L.P., May 1, 2019.)
This has allowed management to return more money to investors. Since going public, Magellan has boosted its distribution to unitholders on 68 occasions. Even through the financial crisis, the steady, recurring revenues from the partnership's pipeline operations allowed it to continue making payment increases.
The most recent increase came last month. In late April, executives boosted the first-quarter distribution seven percent to almost $0.94 per unit. That raises the forward yield on shares to seven percent. (Source: "Magellan Midstream Increases Quarterly Cash Distribution to $1.005," Magellan Midstream Partners, L.P., April 25, 2019.)
Those growing distributions have paid off for investors. Since 2001, Magellan has delivered a total return, including dividends, of 1,750%. That crushed the 230% gain from the broader S&P 500 over the same period.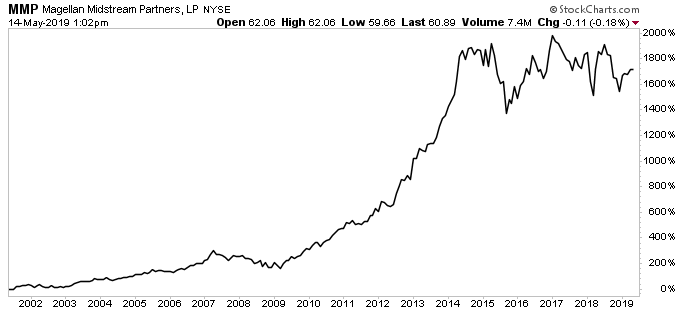 Chart courtesy of StockCharts.com
Of course, you have no sure things when it comes to investing. A sharp spike in interest rates often triggers sell-offs in pipeline stocks. A sustained downturn in the oil patch could slow the pace of Magellan's expansion.
That said, the characteristics of this partnership's pipeline business should allow it to generate outsized capital gains and distributions for many decades to come. That's the benefit of investing in ROCKs.