Magellan Midstream Partners, L.P.: This Dividend Blue Chip Pays 6.6%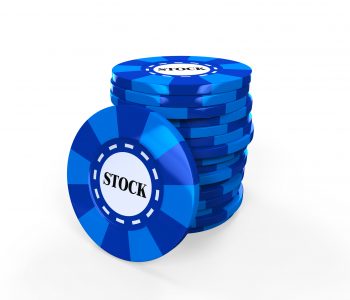 iStock.com/Nerthuz
Are You Familiar with This Blue-Chip Stock?

Today's chart highlights one of my favorite blue-chip dividend plays, Magellan Midstream Partners, L.P. (NYSE:MMP).
Now, you may be wondering: "Shouldn't blue-chip companies be household names? Why haven't I heard of this stock before?"
Well, despite not being as famous as Johnson & Johnson (NYSE:JNJ) or The Coca-Cola Co (NYSE:KO), Magellan Midstream Partners, L.P. deserves to have "blue chip" status in the world of dividend stocks.
Why MMP Stock Is a Top Pick for Income Investors
Magellan Midstream Partners is one of the biggest players in America's pipeline business. It has more 9,700 miles of refined products pipeline, 2,200 miles of crude oil pipeline, and a 1,100-mile ammonia pipeline system.
Pipelines are very expensive to build. But once up and running, they don't cost that much to operate and maintain. As a result, the business generates oversized cash flows.
The best part is, even if you have tons of money, you can't just enter the industry and compete with an existing pipeline operator. The reason is simple: once a pipeline system is up and running, the government usually won't approve the proposal to build another set of pipelines running alongside the existing one.
And right now, Magellan Midstream Partners has the longest refined products pipeline system in the U.S., with access to nearly 50% of the country's refining capacity.
Based on the nature of the pipeline business I just talked about, Magellan can basically operate like a monopoly.
Other than transporting energy products, the company also provides storage services.
The partnership's refined products pipeline system consists of 53 connected terminals and 26 independent terminals. In addition, Magellan has crude oil storage facilities with an aggregate storage capacity of around 28 million barrels. The partnership also operates five marine terminals with an aggregate storage capacity of around 26 million barrels.
A Dividend Giant Most People Have Never Heard Of
The interesting thing is, while Magellan Midstream Partners, L.P. has a deeply entrenched position in the U.S. energy industry, most of the public is not really familiar with it.
This could be due to the fact that the business is structured as a master limited partnership (MLP) rather than a regular company.
You see, if an income investor is trying to make a buck in the stock market, they tend to look for the word "dividend."
But as an MLP, Magellan Midstream Partners' payout to investors are called "distributions" rather than "dividends." In fact, if you take a look at the company's investors relations page about its cash payments to investors, you won't find any mention of the word "dividend." (Source: "Cash Distributions," Magellan Midstream Partners, L.P., last accessed February 1, 2019.)
Still, despite not being a "dividend stock" in the strictest sense, Magellan has done a better job at serving income investors than the vast majority of traditional dividend stocks.
The partnership went public in 2001 with a quarterly distribution rate of $0.13125 per unit. Today, the amount stands at $0.9975 per unit. That translated to a total increase of 660%.
The chart below shows MMP stock's distribution history in the past decade.
Magellan Midstream Partners, L.P. Distribution History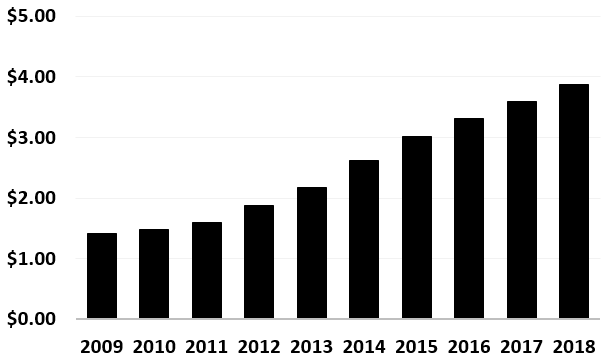 (Source: Ibid.)
If you dig into the details, you'd see that MMP stock's distribution history is actually more impressive than what the above chart suggests. This is because, while most companies would be proud if they can raise their dividend once a year, Magellan Midstream Partners has been raising its cash distribution every quarter since 2010.
Other than its monopoly-like business model and solid track record of growing distributions, another reason why I consider Magellan Midstream Partners a blue-chip company is the safety in its payout.
For risk-averse income investors, commodity price volatility is something to be aware of in the energy business. The good news is, operating pipelines and storage terminals is one of the most stable businesses in the energy sector. At Magellan, the partnership expects fee-based, low-risk activities to contribute to more than 85% of the partnership's future operating margin. (Source: "Tulsa MLP & Midstream Conference," Magellan Midstream Partners, L.P., December 13, 2018.)
By running a largely fee-based business, MMP has no problem supporting its distribution increases, even in a hostile commodity price environment.
Oil prices had a tough run in 2018, especially towards the end of the year. But this pipeline operator was doing just fine. In 2018, Magellan Midstream Partners generated $1.1 billion in distributable cash flow, which not only represented an 8.6% increase from 2017, but also marked a new record for the partnership. (Source: "Magellan Midstream Reports Fourth-Quarter 2018 Financial Results," Magellan Midstream Partners, L.P., January 31, 2019.)
Most importantly, MMP's distributable cash flow provided 1.26 times coverage for its cash distributions paid in 2018. That's quite a sizable margin of safety.
Earn a 6.6% Yield Today, Get a Pay Raise in the Future
Because Magellan Midstream Partners isn't really as well known as the other blue-chip dividend stocks, its unit price hasn't risen that much when the stock market has rallied in the last several years. As a result, the partnership can still offer a decent yield to today's investors.
Trading at just over $60.00 apiece, MMP stock has an annual distribution yield of 6.6%. That's more than twice the yield offered at Coca-Cola or Johnson & Johnson.
And the best could be yet to come. For 2019, management is targeting a per-unit cash distribution growth rate of five percent. At the same time, they expect Magellan Midstream Partners to generate more than $1.1 billion in distributable cash flow in 2019, which would be 20% more than what's needed to pay distributions for the year.
For investors looking for a high-yield stock that they can actually count on, MMP stock is one of the few names worth considering.