Macy's Stock: Massive Upside for Macy's Inc?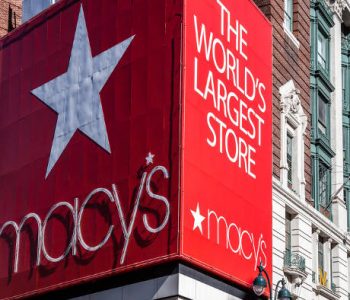 Macy's Stock: A "Not as Bad as You Think" Opportunity
When many companies in the stock market are yielding next to nothing, Macy's Inc (NYSE:M) stock's 3.36% dividend yield certainly stands out. What's more is that other than being a top pick for dividend investors, Macy's stock could also bring investors some nice capital gains in the future.
Let me explain.
When an industry is facing headwinds, companies in that industry will almost always lose investor appeal. For instance, as viewers shift from cable television to on-demand video streaming, cable TV companies' stocks are having a hard time finding an audience. And when consumers are moving from physical stores to online channels, it doesn't bode well for traditional retail stocks.
But if a company's situation turns out to be not as bad as markets thought it would be, its beaten-down valuations could bounce back, and investors who didn't give up on the company could enjoy some sizable returns.
I call these "not as bad as you think" opportunities.
A great example of this is McDonald's Corporation (NYSE:MCD). About 10 years ago, many thought that the fast food industry was heading towards a decline and that McDonald's had no future. But the company proved them wrong, and MCD stock has more than doubled since 2008.
I believe that Macy's stock is setting up for another great "not as bad as you think" play.
Macy's is a department store chain. The company operates 734 stores in the U.S., Guam, and Puerto Rico. Due to the nature of its business and the expected impact of the e-commerce boom, Macy's stock had a huge tumble last year. Even though it has started to recover, Macy's stock is still trading at just 68% of where it was last July.
However, in recent months, the company has started to show that the market might have overreacted.
Macy's reported earnings earlier this month. In the quarter ended October 29, 2016, the company's comparable sales fell 2.7% year-over-year. While this number is nothing to be excited about, the drop was less severe than the 3.9% decline in the year-ago period. (Source: "Macy's Inc. Reports Third Quarter Earnings, Reaffirms Full-Year EPS Guidance; Raises Full-Year Sales Guidance," Macy's Inc, November 10, 2016.)
Moreover, the company said that it is well prepared for the holiday season, which could boost its financial results for the current quarter.
"Our customers tell us we are their holiday shopping destination, and we are excited about our gift assortments, marketing strategies and digital enhancements, all of which should set us up for a stronger finish to the year and position us well for an improved performance in 2017 and beyond," said Terry J. Lundgren, Macy's chairman and chief executive officer. (Source: Ibid.)
As a result, Macy's now expects full-year 2016 comp sales to decrease between 2.5% and three percent. Previously, the company was expecting a three- to four-percent decline.
This already seems like one of those "not as bad as you think" scenarios. And indeed, Macy's stock has climbed 17% since the earnings report.
Other than better-than-expected comp sales, M stock investors can also look forward to the company's new opportunities to enhance the value of its real estate portfolio. Macy's has formed a strategic alliance with Brookfield Asset Management Inc (NYSE:BAM). Under this partnership, Brookfield would be able to redevelop approximately 50 of Macy's real estate assets. (Source: "Macy's, Inc. Forms Strategic Alliance with Brookfield Asset Management to Expand Opportunities to Enhance Real Estate Portfolio Value," Macy's Inc, November 10, 2016.)
Creating value in real estate could be a big opportunity for the company. For instance, Macy's has signed a contract to sell its Union Square Men's building in San Francisco for $250.0 million. The transaction is expected to close in January 2017 and Macy's expects to recognize a gain of around $235.0 million.
The Bottom Line on Macy's Stock
As you can see, investors have already started realizing this "not as bad as you think" opportunity. But even if Macy's stock doesn't shoot through the roof, it wouldn't be the end of the world for its investors. This is because Macy's stock pays quarterly dividends with an annual yield of 3.36%. The company doesn't need the market's approval to keep rewarding dividend investors.