Macy's Stock (NYSE:M): Earn a 6.5% Yield from This Overlooked Retail Giant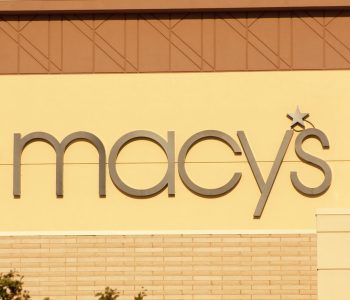 iStock.com/ljhimages
Don't Underestimate the Value of Macy's Inc
I like solid companies with down-and-out share prices. A low stock price could not only represent value, but also allow a company's dividend yield to rise.
Macy's Inc (NYSE:M) stock is a great example of this. The company runs a chain of department stores. Headquartered in Cincinnati, Ohio, Macy's has been around for over 80 years.
In the last two years, Macy's stock fell deep into the doldrums. Trading at $23.24 apiece, Macy's shares have plunged 68% since the summer of 2015. Ouch!
But with the downturn in Macy's stock, its dividend yield is starting to look attractive.
The company pays quarterly dividends of $0.3775 per share. At the current price, that translates to an annual dividend yield of 6.5%. To give you some perspective, the average dividend yield of all S&P 500 companies right now is at just 1.91%. In other words, buying Macy's stock today would allow investors to earn three times the yield of the average S&P 500 company.
But of course, in the stock market, a high dividend yield could be a sign of trouble. The thing is, though, Macy's situation may not be as bad as what it share price seems to suggest.
You see, despite being a down-and-out stock, Macy's retail business is far from over. The company operates more than 700 department stores and around 125 specialty stores in 45 states, the District of Columbia, Guam, and Puerto Rico. In Macy's fiscal 2016, the company generated $25.8 billion in sales.
Also Read:
5 Dividend Stocks for the Next 100 Years
The business is also highly profitable. In 2016, the company earned a return on invested capital of 18.5%. Its adjusted earnings before interest, tax, depreciation and amortization margin was 11.4%. From 2012 to 2016, Macy's generated an average annual each flow of $1.48 billion. These numbers show that Macy's is still a very profitable company in the department store business.
A Highly Profitable Business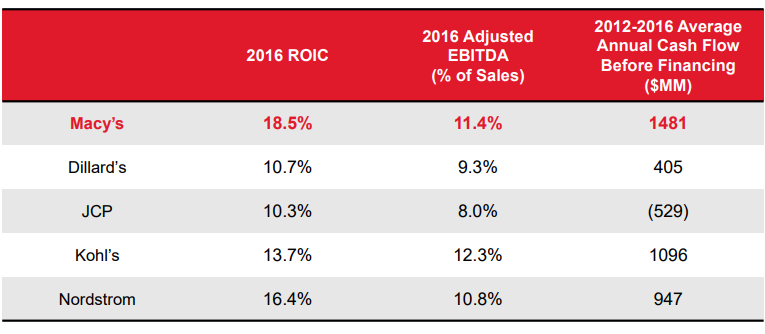 Source: "Investor Meeting," Macy's Inc, last accessed August 4, 2017.
Now, you may be saying to yourself, "Being better than its peers is not good enough for a retailer. But the real threat comes from the booming e-commerce industry."
However, Macy's is not standing still. It is streamlining its store portfolio by closing down the non-performing locations. The strategy is to have fewer stores with a better customer experience. The stock market may not be a fan of this strategy, but since 2015, Macy's cost-cutting efforts have reduced annual expenses by more than $1.5 billion.
Under this strategy, the company is also able to shift more resources to its online segment. In 2016, both Macy's.com and Bloomingdales.com achieved double-digit revenue growth.
Unlocking the Value of Real Estate
Don't forget, the company is also a real estate giant. Right now, Macy's real estate portfolio consist of 841 stores, many of which are situated in prime locations. In fact, the company's department stores occupy approximately 72% of the A-rated malls in America.
Macy's owns the majority of these properties, and it has partnered with Brookfield Asset Management Inc (NYSE:BAM) to redevelop some of them. The company has also started to unlock the value of its real estate assets. In 2015, asset sale proceeds totaled $204.0million. In 2016, the amount was $673.0 million.
It would be hard to say when Macy's stock would bounce back up. But with a profitable retail business, a huge real estate portfolio, and handsome dividends, it is a company that income investors should not ignore.