Macy's Inc: This Retailer's Dividend Yield Is Approaching 10%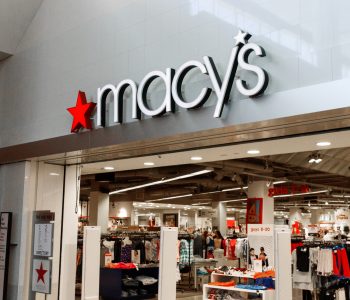 iStock.com/jetcityimage
One High-Yield Stock to Think About
It wasn't that long ago that large department store chains enjoyed blue-chip stock status. With established operations, these companies used to be a staple in many investors' portfolios.
Now though, things are quite different. Because consumers can buy almost anything they need online and have it delivered to their home, they haven't been frequenting physical stores as often as before. And this is not just a problem for department store operators; even specialty retailers are having a hard time.
In fact, due to the threat of the booming e-commerce industry, the whole retail industry is facing strong headwinds. If you've been following the financial news, you'll likely have seen the words "retail apocalypse" in the headlines. Store closures and bankruptcies are not uncommon in the industry these days.
Therefore, it shouldn't come as a surprise that the stocks of retail companies are not exactly hot commodities in the eyes of investors. But due to their share-price downturn, some retailers are offering much higher dividend yields than before.
Macy's Inc (NYSE:M) is a good example of this. Macy's is one of the oldest department store chains in America, with a history that can be traced all the way back to 1858.
Today, the company operates around 680 department stores under the names "Macy's" and "Bloomingdale's." At the same time, the company operates about 190 specialty stores. Macy's retail stores are located across 43 states, the District of Columbia, Guam, and Puerto Rico.
Seeing the downturn in the retail industry, investors haven't been that enthusiastic toward stocks of retail companies. In fact, there has been a serious sell-off in the sector and M stock was one of the hardest-hit names.
To give you an idea, Macy's stock is down more than 49% year-to-date. Looking further back, you'll see that the company's share price has plunged by more than 70% over the last five years.
But as I said, the lack of investor enthusiasm could boost a stock's yield. This is because, at a given cash payout, a company's dividend yield moves inversely to its stock price.
Looking at Macy's, we see that the company's board of directors recently declared a regular quarterly dividend of $0.3775 per share. The dividend will be paid on January 2, 2020 to shareholders of record as of December 13, 2019. (Source: "Macy's, Inc. Board Declares Quarterly Dividend," Macy's Inc, October 25, 2019.)
Note that Macy's has been paying the same per-share dividend since mid-2016. Prior to that, there were quite a few dividend increases. (Source: "Macy's Inc Common Stock (M) Dividend History," Nasdaq, last accessed October 30, 2019.)
Therefore, with Macy's stock taking a serious tumble in recent years, the company's yield climbed up.
Trading at $15.58 per share, Macy's offers an annual dividend yield of 9.7%.
Can Investors Count on the Dividends of Macy's Inc?
Obviously, a yield approaching 10% nowadays doesn't really seem like the safest bet. So let's take a look at what's going on with Macy's business.
The company reported second-quarter results on August 14. For the quarter, Macy's Inc's comparable sales improved 0.2% at its owned stores and 0.3% at its owned plus licensed locations. Adjusted earnings came in at $0.28 per diluted share. (Source: "Macy's, Inc. Reports Second Quarter 2019 Earnings," Macy's Inc, August 14, 2019.)
While the bottom-line number was less than its dividend of $0.3775 per share paid in the second quarter, note that, in the first quarter, the company's adjusted earnings of $0.44 per share provided more than enough coverage for its payout. (Source: "Macy's, Inc. Reports First Quarter 2019 Earnings," Macy's Inc, May 15, 2019.)
Moreover, due to the seasonal nature of the retail business, the company's second-half results could turn out to be much more impressive.
In the retailer's second-quarter earnings release, Macy's management said they expect comparable sales to be flat to up one percent in full-year 2019. They also expect the company's adjusted earnings to come in between $2.85 and $3.05 per share for the year.
At the midpoint of that guidance range, the profit would easily cover M stock's annual dividend payment of $1.51 per share.
Also, in the company's latest earnings conference call, when asked about Macy's Inc's dividend policy, Chief Financial Officer Paula Price said, "We will continue to return a competitive cash dividend to our shareholders. We are doing that and we are committed to continuing to do that." (Source: "Macy's, Inc.'s (M) CEO Jeff Gennette on Q2 2019 Results – Earnings Call Transcript," Seeking Alpha, August 14, 2019.)
In other words, while Macy's Inc is a beaten-down stock from an out-of-favor industry, its massive payout could be worth a look for yield-seeking investors.