Macy's Inc: Dividend Giant Making a Turnaround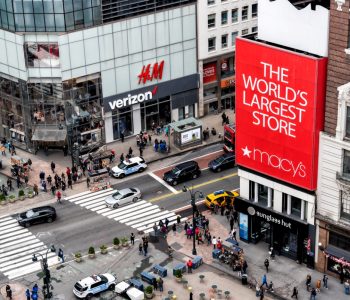 iStock.com/krblokhin
Lock in a Generous Yield of 4.2%
Macy's Inc (NYSE:M) has been one of the most interesting turnaround stories.
The company operates in the retail industry, which is far from being a market favorite. As a result, Macy's stock had quite a tumble. From July 2015 to July 2017, the Macy's Inc share price plunged more than 60%.
And to be honest, investors had good reason to be concerned. Due to the increasing popularity of e-commerce platforms, consumers are spending more money at online vendors. That means, for brick-and-mortar retailers, business could slow down.
Macy's happens to be one of the biggest department store retailers in the country. The company operates around 690 department stores and over 160 specialty stores located in 44 states, the District of Columbia, Guam, and Puerto Rico. Therefore, when market participants were concerned about the future of physical retailers, Macy's stock took a serious hit.
But starting last summer, investor sentiment started to change toward this Cincinnati, Ohio-based department store operator. And over the last 12 months, Macy's stock has surged 63.4%. To put it in perspective, the benchmark S&P 500 Index returned just 14.3% during this period.
As I always say, past performance does not guarantee future results. So why am I talking about a stock that already went up so much? Well, the answer lies in the company's generous dividend policy.
Macy's Inc Could Be a Dividend Opportunity
Right now, Macy's Inc has a quarterly dividend rate of $0.3775 per share, giving M stock an annual yield of 4.2%.
Again, let's compare this to the S&P 500 Index, of which Macy's is a component. The average dividend yield of all S&P 500 companies stands at 1.8% at the moment. In other words, even after Macy's stock's impressive rally, investors who purchase the company's shares today can lock in a yield of more than twice the benchmark's average. (Source: "S&P 500 Dividend Yield," Multpl.com, last accessed July 12, 2018.)
What about dividend safety? Well, a look at the company's financials should be reassuring. In Macy's Inc's fiscal-year 2017, the company's adjusted diluted earnings came in at $3.77 per share. Since the company declared total dividends of $1.51 per share, the payout ratio came out to 40.0%. (Source: "Macy's, Inc. Reports Fourth Quarter and FY 2017 Earnings and Provides 2018 Guidance," Macy's Inc, February 27, 2018.)
In the first quarter of Macy's fiscal-year 2018, the company generated adjusted earnings of $0.48 per share while declaring a quarterly dividend of $0.3775 per share. That translated to a payout ratio of 78.6%. (Source: "Macy's, Inc. Reports First Quarter 2018 Earnings," Macy's Inc, May 16, 2018.)
The latest payout ratio may seem a bit high, but note that the department store business has seasonal fluctuations. Usually, sales tend to be much stronger in Macy's fourth fiscal quarter (which includes the holiday shopping season) than in its first quarter.
And speaking of sales, note that, despite the ongoing headwinds coming from the e-commerce industry, Macy's is doing more than fine. In the first quarter of its fiscal 2018, Macy's Inc's company-owned stores reported a comparable sales increase of 3.9%. On an owned-plus-licensed basis, comp sales grew 4.2% year-over-year.
M Stock Returning Cash to Investors in 2018
At the company's latest earnings conference call, management updated their guidance. For full-year fiscal 2018, management expects Macy's comparable sales on an owned-plus-licensed basis to increase by one to two percent. Moreover, the company's adjusted earnings are expected to come in between $3.75 per share and $3.95 per share for the full fiscal year.
Now, keep in mind that Macy's is on track to pay total dividends of $1.51 per share for full-year fiscal 2018. If the company achieves the midpoint of its guidance range and earns an adjusted net income of $3.85 per share, it should have a very safe payout ratio of just 39.2%.
Ultimately, it's hard to say whether Macy's stock can continue its rally. But one thing is certain: for a company to reward shareholders with cash dividends, it does not need the approval of Mr. Market.