Macquarie Infrastructure Corp: Insiders Buying This 9.7% Dividend Stock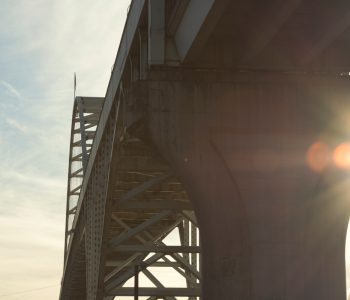 Michael Hull/Unsplash
Insiders Quietly Buying Shares
I only trust hefty cooks. The logic being that any good chef can't help but indulge in their own dishes.
For the same reason, I find it reassuring when a CEO buys their own company's stock. These people know their business inside and out. So if they're gobbling up shares, you should take notice.
Take Macquarie Infrastructure Corp (NYSE:MIC). Over the years, the company has assembled a sprawling portfolio of properties that includes everything from airport hangers, to oil storage tanks, to windmills, to natural gas pipelines.
Insiders seem optimistic. In recent months, executives have taken advantage of a rock-bottom stock price to scoop up shares. Maybe other investors should too.
MIC Stock: A Sustainable Dividend
Management has quietly retooled the business.
To fund an aggressive expansion campaign, the company got in over its head with debt. That forced executives to slash the distribution last year, earning the ire of income investors.
Macquarie, however, seems to have learned its lesson. Over the past few months, it has slashed costs, pared down debt, and sold off non-core assets. This has left the business on a sounder financial footing, better able to handle the ups and downs of business cycles.
The biggest transaction came last year. In October, Macquarie sold a power generation facility in Bayonne, New Jersey for approximately $900.0 million. Management plans to use the proceeds from the sale to put a big dent in the company's debt load and fund investments in other businesses.
And these efforts have started to pay off. The company reported $2.7 billion in debt outstanding as of October 30, 2018, down 25% from the previous quarter. That will save the business millions of dollars in interest payments annually and free up more cash flow for shareholders.
Such efforts have also put the payout on a firmer foundation. Last year, quarterly distribution was slashed 31% to $1.00 per share. At today's stock price, that comes out to an annual yield of 9.7%.
Obviously, we prefer to see growing—not shrinking—payouts, but Macquarie's small dividend looks sustainable.
For full-year 2018, management projects that the business will have generated $521.0 million in adjusted free cash flow. At today's level, the business now pays out $341.5 million in distributions annually.
That comes out to a payout ratio of 65%. Generally, I like to see businesses pay out 90% or less of their earnings as dividends, so MIC stock's distribution sits well within my comfort zone.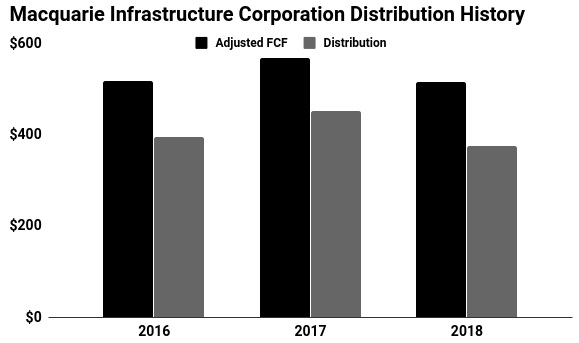 (Source: "Distributions," Macquarie Infrastructure Corp, last accessed January 23, 2019.)

Management seems optimistic, too.
Through the last few weeks of 2018, the U.S. Securities and Exchange Commission (SEC) reported a huge spike of insider buying in MIC stock. Insider purchases have totaled more than $200.0 million in value. (Source: "MIC – Macquarie Infrastructure Corp – SEC Form 4 Insider Trading Screener," OpenInsider, last accessed January 23, 2019.)
Take CEO Christopher Frost's recent buys, for example. Between August and December last year, Frost purchased nearly $1.0 million in Macquarie stock. Other executives, including CFO Stewart Liam, Vice President Davis Jay, and Director Stanley Martin, have bought up shares hand over fist.
In other words, when it comes to MIC stock, management has gobbled up their own cooking. Investors would be wise to take notice.