Macquarie Infrastructure Corp.: This 10.6% Yield Looks Interesting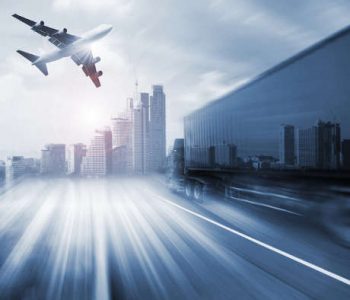 Lock in This 10.6% Yield
Today's post highlights one of my favorite source of investment ideas: dividend cutters.
Investors tend to panic when a company cuts its distribution. Sometimes they punish stocks far beyond reason, creating chances to scoop up shares cheap.
That seems to be the case with Macquarie Infrastructure Corp (NYSE:MIC). Following a dividend cut last February, units plunged over 40% in value. But with a yield approaching 10.6%, this partnership now looks interesting.
MIC owns a sprawling property empire. Specifically, the company owns airport hangers, energy storage tanks, and power generation facilities. In recent years, the company acquired a number of natural gas processing and distribution businesses in Hawaii.
Around the office, we call these businesses "irreplaceable assets." In most cases, nobody could come along and replicate these operations from scratch. As a result, these assets enjoy little competition. This entrenched position results in stable cash flows and market-beating returns.
So why did MIC cut its distribution? You can sum up the problem in one word: debt.
MIC employs an acquisition growth strategy. To fund new purchases, management often stretches the balance sheet with new debt issues.
That approach almost backfired. In late 2017, S&P Global Inc. issued a warning over MIC Infrastructure Corp's growing liabilities. In response, analysts threatened to downgrade MIC's investment-grade debt rating. If that happened, MIC would get cut off from raising new funds. Or at least, it would have to pay a much higher interest rate on new debt issues.
To stave off a downgrade, management made some tough decisions. In recent quarters, the company has slashed costs and dialed back new investments.
The dividend cut represented management's most aggressive move. In a surprise announcement, executives cut the distribution 31% to $1.00 per unit. As you can see in the chart below, the measure didn't impress investors: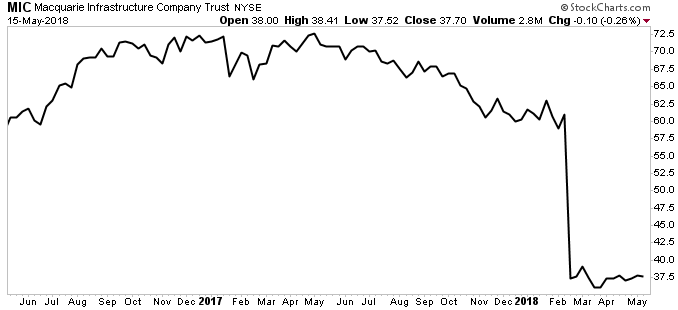 Chart courtesy of StockCharts.com
These tough decisions have put MIC on a firmer financial footing, however. By conserving cash, the partnership should stave off a credit downgrade. Cash flows now well exceed distributions paid to stockholders, reducing the risk of more dividend cuts.
''We expect to fund our 2018 capital spending with a combination of Free Cash Flow not used to support our dividend," said MIC Chief Executive Officer Christopher Frost. ''Given financial and operational performance of our businesses in the quarter that were consistent with our guidance, we believe that a dividend of $1.00 per share, per quarter, is sustainable through 2018.'' (Source: "MIC Reports First Quarter 2018 Financial Results And Strategic Update," Macquarie Infrastructure Corp, May 2, 2018.)
Of course, you can't call MIC Infrastructure Corp a sure thing. It will take time for this partnership to digest this debt load. If business conditions shift, we could see another dividend cut.
That said, traders may have reacted too quickly here. While units look risky, investors get well compensated with a 10.6% yield.
If management can turn things around, patient shareholders may have locked in a bargain.