Lumen Technologies Inc: Tech Stock With Safe 7.1% Dividend Yield & Bullish Share Price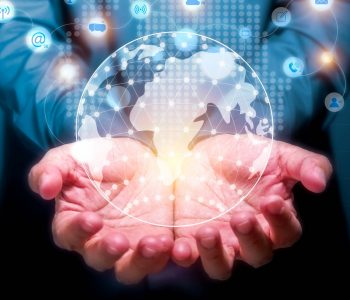 Lumen Technologies Stock: Big Dividends & Strong Stock Growth
Technology stocks aren't known for big dividends. That's because most tech companies aren't making any money. And the big tech companies that are profitable are pretty miserly with their dividends.
If you ask "Google" which tech stocks have the highest dividends, you'll get hit with companies like Broadcom Inc (NASDAQ:AVGO), with a 3.1% dividend, ChipMOS Technologies Inc (NASDAQ:IMOS), with a 3.8% dividend, and HP Inc (NYSE:HPQ), with a 2.4% dividend.
These payouts are certainly better than what you'll get with treasuries, bonds, or certificates of deposit (CDs), but not anything to crow about.
Investors looking for a tech stock with a bigger dividend should consider Lumen Technologies Inc (NYSE:LUMN). It provides a frothy annual dividend that's more than twice what the above-mentioned tech stocks are providing. To boot, this dividend stock's share price has been on a tear since the start of 2021.
Lumen Technologies, formerly known as CenturyLink, Inc., is a telecom company that provides an array of communications services to residential and business customers. (Source: "The Platform for a Digital World," Lumen Technologies Inc, June 30, 2020.)
The company integrates network assets, cloud connectivity, security solutions, voice tools, and collaboration tools into one platform that enables businesses to leverage their data and adopt next-generation technologies.
Lumen Technologies Inc provides Internet Protocol (IP) and data services, including virtual private network (VPN) data networks, Ethernet, content delivery, and other ancillary services. Its transport and infrastructure IT includes wavelengths, dark fiber, private line, and data center services. (Source: "Lumen Technologies Inc," Reuters, last accessed June 2, 2021.)
The company's voice and collaboration segment provides local and long-distance voice and Voice over Internet Protocol (VoIP) services. Its broadband services offer high- and low-speed fiber-based digital subscriber line (DSL) broadband services.
The company's hard-to-replicate global infrastructure network, which covers North America, Central America, South America, and Europe, includes:
450,000 route miles of fiber
170,000+ on-net buildings
27 million square feet of technical space
More than 2,200 public data centers on-net
100+ edge data centers that can provide latency of five milliseconds or better for 98% of U.S. demand
With such an enviable global infrastructure and low latency, it's not hard to see that Lumen Technologies Inc is well positioned to capitalize on emerging technologies like the Internet of Things (IoT), artificial intelligence (AI), smart manufacturing, robotics, and smart cities.
As you can see in the following chart, Lumen Technologies stock has been bullish since the start of the year—really, over the last year.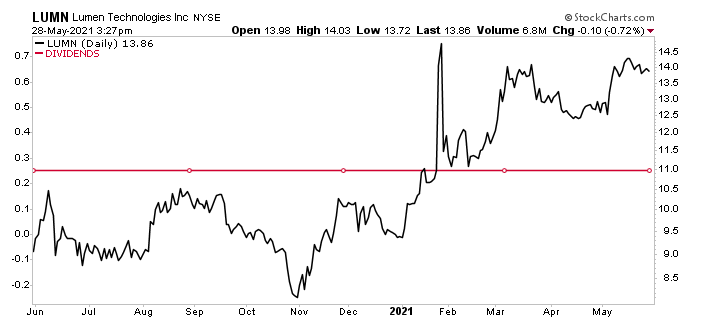 Chart courtesy of StockCharts.com
As of this writing, LUMN stock is up by:
16.6% over the last three months
37.0% over the last six months
47.0% since the start of 2021
51.3% year-over-year.
Despite these large share-price gains, Lumen Technologies stock provides a high-yield dividend of 7.1%. On May 20, the company declared a quarterly cash dividend of $0.25 per share.
Lumen Technologies only began trading under its current name in September 2020, so LUMN stock's track record of providing a quarterly dividend is short. Regardless, since the third quarter of 2020, the stock has paid four quarterly dividends of $0.25. (Source: "Dividend History," Lumen Technologies Inc, last accessed June 2, 2021.)
Is that payout safe?
In the first quarter of 2021, ended March 31, Lumen Technologies reported total revenue of $5.0 billion, compared to $5.2 billion in the same prior-year period. That's a drop of just three percent. (Source: "Lumen Technologies Reports First Quarter 2021 Results," Lumen Technologies Inc, May 5, 2021.)
The company's first-quarter 2021 net income came in at $475.0 million, a 51% increase over the first-quarter 2020 net income of $314.0 million.
Over the same time frame, its earnings per share (EPS) climbed by 51% from $0.29 to $0.44 per share. Excluding special items, Lumen Technologies reported diluted EPS of $0.44, versus $0.35 per share in the same prior-year period. Both the company's EPS and adjusted EPS far exceeded its quarterly dividend payout of $0.25 per share.
Lumen Technologies Inc reported first-quarter 2021 cash flow of $850.0 million, compared to $385.0 million in the same quarter of the previous year. The company paid out $294.0 million in dividends during the quarter, which shows it had a free cash flow payout ratio of 34.5%.
Moreover, it has a dividend payout ratio of 59.9%, which is well below the 90% threshold I like to see. This suggests the company has plenty of financial wiggle room to continue paying its current dividend. In fact, once we put COVID-19 in the rearview mirror, it wouldn't be a surprise to see Lumen raise its quarterly dividend payout.
The Lowdown on Lumen Technologies Inc
Lumen Technologies Inc might not hog the spotlight like other well-known telecom service providers, but thanks to its solid balance sheet, high-yield dividend, growing share price, and robust outlook, investors should be happy to let the numbers speak for themselves.