LTC Stock: Monthly Dividend Stock with a 200% Total Return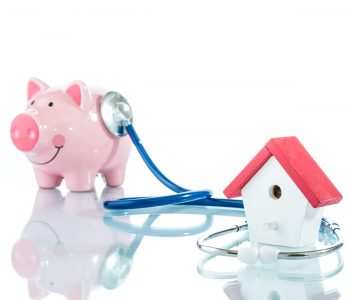 iStock.com/PRImageFactory
This Monthly Dividend Stock Offers Both Current Income and Future Growth
The obvious reason for owning monthly dividend stocks is to collect a monthly income. But there is one monthly dividend stock that has provided investors much more than that.
The company in question is LTC Properties Inc (NYSE:LTC), a real estate investment trust (REIT) headquartered in Westlake Village, California. LTC does not make headlines that often, but— quietly and steadily—it has delivered extraordinary total returns to its shareholders.
The following chart illustrates why this monthly dividend stock is special. It shows that in the 10-year period from 2006 to 2016, LTC Properties produced a total return of 203.8%. For those not in the know, total return includes capital appreciation, dividends, and share repurchases.
In comparison, the S&P 500 index delivered total return of 95.7% during this period, while the SNL U.S. REIT Equity index produced 71%. Therefore, investors who held on to this monthly dividend stock for the aforementioned decade achieved a total return that's more than double the S&P 500 and nearly triple the benchmark REIT index.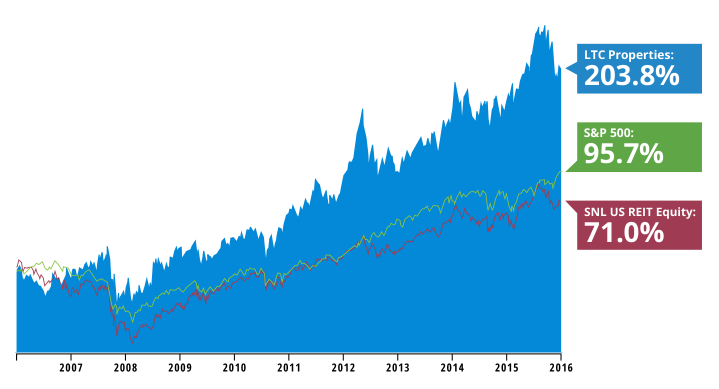 (Source: "Delivering Shareholder Value," LTC Properties Inc, last accessed July 20, 2017.)
The best part is, LTC Properties was not some technology unicorn; back in 2006, the company was already paying a monthly dividend. It was more of a pick for the conservative income investor than the speculator who treats the stock market like a casino. And yet, this dividend-paying company managed to significantly outperform the stock market.
By the way, the 10-year period we just saw included the Great Recession, which some consider to be the biggest economic downturn since the Great Depression. The real estate sector was hit particularly hard during this recent downturn, so it makes LTC stock's outperformance extra special because it is a real estate investment trust.
What's even more special, though, is that even during the height of the recession, this monthly dividend stock did not cut its payout. In fact, since LTC Properties switched to paying a monthly dividend in 2005, it has consistently raised its monthly dividend rate.
Safe and Growing Dividend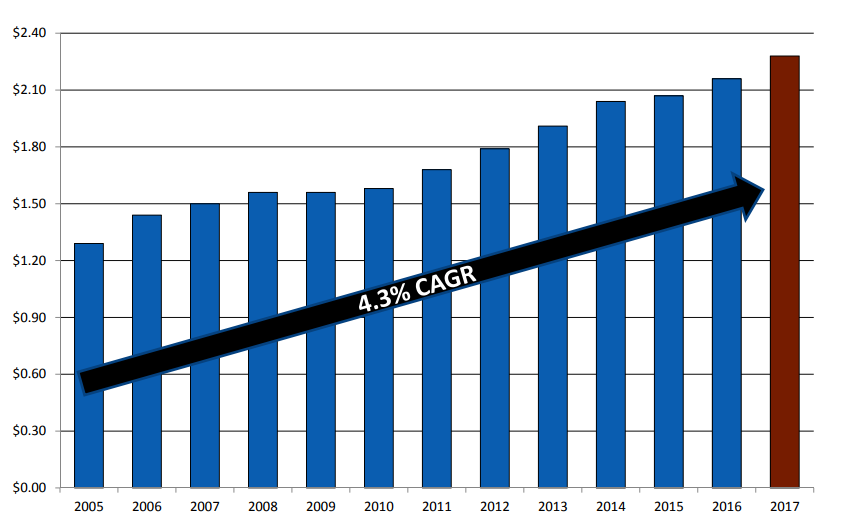 (Source: "REIT Week," LTC Properties Inc, last accessed July 20, 2017.)
From LTC's first monthly payment of $0.11 per share paid in May 2005, to today's $0.19-per-share payments, the company's monthly dividend rate has increased 72.7%. That translates to a compound annual growth rate (CAGR) of 4.3%, including the period of the Great Recession. (Source: "Dividends," LTC Properties Inc, last accessed July 20, 2017.)
The reason behind LTC's safe and growing dividend is its rock-solid business. The company invests in healthcare real estate. Its portfolio consists of assisted living, memory care, post-acute/skilled nursing, and range-of-care properties. As of the end of the first quarter of 2017, LTC had investments in 211 properties in 30 states.
Other than diversifying geographically, the company also diversifies by working with different operators. Its biggest operator, Prestige Healthcare, contributes just 16.1% of LTC's annual income.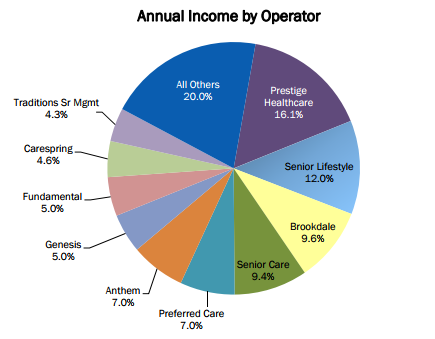 (Source: "REIT Week," LTC Properties Inc, op cit.)
Limiting operator concentration is critical for a healthcare REIT. This is because, if a REIT earns the bulk of its income from one healthcare operator—and that operator's business gets into trouble and it doesn't have the money to pay—the REIT's business would be significantly impacted. By working with a large number of operators, LTC limits the concentration risk.
The neat thing about LTC's business is that healthcare is known as a recession-proof business. When the economy enters a downturn and businesses are closing down, the demand for, say, office space could fall. But when people need medical attention, they are still going to see a doctor. In other words, healthcare providers are operating in a non-cyclical industry. As a result, healthcare property owners such as LTC can collect recession-proof income and pass that income to investors in the form of dividends.
Don't forget, the U.S. has an aging population. According to the Population Reference Bureau, the number of Americans aged 65 and older is expected to more than double from 46 million today to over 98 million by 2060. In just the next decade, the number of senior citizens in the U.S. is projected to increase by nearly 18 million. (Source: "Aging in the United States," Population Reference Bureau, last accessed July 20, 2017.)
With a rising elderly population, the demand for healthcare could get a significant boost in the future. For LTC Properties, a company that owns multiple skilled nursing and assisted living facilities, this would be a major catalyst.
The Bottom Line on This Monthly Dividend Stock
Even after its impressive stock price performance, LTC Properties still manages to offer a decent yield to today's investors. And that's because the company's dividend growth has kept up with its share price appreciation.
Trading at $51.36 apiece, this monthly dividend stock has an annual yield of 4.44%.
The dividend is backed by solid financials. In the first quarter of 2017, LTC's revenue grew 10.4% year-over-year to $42.6 million. Funds from operations increased 8.7% year-over-year to $30.8 million. For the quarter, the company achieved a payout ratio of 79.2%, leaving a sizable margin of safety. (Source: "LTC Reports 2017 First Quarter Results," LTC Properties Inc, May 8, 2017.)
For investors who are looking for a monthly dividend stock to supplement their income, LTC Properties is worth taking a serious look at.