Lowe's Companies, Inc. Earnings: Will LOW Stock Increase Its Dividend?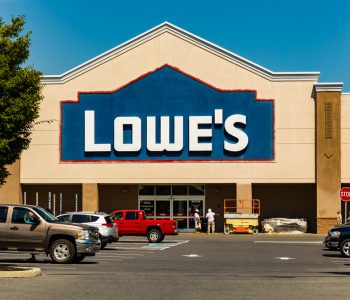 iStock.com/gsheldon
Time to Pay Attention to Lowe's Stock
If you think there's no money to be made in retailers' stocks because of the so-called retail apocalypse, think again. Lowe's Companies, Inc. (NYSE:LOW), which operates a chain of home improvement retail stores across the U.S. and Canada, saw its share price rise from $58.58 to $115.77 in the past five years, marking a gain of more than 97%.
Mind you, capital gains aren't the only returns that Lowe's stock investors have collected. Over the years, the company has also paid out an increasing stream of cash dividends.
And now, Lowe's Companies is about to report earnings again. So let's take a look at what the latest LOW stock news could mean for dividend investors.
One thing that might have helped Lowe's stock stay on an uptrend was the company's ability to outperform Wall Street's expectations. In the past year, the retailer has beaten analysts' earnings per-share estimates in three of the four quarters.
This time, Wall Street expects Lowe's Companies to earn a profit of $1.35 per share in the third quarter of its fiscal 2019, which would mark a 29.8% increase from the $1.04 per share earned a year ago. (Source: "Lowe's Companies, Inc. (LOW)," Yahoo! Finance, last accessed November 18, 2019.)
If the company beats this number, meaning it has achieved some very impressive bottom-line growth rate, it could give investors a reason to keep liking LOW stock.
Meanwhile, analysts expect Lowe's to improve its top-line number as well. For the reporting quarter, they are projecting $17.7 billion in sales for the home improvement retailer, which would represent a 1.7% increase from the $17.4 billion sales generated in the year-ago period.
Stats on Lowe's Companies, Inc.
| | |
| --- | --- |
| Earnings Per Share Estimate | $1.35 |
| Change From Year-Ago Earnings Per Share | 29.8% |
| Revenue Estimate | $17.7 Billion |
| Change From Year-Ago Revenue | 1.7% |
| Earnings Beaten in Past Four Quarters | 3 |
(Source: Ibid.)
Another thing that investors will be watching closely is comparable sales. In the retail industry, comparable sales is perhaps the most important metric for measuring a company's operating performance. In the previous earnings report, which corresponds to the quarter ended August 2, Lowe's Companies' comparable sales increased 2.3%. (Source: "Lowe's Reports Second Quarter Sales and Earnings Results," Lowe's Companies, Inc. August 21, 2019.)
Of course, there's nothing carved in stone when it comes to earnings season. In this day and age, an earnings beat doesn't necessarily translate to a soaring stock price. And likewise, when a company misses Wall Street's expectations, it doesn't necessarily mean its shares will tumble.
With trade talks and geopolitical tensions being some of the main drivers of investor sentiment at the moment, it's hard to say how the market will react to the next Lowe's earnings report. What I am certain about, though, is where the company's dividends are going.
LOW Stock: Don't Forget the Dividends
As I mentioned earlier, Lowe's stock investors have collected increasing dividends on top of capital gains. In fact, Lowe's has been one of the most reliable dividend payers in the entire stock market. The company has been paying uninterrupted quarterly cash dividends ever since it went public in 1961. (Source: "Dividend History," Lowe's Companies, Inc., last accessed November 18, 2019.)
Also, Lowe's is a Dividend King, meaning it has increased its payout for over 50 consecutive years.
For income investors, few things are better than a dividend stream that seems to be going up forever.
The best part is, while Lowe's is a decades-old stock, its recent payout increases have been quite substantial. To give you an idea, the company's quarterly dividend rate went from $0.23 per share to $0.55 per share in just the last five years, marking an increase of 139.1%.
Trading at $115.77 per share, LOW stock offers investors an annual yield of 1.9%.
The payout is also safe. In Lowe's Companies' fiscal-year 2018, which ended February 1, 2019, it generated adjusted earnings of $5.10 per share.
During the fiscal year, it declared four quarterly dividends totaling $1.85 per share. Therefore, the company was paying out just 36.3% of its profits. (Source: "Lowe's Reports Fourth Quarter Sales And Earnings Results," Lowe's Companies, Inc., February 27, 2019.)
Based on the guidance that Lowe's issued in August, the company expects its adjusted earnings per share to come in between $5.45 and $5.65 in full-year fiscal 2019, which will end on January 31, 2020. Considering that Lowe's has declared total dividends of $2.13 per share for this fiscal year, achieving the midpoint of the guidance range would result in a payout ratio of 38.4%. (Source: Lowe's Companies, Inc. August 21, 2019.)
However you look at it, the company has left a wide margin of safety in its dividend policy. Combined with its growing earnings, management will likely want to continue Lowe's dividend growth track record.
Now, Lowe's Companies, Inc. is scheduled to report its third-quarter fiscal 2019 financial results on November 20 before market open. In the past, its board of directors usually reviewed the company's dividend policy in May, so they likely won't make any changes to the payout at this earnings call. But if an investor plans to own Lowe's stock for the long term, there will likely be plenty of dividend increases on the way.