Lowe's Companies, Inc. Hikes Dividend by 25%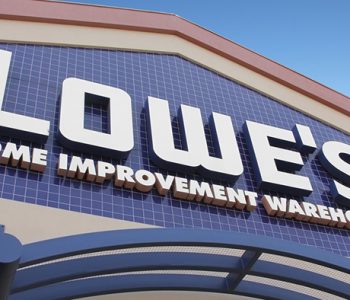 Brick-and-mortar retailers might not look that attractive today, but for income investors, there is a good reason to take a look at Lowe's Companies, Inc. (NYSE:LOW). Why? It just hiked its dividend again.
On May 27, Lowe's announced a 25% increase in its quarterly cash dividend to $0.35 per share. Translating to $1.40 a year, the home improvement retailer now has an annual yield of 1.74%. (Source: "Lowe's Holds Annual Meeting of Shareholders," Lowe's Companies, Inc., May 27, 2016.)
The company has been doing quite well as the U.S. economy has improved. According to its earnings report last week, Lowe's generated $884 million in net earnings for the quarter ended April 29, 2016. That represented a 31.4% increase over the same period last year. (Source: "Lowe's Reports First Quarter Sales and Earnings Results," Lowe's Companies, Inc., May 18, 2016.)
Comparable store sales, one of the most critical metrics for retailers, increased 7.3% in the quarter and also beat management's expectations.
The company recently closed its acquisition of Canadian home retailer RONA Inc. for $2.4 billion. The deal will create one of the largest home improvement retailers in Canada, with 539 store locations. It also expands Lowe's presence outside of the U.S. (Source: "Lowe's Completes Acquisition of Rona," Lowe's Companies, Inc., May 20, 2016.)
Note that as a home retailer, Lowe's stands to gain when the economy, and in particular the housing market, improves. So far, there have been some positive signs.
U.S. gross domestic product (GDP) grew at an annualized rate of 0.8% in the first quarter, faster than the initial estimate of 0.5%. Residential investment, which includes things like homebuilding and renovation, increased at an annual pace of more than 17%. (Source: "National Income and Product Accounts," Bureau of Economic Analysis, May 27, 2016.)
Management expects continued improvement in the macro environment, which will allow Lowe's to have another successful year in 2016.
"We expect job and income levels to steadily strengthen, creating opportunity for greater discretionary spending among consumers," said Robert A. Niblock, chairman, president, and CEO of Lowe's. "We're prepared to capitalize on this opportunity by delivering better customer experiences through our omni-channel capabilities while remaining committed to improving our productivity and profitability." (Source: "Lowe's Holds Annual Meeting of Shareholders," Lowe's Companies, Inc., May 27, 2016.)