Looking for Reliable Dividends? Consider This 4.6% Yielder with 189 Years of Uninterrupted Payouts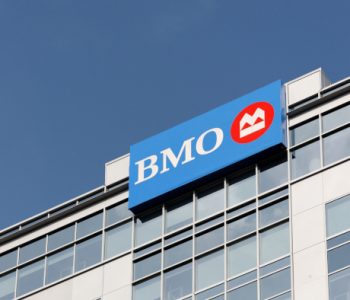 iStock.com/wellesenterprises
An Income Stock You Can Count On
Quality stocks seldom go on sale, especially when they also pay a dividend. But with the recent market sell-off, even some of the most solid dividend payers have been put in the penalty box. For yield-seeking investors, this could be a good time to start shopping.
In particular, I'm looking at Bank of Montreal (NYSE:BMO), a multinational financial services company headquartered in Montreal, Canada.
Now, I know what you are thinking: since we have plenty of solid bank stocks here in the U.S., why bother with a foreign one?
Well, the first reason is that BMO stock offers a bigger payout than many of its peers in the south.
Bank of Montreal currently trades at $65.54 apiece and has an annual dividend yield of 4.6%. Looking at the largest U.S. banks, we see that JPMorgan Chase & Co. (NYSE:JPM) offers an annual dividend yield of 3.2%, Bank of America Corp (NYSE:BAC) pays 2.5%, while Wells Fargo & Co (NYSE:WFC) yields 3.7%.
Of course, there are plenty of companies with even higher yields than Bank of Montreal. The reason why this Canadian bank stock still stands out lies in its rock-solid business.
Bank of Montreal: Running a Durable Business
You see, as long-term income investors, we want to earn dividends not just for a year or two, but indefinitely into the future. And for a company to be able to provide that reliable income stream to shareholders, it needs a durable business.
Banks are very durable. They lend money out at higher interest rates than they borrow at, pocketing the difference. This simple business model has allowed bankers to reap profits for centuries.
The case for owning bank stocks is even stronger in Canada. This is because, in the U.S., the banking industry is filled competitors on both national and regional levels. But in Canada, there are only five major players in the business: BMO, Canadian Imperial Bank of Commerce (NYSE:CM), Toronto-Dominion Bank (NYSE:TD), Royal Bank of Canada (NYSE:RY), and Bank of Nova Scotia (NYSE:BNS).
As we have learned in Economics 101, when there's limited competition, firms get to enjoy oversized profits.
And since people and businesses always have the need to deposit and borrow money, Canadian banks have been earning oversized profits decade after decade.
BMO Stock Pays Reliable Dividends
When a business is proven to make recurring profits, shareholders will likely demand a cut. At Bank of Montreal, that cut has translated to a reliable dividend stream.
As a matter of fact, BMO stock has been paying uninterrupted dividends for 189 years, giving the bank the longest dividend streak of any company in Canada.
And consider this: in 2007, Bank of Montreal had a quarterly dividend rate of CA$0.70 per share. Today, the amount stands at CA$1.00 per share, an increase of 43%. (Source: "Dividend Information," Bank of Montreal, last accessed January 2, 2019.)
Note that even during the last recession, when dividend cuts were common among bank stocks in the U.S., BMO stock did not see a reduction in its payout to shareholders.
A Beaten-Down Stock
As I mentioned earlier, this is a stock in the bargain bin. Shares of BMO stock tumbled 18% during the last 12 months, which was quite a sizable drop for a large-cap bank stock.
One consequence of this lackluster share price performance is that the stock offers good value for money. BMO has a price-to-earnings (P/E) multiple of 12.1 times, which is significantly lower than the banking industry's average P/E of 18.6 times.
Furthermore, the company's price-to-sales ratio of 2.8 times and price-to-cash-flow ratio of 10.3 times are also substantially lower than the industry's averages (7.8 times and 17 times, respectively). (Source: "Bank of Montreal (BMO)," Reuters, last accessed January 2, 2019.)
Sometimes, a beaten-down stock price indicates a deteriorating business. But that's not really the case here.
According to the company's latest earnings report, Bank of Montreal generated CA$1.53 billion in adjusted net income in its most recent fiscal quarter, marking a 17% increase year-over-year. The amount translated to adjusted earnings of CA$2.32 per share, up 19% from a year ago. (Source: "BMO Financial Group Reports Fourth Quarter and Fiscal 2018 Results," Bank of Montreal, December 4, 2018.)
Notably, BMO's adjusted earnings per share easily covered its dividend payment of $0.96 per share declared during the quarter.
The Bottom Line on BMO Stock
Of course, as is the case with any company, there are uncertainties facing Bank of Montreal. Subdued oil prices could have an impact on loans made to the oil industry. And while Canadian banks have enjoyed a rising interest rate environment over the last two years, recent indicators of a sluggish economy mean the Bank of Canada will likely think twice before hiking rates again.
Still, the company's payout remains rock-solid. If you want to earn a reliable stream of dividends, BMO stock's 4.6% yield deserves a serious look.