Lockheed Martin Corporation Earnings: Another Dividend Hike from LMT Stock?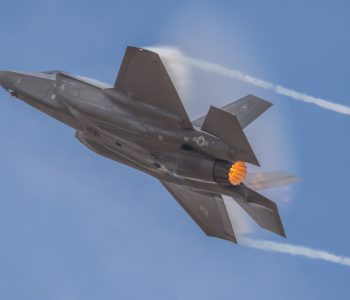 iStock.com/gsmudger
A Top Dividend Stock You Likely Haven't Considered
In recent years, Lockheed Martin Corporation (NYSE:LMT) has been an investor favorite. Over the past 12 months, the company's share price climbed 14.7%. In the last five years, LMT stock has skyrocketed 125.2%.
Obviously, shareholders loved those capital gains. What's less talked about, though, is that this Bethesda, Maryland-based aerospace and defense company also has a dividend policy in place.
Of course, compared to a triple-digit surge in share price, a few percentages of dividend yield probably don't seem like much. But here's the neat part: rather than maintaining a constant payout, Lockheed Martin Corporation's dividends have been on the rise. Thanks to those dividend hikes, investors who have held the company's shares over the years are earning substantially higher yield on cost than when they bought Lockheed Martin stock.
Since the company is about to report earnings, let's take a look at what the latest news could mean for dividend investors.
As a popular stock, Lockheed Martin  has a set of expectations to beat in earnings season. As a matter of fact, outperforming those expectations was one of the factors that fueled LMT stock's rally. Over the past 12 months, the company has beaten Wall Street's earnings-per-share estimates in three of the four quarters.
This time, analysts expect Lockheed Martin to report almost $14.2 billion of revenue for the second quarter of 2019, which would represent a 5.8% increase year-over-year. At the same time, Wall Street projects that the company could earn a profit of $4.76 per share for the quarter, which would mark an impressive 17.5% improvement from the $4.05 per share earned a year ago. (Source: "Lockheed Martin Corporation (LMT)," Yahoo! Finance, last accessed July 17, 2019.)
Stats on Lockheed Martin Corporation
| | |
| --- | --- |
| Estimated Earnings Per Share | $4.76 |
| Change from Year-Ago Earnings Per Share | 17.5% |
| Estimated Revenue | $14.2 Billion |
| Change From Year-Ago Revenue | 5.8% |
| Earnings Beaten in Past Four Quarters | Three |
(Source: Ibid.)
If the company can outperform Wall Street's expectations, it could give investors a reason to continue liking Lockheed Martin stock. But investors don't necessarily need a soaring share price to make money from this defense contractor—because the company pays dividends. That is, even if LMT stock takes a tumble, shareholders can still collect the company's dividend payments in cold, hard cash.
Right now, Lockheed Martin Corporation has a quarterly dividend rate of $2.20 per share, which translates to an annual yield of 2.4%.
And like I said, the company has been growing its payout. In fact, due to the cyclical nature of the aerospace and defense industry and the massive rally in the company's share price, I would even say that LMT is one of the most overlooked dividend growth stocks in the market.
Consider this: in 2003, Lockheed Martin paid total dividends of $0.58 per share. In 2018, its payout totaled $8.20 per share. That represents an increase of over 1,300% in 15 years. (Source: "Dividend History," Lockheed Martin Corporation, last accessed July 17, 2019.)
What's more is that, during those 15 years, management raised the company's quarterly dividend rate every single year.
And based on what Lockheed Martin has been doing lately, another dividend hike should be in the works.
Will Lockheed Martin Corporation Increase Its Dividend in 2019?
In 2018, Lockheed Martin's net sales grew 7.6% year-over-year to $53.8 billion. The bottom-line results were more impressive as the company earned a net income of $17.59 per share, a huge improvement from the $6.50 per share earned in 2017. (Source: "Lockheed Martin Reports Fourth Quarter and Full Year 2018 Results," Lockheed Martin Corporation, January 29, 2019.)
In all fairness, the company's 2017 net earnings included a one-time charge of around $6.77 per share related to the estimated impacts of the Tax Act. Excluding that impact, LMT's adjusted earnings would have been $13.27 per share in 2017. So 2018's number still represented a solid increase.
Considering the company declared and paid four quarterly dividends totaling $8.20 per share in 2018, it had a payout ratio of 46.6%.
That is, despite all the dividend hikes over the years, Lockheed Martin was paying out less than half of its profits. In dividend investing, that's considered a very wide margin of safety.
And things could get even better this year. For full-year 2019, management expects the company to generate $56.8 to $58.3 billion in net sales—another sizable improvement year-over-year. For the bottom line, management projects that the company's earnings could come in at $20.05 to $20.35 per share, which at the midpoint would mark a 14.8% increase from the $17.59 per share earned in 2018. (Source: "Lockheed Martin Reports First Quarter 2019 Results," Lockheed Martin Corporation, April 23, 2019.)
Worth noting is that Lockheed Martin is sitting on a huge order backlog. Last time it reported, the company had a record backlog position of $133.5 billion. This should provide the company with plenty of business down the road.
Now, Lockheed Martin Corporation is scheduled to report its second-quarter financial results on July 23, before market open. Given the company's growing business and low payout ratio, it should have no problem raising its dividend in 2019. In the past, LMT's board of directors usually made changes to the company's dividend policy in September, so investors will likely have to wait two more months before getting another "pay raise."