LMRK Stock: Earn a Growing Dividend Yield of 10.9%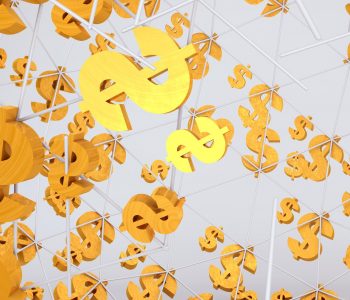 iStock.com/frenkvic
A High-Dividend Stock You Likely Haven't Considered
Today's chart highlights a rare find in the current stock market: a double-digit yielder that actually grows its payout.
I'm talking about Landmark Infrastructure Partners LP Unit (NASDAQ:LMRK), a master limited partnership (MLP) headquartered in El Segundo, California. While most MLPs operate in the oil and gas business, Landmark focuses on something else.
You see, the partnership was created in by Landmark Dividend LLC to own, manage, and acquire a portfolio of real property interests and infrastructure assets. These assets include billboards, cellular towers, rooftop wireless sites, and wind turbines.
By leasing these assets to wireless carriers, outdoor advertisers, and renewable power generation companies, Landmark Infrastructure Partners LP can generate a stable rental income stream. As of March 31, 2018, the company had a portfolio occupancy rate of 96%. It also boasts a strong historical lease renewal rate of 99%. (Source: "Investor Presentation," Landmark Infrastructure Partners LP, last accessed June 11, 2018.)
Furthermore, LMRK's business is backed by a high-quality tenant base. The partnership's infrastructure assets are leased to some well-known names, such as Verizon Communications Inc. (NYSE:VZ), AT&T Inc. (NYSE:T), T-Mobile US Inc (NASDAQ:TMUS), and Outfront Media Inc (NYSE:OUT).
Due to its stable business model, Landmark Infrastructure Partners has established a generous distribution policy. Trading at $13.50 apiece, LMRK stock offers an annual distribution yield of 10.9%.
Rising Distributions
With most double-digit yielders, investors would be happy if they can earn a steady stream of dividends. But at Landmark, the payout has actually been increasing.
When the partnership went public in November 2014, it had a minimum quarterly distribution rate of $0.2875 per unit. Its first payment of $0.1344 per unit in February 2015 represented a prorated amount corresponding to the minimum distribution rate.
Since then, Landmark Infrastructure Partners' payout has only been increasing. Paying quarterly distributions of $0.3675 per unit today, the partnership's quarterly cash distribution rate has grown by 28% since its initial public offering. (Source: "Distribution History," Landmark Infrastructure Partners LP, last accessed June 11, 2018.)
The chart below shows LMRK stock's per-unit distribution history.
LMRK Stock Distribution History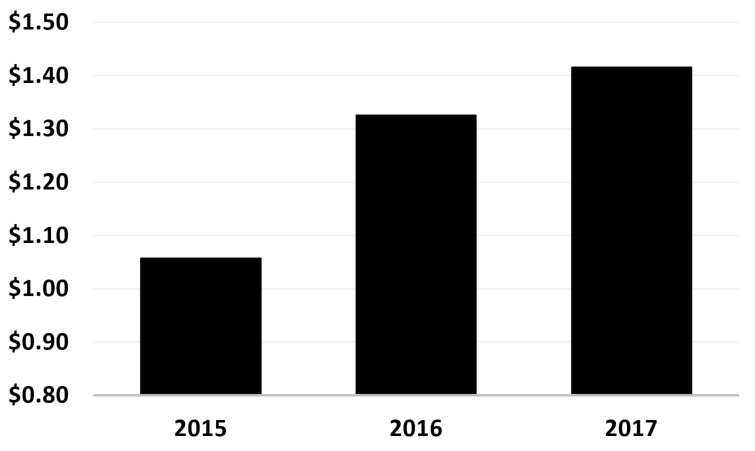 Source: Ibid.
And the best could be yet to come. Even though renting out infrastructure assets doesn't seem that exciting, Landmark has been growing its business at quite an impressive pace thanks to a series of acquisitions.
In the first quarter of 2018, the partnership generated $15.7 million in revenue, representing a 33% increase year-over-year. Distributable cash flow came in at $8.1 million, up 21% from the year-ago period. (Source: "Landmark Infrastructure Partners LP Reports First Quarter Results," Landmark Infrastructure Partners LP, May 2, 2018.)
Note that during the quarter, Landmark acquired 160 assets for about $85.0 million. These acquisitions were immediately accretive to the partnership's cash flow. For full-year 2018, management expects the partnership to spend between $250.0 million to $300.0 million acquiring new assets. A large part of that would be drop-down acquisition opportunities from its sponsor, Landmark Dividend LLC.
Due to an expanding business fueled by acquisitions and organic portfolio growth, Landmark Infrastructure Partners expects to announce a 10% year-over-year increase to its quarterly distribution rate by the fourth quarter of 2018. This means that starting 2019, investors of LMRK stock would be collecting quarterly payments of more than $0.40 per unit, which would translate to an even bigger yield than today's 10.9%.