Little-Known Partnership Pays Out 8.7% Cash Stream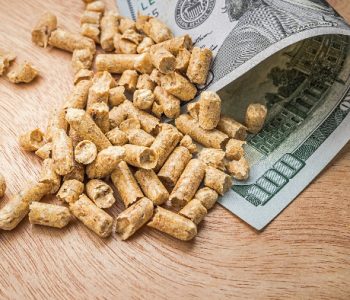 iStock.com/Irina Vodneva
This Dividend Stock Yields 8.7%
Over the coming decades, few businesses will likely pay out faster-growing dividends than green energy.
Aside from our leaders at home, most countries have pledged to cut their carbon emissions. That has set off a boom for cleaner alternatives.
Some have turned to new technologies like solar and wind power. Others have placed their bets on nuclear and hydropower. And still others will try all of the above.
One big winner from this boom: Enviva Partners LP (NYSE:EVA). The Maryland-based firm makes wood pellets for utilities, which reduces the need to burn coal. And, with surging demand in places like Europe, this little-known partnership has become a cash cow.
But will units keep producing green for investors? Let's take a deep dive into this payout.
Enviva has a short but striking distribution track record, for starters. Since going public last year, management has paid out 10 quarterly distributions, each one bigger than the last.
The last distribution, declared earlier this month, topped $0.62 per unit. That comes out to an annualized yield of 8.7%. Such steady, ongoing payout hikes tend to signal management putting their unitholders first.
That distribution will likely continue to grow.
Gross margins increased last quarter, thanks to higher prices for wood pellets. Earlier this year, management signed a take-or-pay contract with a biomass facility in Japan, agreeing to sell 650,000 metric tons per year starting in 2022.
Moreover, Enviva also agreed to buy a port in Wilmington, North Carolina in October from its parent company. Once fully operational, the facility will be able to handle three million metric tons per year. And, by cutting out the middleman, Enviva will keep all of the profits from its export business.
All of this should allow Enviva to grow profits. Over the next five years, analysts project the partnership to grow distributable cash flows at a low-teen annual clip. Most of that income will likely be passed on to unitholders in the form of higher distributions.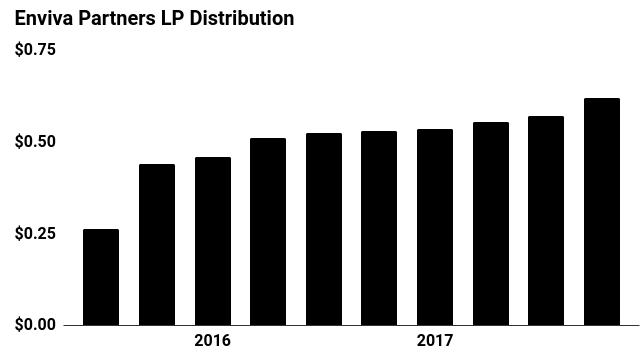 (Source: "Enviva Partners LP," Google Finance, last accessed November 20, 2017.)

The potential shadow in the alley here? The payout ratio.
Typically, I like to see companies pay out less than 75% of their profits in dividends. That leaves management with a little wiggle room if business sours.
Enviva, however, pays out $1.04 for every dollar generated in profits. That is okay, assuming profits grow as expected. But if we have any hiccups (always a reality in business), this distribution could come under pressure.
I'll be watching this number closely. If Enviva's payout ratio creeps any higher, that will put the payout in danger. In the meantime, though, unitholders don't have too much to worry about.