L Brands Inc: Founder-Led Company Yields 6%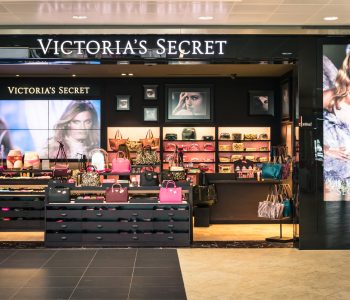 iStock/ViewApart
Founder-Run Stocks Outperform
Today's chart highlights my favorite way to identify winning stocks: founder-run companies.
Founders often run their companies like family businesses. They pay extra attention to costs and long-term strategy, even when they become large, publicly traded corporations.
Founders also don't concern themselves too much with Wall Street analysts or quarterly profits. Because they usually represent the largest shareholder, these executives can focus on maximizing the long-term value of the company. Not surprisingly, therefore, founder-run companies have outperformed the broader stock market three-to-one. (Source: "Founder-Led Companies Outperform the Rest — Here's Why," Harvard Business Review, March 24, 2016.)
Case in point, L Brands Inc (NYSE:LB). CEO Leslie Wexner started the company back in 1963, working out of a single mall outlet in Columbus, Ohio. The business has since grown into a retail behemoth over the years, with top retail chains like Victoria's Secret, Henri Bendel, Inc., and Bath & Body Works.
You can explain a lot of Wexner's success to his front line obsession. With over 50 years in the industry, some might wonder why Wexner hasn't retired. But the truth is that he's too entertained.
Wexner described retail as pure theater and one of the most fascinating games in the world. That deep curiosity has kept L Brands at the top of their game for decades. The company has never become an out-of-touch bureaucracy, where corporate suits (who may have never worked in a mall) make the decisions. (Source: "The longest-serving Fortune 500 CEO is a bra salesman," Fortune, June 5, 2015.)
You can also credit some of Wexner's success to an owner's mentality. Professional CEOs know they could get canned at any moment. Founders, in contrast, usually have more job security, which allows them to grow their companies the right way.
In the case of L Brands, that means never cutting corners. This usually disappoints Wall Street analysts, who can't see beyond the next quarter. But by making the needed investments in their business, L Brands has crushed the broader market since going public in 1969. And considering he owns so much of the stock, it's not surprising Wexner loves dividends.
In the years following the financial crisis, L Brands has increased the size of its distribution fourfold. Today, the company pays out a quarterly distribution of $0.60 per share, which comes out to an annual yield of almost six percent.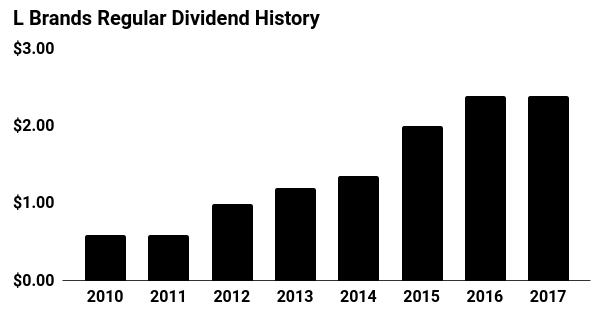 (Source: "L Brands, Inc. (LB)," Yahoo! Finance, last accessed March 16, 2018.)

It gets better. In addition to L Brands' regular distribution, the company also mails out frequent special dividends. These payments represent nice bonuses for income investors and can sometimes push the yield on shares into the double-digits.
To be clear, I don't want to recommend L Brands today. The company, though, shows the benefits of investing in founder-run businesses. Because when you partner with executives that bring an owner's mentality, you'll likely do pretty well over the long haul.