COVID-19 Gives Kroger Stock a Boost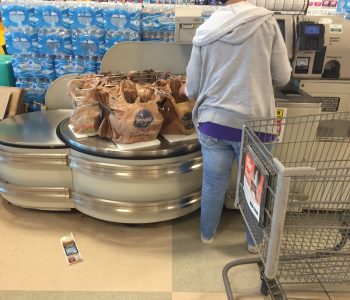 Wall Street Starting to Give Kroger Stock a Rethink
While the COVID-19 pandemic has forced dozens of blue-chip dividend stocks to suspend their payouts, one company has managed to thrive: Kroger Co (NYSE:KR).
After posting blowout financial results, the grocer's board of directors raised the quarterly distribution 13% in June to $0.72 per share. That move boosted the forward yield on KR stock to 2.2%. (Source: "Kroger Board of Directors Raises Quarterly Dividend 13 Percent," PR Newswire, June 25, 2020.)
And Wall Street, it seems, has taken notice. Since bottoming in price last summer, Kroger stock has posted a total return, including dividends, of 55%. Several top investors have also started building positions in the business.
Yet this could be just the beginning.
Admittedly, investors have avoided KR stock in the past for good reason. Groceries have always represented a competitive business, plagued by low prices and thin margins. The rise of low-cost retailers, like ALDI Inc. and Amazon.com, Inc. (NASDAQ:AMZN), have hammered traditional brick-and-mortar retailers.
COVID-19, however, seems to have provided some relief. Grocers benefited initially as shoppers stockpiled supplies. But with rolling lockdowns stretching into their sixth month, sales remain elevated as millions of Americans continue cooking from home.
For proof, you only need to take a quick glance at Kroger's financial results. In June, the grocer reported that second-quarter sales at stores open at least 15 months (excluding fuel) rose 19% from the same period in 2019. Total profit jumped 57% to $1.2 billion, crushing the consensus analysts' estimate of $876.0 million. (Source: "Kroger Reports First Quarter 2020 Results and Provides Update on COVID-19 Response," Kroger Co, June 18, 2020.)
But it looks like Kroger could emerge stronger post-COVID too. Two years ago, management unveiled a plan to overhaul its business, dubbed "Restock Kroger," in response to the rise of online rivals. The strategy called for renovating brick-and-mortar stores, stepping up online ordering, upgrading the company's private-label offerings, and reducing prices across the board. (Source: "2018 Investor Conference," Kroger Co, last accessed July 16, 2020.)
Those efforts appear to have started paying off. In December 2019, before COVID-19 hit, Kroger executives reported that companywide revenues had started growing again. Management also boosted their 2020 sales and earnings guidance, projecting that same-store sales would grow by at least two percent for the year. (Source: "Kroger Reports Third Quarter 2019 Results," Kroger Co, December 5, 2019.)
Kroger has since withdrawn the forecast, given the uncertainty surrounding COVID-19. Still, it suggests that the company's turnaround plan has started paying dividends.
Furthermore, management announced a $1.0-billion share repurchase program. That basically amounts to a memo to Wall Street in bold print, "Hey you guys, Kroger stock is WAY too cheap."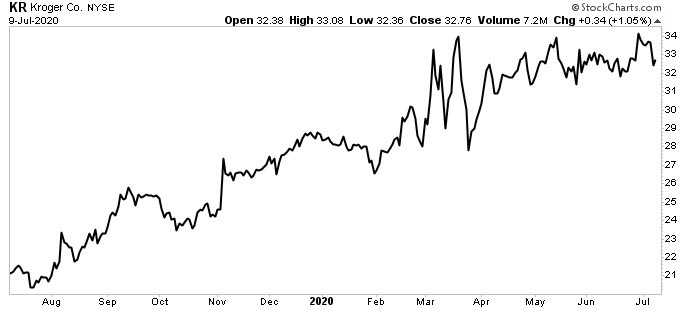 Chart courtesy of StockCharts.com
Some of the smartest investors in the world seem to agree.
Last quarter, filings with the U.S. Securities and Exchange Commission revealed that billionaire Warren Buffett had acquired a 18.9-million-share stake in KR stock. Other well-known money managers, including Jim Simons, Ray Dalio, and Paul Tudor Jones, have also started buying Kroger shares hand over fist. (Source: "Kroger Co (KR) – Hedge Fund Holdings," Insider Monkey, last accessed July 16, 2020.)
Maybe income investors should take notice of Kroger stock too.