Kraft Heinz Co: Warren Buffett-Loved Stock Provides Safe 4.3% Dividend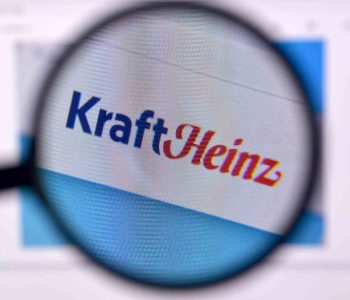 Here's Why the Outlook for KHC Stock Is Bullish
Warren Buffett's Berkshire Hathaway Inc. (NYSE:BRK.B) is famous for providing investors with long-term growth. BRK stock is also famous for not paying dividends. That doesn't mean Buffett doesn't love dividend stocks, though. This year, he's on track to collect $3.8 billion in dividend income. The bulk of that money comes from a handful of stocks.
The fifth-largest holding in Berkshire Hathaway's portfolio is Kraft Heinz Co (NASDAQ:KHC), a global food and beverage company that was formed when Kraft merged with Heinz in 2015. That move created the third-largest food and beverage manufacturer in North America and the fifth-largest on the planet, with more than $26.0 billion in annual sales.
The company manufactures and markets food and beverages—including condiments, sauces, dairy products, meats, packaged meals, soft drinks, and coffee—throughout the world. In addition to its eponymous brands, the company's portfolio includes well-known brands like "Jell-O," "Kool-Aid," "Lunchables," "Maxwell House," "Oscar Mayer," "Philadelphia," and "Velveeta." (Source: "Brands," Kraft Heinz Co, last accessed November 5, 2021.)
You can find the company's products everywhere you'd expect—such as grocery stores, convenience stores, drug stores, and bakeries—and places you might not think of—like hotels, restaurants, hospitals, and government agencies.
Whereas many businesses suffered in 2020 due to the COVID-19 pandemic, Kraft Heinz Co benefited from consumers who were forced to eat at home.
Strategic Transformation Plan
In an effort to stay lean and mean, in September 2020, Kraft Heinz announced a transformational business plan. The company's strategy is to pursue sustainable efficiencies, elevate brand spending, enhance capabilities, and take a disciplined approach to opportunistic investing. (Source: "The Kraft Heinz Company Unveils its Strategic Transformation Plan, Updates 2020 Outlook, and Provides Long-term Financial Algorithm," Kraft Heinz Co, September 15, 2021.)
Before the COVID-19 pandemic and onslaught of "temporary" inflation, Kraft Heinz focused on generating profits at any cost. With its new business strategy, the company is focused on driving sustained and profitable growth.
The new plan is expected to provide the company with $2.0 billion in efficiency savings through 2024. That's expected to help offset inflation and free up cash for Kraft Heinz Co to reinvest in its product mix.
This will ultimately lead the company to enhance its geographic footprint, focus on areas of strength, and maintain price discipline. That should help it achieve its long-term targets of organic net sales growth of one to two percent, adjusted earnings before interest, taxes, depreciation, and amortization (EBITDA) growth of two to three percent, and adjusted earnings-per-share (EPS) growth of four to six percent.
Great Q3 Results
Kraft Heinz's transformation seems to be working so far. The company reported better-than-expected third-quarter 2021 results, which allowed it to raise its full-year guidance.
Its third-quarter 2021 organic sales gains came in ahead of the already-exceptional third-quarter 2020 organic sales gains. The company's organic sales climbed by 1.3% year-over-year and by 7.6% compared to the 2019 third quarter. (Source: "Kraft Heinz Reports Third Quarter 2021 Results," Kraft Heinz Co, October 27, 2021.)
The company's third-quarter 2021 net sales slipped by 1.8% year-over-year to $6.3 billion but went up by 4.1% compared to the 2019 third quarter. Kraft Heinz reported third-quarter 2021 net income of $736.0 million ($0.59 per share), a 23.2% increase over the $598.0 million ($0.49 per share) recorded in the same prior-year period.
Its adjusted EPS were down by 7.1% year-over-year, at $0.65. Its adjusted EBITDA decreased by 11.3% year-over-year to $1.5 billion and increased by 0.7% compared to the 2019 third quarter.
Kraft Heinz Co's CEO, Miguel Patricio, commented, "We are effectively adapting to near-term challenges while transforming our business and rejuvenating our iconic brands to better serve consumers for the long term. We still have much to do, but our momentum is strong and our strategy to bring agility to our scale is working, which is why we are increasing full-year expectations." (Source: Ibid.)
Business Outlook
For fiscal 2021, Kraft Heinz expects its organic net sales to be flat compared to its exceptional 2020 organic net sales. Meanwhile, the company expects its adjusted EBITDA to increase from $6.1 billion in fiscal 2020 to more than $6.2 billion in fiscal 2021. (Source: Ibid.)
This outlook includes the impact of the sale of the company's nut business, which was completed in June, but it doesn't include the impact of the pending sale of its natural cheese business.
On the same day that Kraft Heinz Co announced its third-quarter results, it announced that its board of directors declared a regular quarterly dividend of $0.40 per share of common stock, payable on December 17 to KHC stockholders of record as of November 26. This works out to an annual payout of $1.60 per share, for a yield of 4.3%.
That yield is keeping with the company's long-term payout. Its 12-month trailing dividend yield is 4.3% and its five-year average dividend yield is 4.6%.
That trend should continue. The company's payout ratio is 85%, which is well below the 90% threshold I like to see.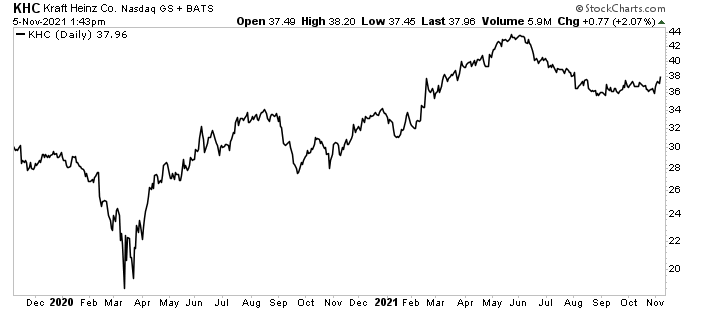 Chart courtesy of StockCharts.com
In addition to providing investors with reliable high-yield dividends, Kraft Heinz stock has benefited buy-and-hold investors with long-term share-price growth. As of this writing, KHC stock is up by 25% year-over-year and 13% year-to-date.
The Lowdown on Kraft Heinz Co
Taking into account a recovering economy and the reorientation of Kraft Heinz Co's business, the good times should continue for KHC stockholders. That's why Warren Buffett continues to hold on to Kraft Heinz stock.
While Kraft Heinz will probably experience increased costs due to raw material inflation and factors related to the COVID-19 pandemic, the company's cost savings and reinvestment into its brands should help it continue generating solid gains.