KO Stock: This 131-Year-Old "Forever Asset" Crushes The Market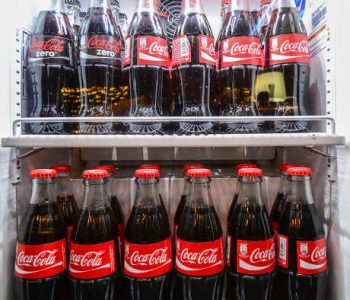 The Ultimate "Forever Asset"
The Coca-Cola Co (NYSE:KO) stock is the ultimate "Forever Asset."
The company has created thousands of millionaires; not to mention, the soda giant has been a holding in Warren Buffett's investment portfolio for decades.
And for good reason. The company gushes cash flow. Longtime shareholders have collected distributions for over a century. This is one dividend stock to own for the next 100 years.
Let me explain…
One Dividend Stock to Own Forever?
I bet you've never heard of the "Quincy Millionaires."
About 20 miles northwest of Tallahassee, this small Florida town once had more millionaires per capita than anywhere else in America. The surrounding county is filled with grungy trailer parks and run-down buildings. Quincy, though, stands out like a sore thumb, with Victorian mansions, white picket fences, and nicely tended lawns.
They owe their success to a local banker, Pat Munroe. In the depths of the Great Depression, Munroe noticed that even the most desperate people would spend their last nickel on a glass of Coke. He encouraged everyone in Quincy to buy shares of the soda maker, which were trading around $19.00 at the time. (Source: "QUINCY FLORIDA: The Town That Loves Coca-Cola," Florida Backroads Travel, last accessed February 27, 2017.)
The rest, as they say, is history. The investment saved the town from the Depression and has supported the local economy even since. A single share, with dividends reinvested, would be worth $12.0 million today, with some descendants still earning hundreds of thousands of dollars each year in distributions.
Of course, Quincy is an exceptional case. The town, though, is an example of how regular people can build wealth in the stock market. Thousands of Americans, including some of our readers, have made fortunes just by buying and holding shares of wonderful companies over decades.
The crazy part? Many of the topics that Pat Munroe raised in the 1930s still apply today. For smart investors, Coca Cola's status as a Forever Asset comes down to a few points.
First, we want to see a timeless business. When thinking about generation-like timescales, we don't want our investment to disappear overnight. Can you imagine your grandchildren or your great grandchildren using this product or service? If so, then you're probably on the right track.
You don't need an MBA to wrap your head around this firm. The company's main product has been almost unchanged for a century. People enjoy a refreshing Coke regardless of inflation, economic data, or the unemployment rate.
Coca-Cola doesn't have to reinvent its core business every few years. Unlike hot tech stocks like GoPro Inc (NASDAQ:GPRO) and Fitbit Inc (NYSE:FIT), management spends almost nothing on research and development. This allows the company to generate $0.20 in operating profits for every dollar earned in revenue, making it one of the most profitable firms in the world.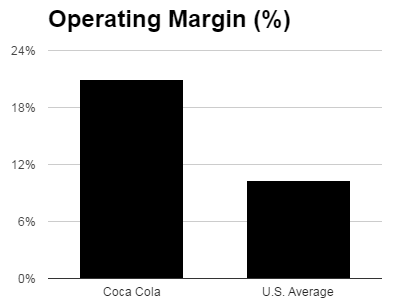 (Source: "Margins by Sector (US)," New York University, last accessed February 27, 2017.)
Secondly, we want a capital-efficient business. Most companies need capital. In order to grow, they need to spend money on new property, plants, and equipment. Truly wonderful businesses, however, don't.
Coca-Cola is a textbook case. The company doesn't really make money selling beverages. Instead, Coke sells syrup to bottlers and collects a sort of royalty on each sale.
This business model shifts most of the costs to partners. Bottlers, not Coca-Cola shareholders, have to pay for plants and distribution trucks. This frees up a huge amount of cash for owners of KO stock.
The concept is pretty simple to grasp. Take two companies in the same business. One has zero capital costs, while the other is just like any other corporation, which must plow most of its profits back into operations.
Which business do you think will do better over time? A firm like Coca-Cola with almost no capital costs? Or the business that must reinvest 60% to 70% of its profits? The answer, of course, is the company that can grow for free.
This formula has allowed Coke to deliver market-busting returns for decades. Since 1987, shares have soared 2,750%. This crushed the broader market's 740% return over the same period. More remarkably, the company pulled this off despite being one of the largest businesses in America.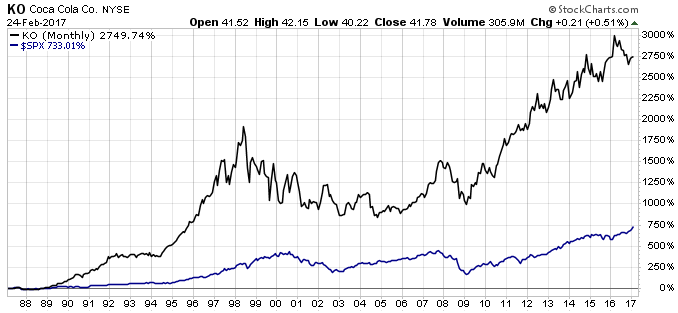 Chart courtesy of StockCharts.com
Third, Forever Assets have long track records of rewarding shareholders. Because Coca-Cola generates so much cash flow, most of its profits are paid out to investors. The company sports one of the longest dividend histories around. Management has mailed a check to shareholders each year since 1893, going back to when Glover Cleveland was president.
More importantly, the company has been able to increase that dividend over time. Coca-Cola has hiked its payout for 49 consecutive years, making it one of the oldest members of the S&P 500 Dividend Aristocrats Index. Even through the financial crisis, executives managed to pass on small dividend hikes to investors.
These hikes can really add up.
When Warren Buffett, for example, bought shares of Coca-Cola in 1988, the stock yielded less than four percent. Since then, the company has grown its dividend by 1,300%. Today, Buffett earns a yield of more than 50% on his first investment.
New investors will have to wait a while to earn similar returns. Shares pay out a quarterly distribution of $0.37 per share, which comes out to an annual yield of 3.5%. A couple decades of dividend hikes, however, and a new crop of shareholders could earn double-digit yields, too.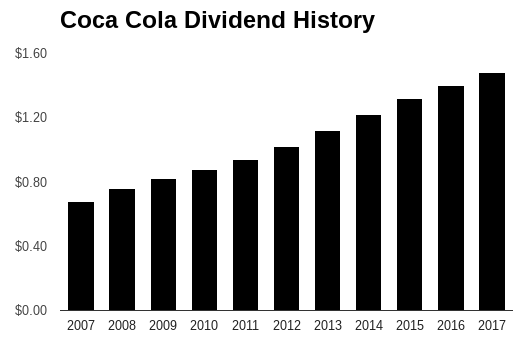 (Source: "Dividends," The Coca-Cola Co, last accessed February 27, 2017.)
Of course, KO stock is no sure thing. The company's best growth days are behind it. More health-conscious Americans consume less soda than they use to. The next big tech gadget, others will point out, could make you an overnight millionaire–no need to wait decades.
I agree; no doubt new issues will knock the stock one way or another. However, for those of us with a long enough investment horizon, this isn't really a problem.
And no doubt owning Coke makes for lousy water cooler talk. But, unlike the next hot tech name, I'm far more confident that this company will be around decades from now. And in my years investing, I've found that it's stodgy, boring businesses like Coca-Cola that make investors the most money.
The Bottom Line On KO Stock
The bottom line is that KO stock is the ultimate Forever Asset: a timeless, cash-gushing business that has paid out dividends for over a century. I'm sure the residents of Quincy would agree that this is one dividend stock to own for the next 100 years.