KNOT Offshore Partners LP: Safe 10.8% Yielder for the Global Energy Crunch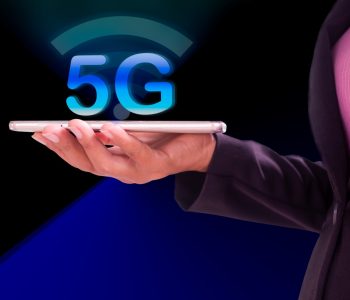 KNOP Stock: Reliable Dividends & Soaring Share Price
West Texas Intermediate crude oil has been trading at its highest prices since 2014, around $80.00 per barrel. Analysts predict it will hit $100.00 per barrel this winter. Oil prices have been surging since the Organization of the Petroleum Exporting Countries Plus (OPEC+) stuck to its planned gradual output increase instead of pumping out even more oil.
Meanwhile, natural gas prices have also been enjoying a strong run, with natural gas futures at their highest level since 2014, up by more than 130% year-to-date.
One of the best ways to get exposure to crude oil and natural gas is to look at shares of large producers. Another way to play the global energy crunch is to look at supply-chain stocks. One of the best is KNOT Offshore Partners LP (NYSE:KNOP).
KNOT Offshore Partners is a limited partnership in the shuttle tanker business. Shuttle tankers are often referred to as "floating pipelines" because the vessels move oil from offshore installations to onshore facilities, just like a pipeline would along the ocean floor. (Source: "Our Fleet," KNOT Offshore Partners LP, last accessed October 6, 2021.)
And like pipelines, the company's ships operate under period charters, which are contracts that have nothing to do with volume.
KNOT Offshore Partners' fleet consists of 16 shuttle tankers. That represents a 300% increase in fleet size since the company's initial public offering (IPO) in April 2013, when the fleet consisted of just four vessels.
The company's ships are different from conventional oil tankers because they're fitted with advanced technology that allows them to handle rough seas when loading, transporting, and unloading crude oil and condensates from offshore oil-field installations to onshore terminals and refiners.
KNOT Offshore Partners LP provides its services under time charters and bareboat charters. Each contract is for a period of time at a specific daily rate, and is paid monthly in advance.
With a time charter, the ship's owner is responsible for providing a crew and other operating services, while the customer is responsible for the voyage expenses. With a bareboat charter, the customer, not the ship's owner, is responsible for providing the crew and other services.
Because each vessel operates in a niche space, they're popular with oil companies. Those companies provide KNOT Offshore Partners with stable, steady cash flow, which is passed on to KNOT Offshore Partners stockholders in the form of high-yield dividends.
In July, the partnership's board of directors declared a quarterly cash distribution of $0.52 per unit, or $2.08 per year. At its current price, that gives KNOP stock an annual distribution of 10.1%. (Source: "Distribution Policy & History," KNOT Offshore Partners LP, last accessed October 6, 2021.)
Because KNOT Offshore Partners operates in the energy sector, its financial results and dividends will fluctuate with the prices of oil and natural gas. That said, KNOT Offshore Partners stock has held its payout at $0.52 since the third quarter of 2015.
This means dividend hogs have been able to rely on KNOP stock for high-yield dividends when crude oil prices are either rising, tumbling, or running sideways.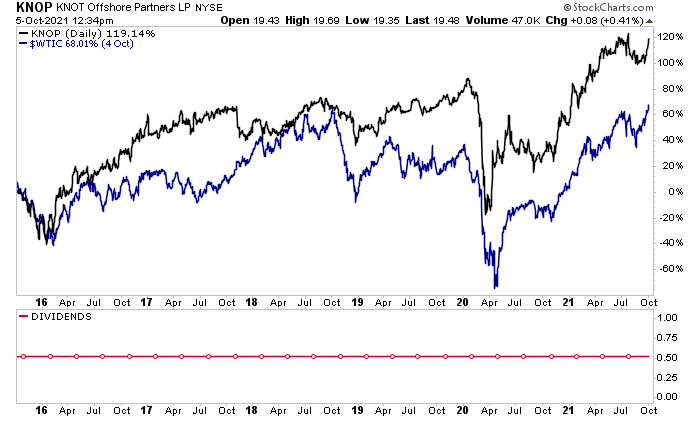 Chart courtesy of StockCharts.com
The price of KNOT Offshore Partners stock also fluctuates depending on where energy prices are. Right now, oil and natural gas prices are soaring because of a supply crunch. Producers want to get more product to market, and KNOT Offshore Partners LP is there to help.
As of this writing, KNOP stock is up by:
Six percent over the last month
13% over the last six months
40% year-to-date
68% year-over-year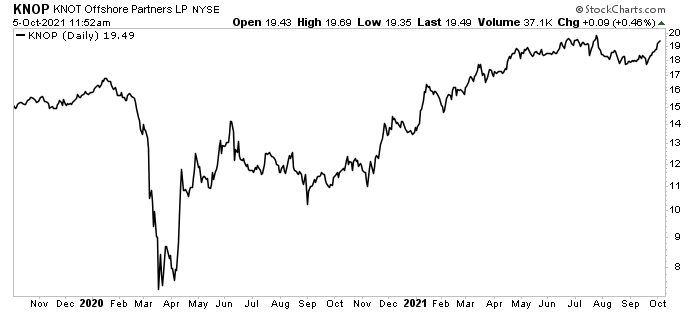 Chart courtesy of StockCharts.com
The outlook is bright for KNOT Offshore Partners LP. Oil prices continue to rise on the economic recovery and supply/demand imbalance. Moreover, with the offshore energy industry approaching the more hazardous weather of autumn and winter, KNOT Offshore Partners' ships will be even more essential.
These tailwinds will pass, though. That's why it's great that the company has completed commercial terms for vessels and a multi-vessel refinancing that extends maturities from 2021 to 2026. That has improved the partnership's forward visibility and has helped secure longer-term distribution coverage.
The Lowdown on KNOT Offshore Partners LP
What's not to like about KNOT Offshore Partners LP?
The company is a leader in a niche field that provides it with predictable, steady cash flow. This, in turn, allows KNOT Offshore Partners stock to provide investors with stable, double-digit, high-yield dividends, which the company has never reduced.