Kimco Realty Corp: Top Real Estate Stock Pay a Generous 6.7%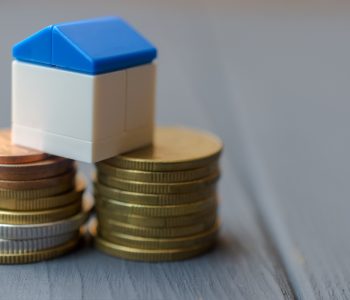 iStock/gelmold
A High-Yield Stock You Likely Haven't Thought About
In an earlier column, we analyzed the highest-yielding S&P 500 company. Now, let's take a look at the second-highest-yielding component of the benchmark index, Kimco Realty Corp (NYSE:KIM).
As the name suggests, Kimco Realty is in the real estate business. Structured as a real estate investment trust (REIT), the company owns and operates one of the largest portfolios of open-air shopping centers in the U.S. By the end of the first quarter of 2018, Kimco Realty's portfolio consisted of 475 shopping centers totaling 81 million square feet.
Trading at $16.52 apiece at the moment, Kimco Realty stock has an annual dividend yield of 6.7%. That makes it, as stated, the second-highest-yielding S&P 500 company, only behind CenturyLink Inc (NYSE:CTL).
Of course, we know that dividend yield moves in the opposite direction to a company's stock price. Therefore, a high dividend yield could simply be a sign of trouble.
In the case of Kimco Realty, the company's share price slipped more than seven percent over the last 12 months. The reason lies in Kimco's exposure to the retail industry.
You see, as e-commerce takes main stage, more and more consumers are shopping at online vendors. As a result, investors are worried that business at brick-and-mortar retailers would slow down. And indeed, quite a few physical retailers have reported year-over-year declines in same-store sales numbers.
Dealing with Retail Headwinds
Because Kimco Realty owns a lot of shopping center real estate, the concern about retail headwinds has affected its stock price as well.
The good news is, Kimco Realty is well-positioned for the transition that's happening in the retail business. In particular, the company earns 74% of its annualized base rent from shopping centers anchored by a grocery store. Moreover, approximately 60% of Kimco Realty's small shop tenants are service-based. (Source: "Investor Presentation," Kimco Realty Corp, last accessed July 5, 2018.)
In this day and age, consumers may not visit department stores as often as before. But when they need fresh groceries and in-person services, they are still likely to go to brick-and-mortar locations. With most of its portfolio anchored by grocery stores and a large service tenant base, Kimco could survive retail headwinds in better shape than many investors had thought.
At the same time, Kimco Realty has also done a great job at diversifying. Today, the company has 8,400 leases with 3,900 tenants. And only 13 tenants contribute to more than one percent to Kimco Realty's total annualized base rent. In other words, if one tenant has trouble coming up with its rent payment, the impact on Kimco's company-level financials will likely be limited.
The business is also quite stable. The average lease term for Kimco Realty's grocery store tenants is 10 years. For small-shop tenants, the average lease term is about five years.
Kimco Realty Corp: Returning Cash to Investors
With a stable business model, Kimco Realty can pay a recurring dividend. While most high yield stocks are not really safe bets nowadays, KIM stock's dividends remain rock-solid. In fact, the company managed to pay not just a steady dividend, but an increasing one.
Consider this: In 2013, Kimco Realty declared total dividends of $0.855 per share. By 2017, the amount had grown to $1.09 per share. That translated to an increase of 27.5%, which is quite impressive given the company's already-established business. (Source: "Dividends," Kimco Realty Corp, last accessed July 5, 2018.)
KIM Stock Dividend History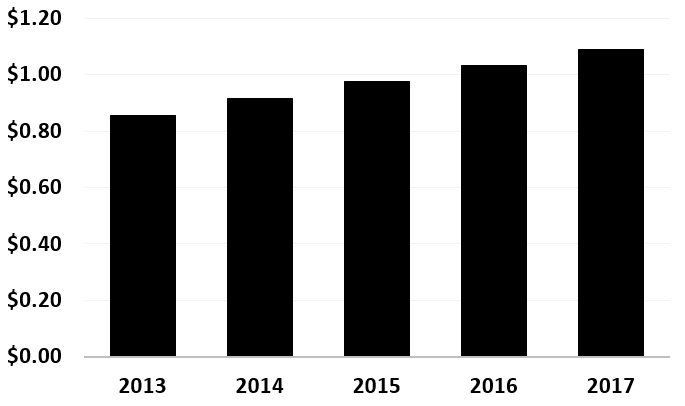 Data source: Ibid.
And if you are worried about whether those dividend hikes were too aggressive, don't be; despite the downturn in the retail industry, Kimco Realty has actually been growing its business.
In 2017, the company generated a net income of $372.5 million, or $0.87 per share, representing a substantial increase from the $332.6 million, or $0.79 per share, earned in 2016. Funds from operations, a critical measure of a REIT's performance, came in at $1.55 per diluted share, up 17.4% from the prior year. (Source: "Kimco Realty Announces Fourth Quarter and Full Year 2017 Results," Kimco Realty Corp, February 15, 2018.)
Since the company declared total dividends of $1.09 last year, it had a safe payout ratio of 70.3%.
In the first quarter of 2018, Kimco Realty continued to grow its financials. The company generated funds from operations of $0.39 per share for the quarter, representing a 5.4% increase year-over-year. Again, the amount easily covered KIM stock's quarterly dividend payment of $0.28 per share. (Source: "Kimco Realty Announces First Quarter 2018 Results," Kimco Realty Corp, April 26, 2018.)
Operation-wise, Kimco Realty's proportional occupancy rate stood at 96.1% at the end of March, representing an 80-basis point improvement from a year ago. Moreover, the rent per square feet on new leases signed during the quarter was 15.6% higher than the rent previously paid for the same space.
In fact, the first quarter of 2018 marked the 16th consecutive quarter in which Kimco Realty achieved new leasing spreads of over 10%.
With higher rental income, the company could dish out bigger dividend checks. Adding the fact that KIM stock already yields 6.7%, it could represent a serious opportunity for income investors.