Kimberly Clark Corp: Is Recent Pullback an Opportunity for Dividend Investors?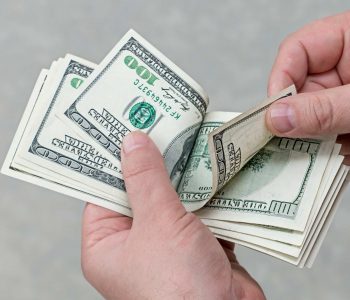 Time to Check Out KMB Stock
Quality items seldom go on sale, which is why, if you're an income investor, you might want to take a look at Kimberly Clark Corp (NYSE:KMB) right now.
Kimberly Clark is a consumer staples company with a history that can be traced all the way back to 1872. Today, it's a major player in the paper-based consumer products business. Its products are sold in more than 175 countries around the world. Many of the company's brands, such as "Huggies," "Kleenex," "Scott," "Kotex," and "Cottonelle," hold either the No. 1 or No. 2 market share position in 80 countries. (Source: "Investor Presentation," Kimberly Clark Corp, last accessed January 6, 2021.)
Facial tissue and toilet paper are nothing exciting, but they're things that people buy on a regular basis. With an entrenched position in these markets, Kimberly Clark can run a recurring business through thick and thin. To give you an idea, each of the five brands I mentioned earlier generates more than $1.0 billion in annual sales.
The importance of recurring business often gets overlooked during an economic boom, when many companies report record sales. But in a downturn, resilient companies can stand out.
And that's exactly why Kimberly Clark stock received a lot of investor attention in 2020.
When the COVID-19 outbreak started sending shock waves across the economy, many businesses struggled. Nevertheless, during that period, some consumers started stocking up on essential supplies—including Kimberly Clark's products. So rather than being negatively impacted by the pandemic, the company's sales actually got a boost from the change in consumer behavior. In the first quarter of 2020, the company's net sales grew eight percent year-over-year to $5.0 billion, driven by organic sales growth of 11%. (Source: "Kimberly-Clark Announces First Quarter 2020 Results," Kimberly Clark Corp, April 22, 2020.)
This resilience was also reflected in the performance of KMB stock. Like most tickers, Kimberly Clark stock tumbled during the market sell-off in March 2020, but it managed to bounce back as early as April. To put that in perspective, the S&P 500 did not turn positive for the year until July.
In fact, after KMB stock recovered from the sell-off, it went on to have a nice rally, reaching $157.83 per share mid-August.
However, as the chart below shows, the momentum slowed down, and in October, Kimberly Clark stock experienced a pretty steep drop.
Kimberly Clark Corp (NYSE:KMB) Stock Chart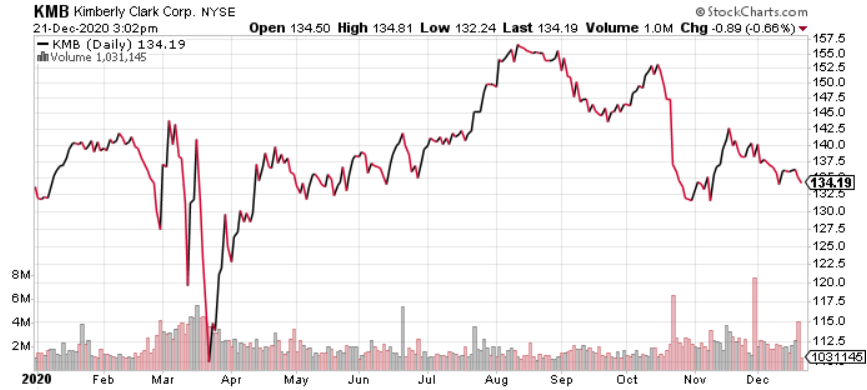 Chart courtesy of StockCharts.com
The sharp pullback occurred in the trading session following the company's third-quarter earnings report.
But here's the thing: while sentiment seems to have changed toward KMB stock, the report may not be as bad as the share-price movement seemed to suggest.
In the third quarter of 2020, Kimberly Clark's net sales rose one percent year-over-year to $4.7 billion. This included organic sales growth of three percent. (Source: "Kimberly-Clark Announces Third Quarter 2020 Results," Kimberly Clark Corp, October 22, 2020.)
In particular, the company's Consumer Tissue segment sales grew nine percent year-over-year in the third quarter. Personal Care segment sales rose one percent.
The concerning part was the K-C Professional segment, which reported a 16% sales decline year-over-year. However, this shouldn't really come as a surprise. As people continued to work from home due to the COVID-19 pandemic, the demand from businesses for washroom products was not as strong as before.
At the bottom line, Kimberly Clark earned adjusted net income of $1.72 per share. While the amount was lower year-over-year, it was well above the company's quarterly dividend payment of $1.07 per share.
Speaking of dividends, Kimberly Clark stock is one of the most reliable dividend growth stocks on the market. The company has increased its payout to shareholders every year for the past 48 years. (Source: "Dividend/Split History," Kimberly Clark Corp, last accessed January 6, 2021.)
Why Kimberly Clark Corp Could Be an Opportunity
Because there's an inverse relationship between dividend yield and stock price, the recent pullback in KMB stock has brought its yield up. Trading around $134.00 apiece at the time of this writing, the consumer staples giant offers an annual dividend yield of 3.2%.
Sure, you can find more exciting tickers on the market. But keep in mind that, among quality dividend growth stocks, value is not always easy to find. Kimberly Clark Corp runs an extremely resilient business and offers a dividend stream that seems to be rising forever. The recent drop in its share price could be an opportunity for income investors to get on board.