Kimberly Clark Corp Is a Future Dividend King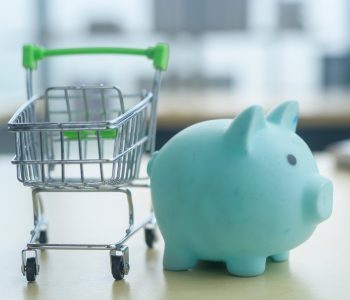 This Is a Top Dividend Stock
When it comes to serving income investors, there's a group of companies that stand out from the crowd: Dividend Kings.
These are companies that have paid increasing dividends every year for at least 50 consecutive years. Considering that our economy moves in cycles, half a century of nonstop dividend hikes is no easy feat. That's why, among the thousands of companies trading on U.S. stock exchanges, there are just 31 Dividend Kings at the time of this writing.
In the near future, I expect one more company to join this group: Kimberly Clark Corp (NYSE:KMB).
Having been around since 1872, Kimberly Clark is one of the oldest consumer staples companies in America. Today, it's one of the most established players in the paper-based consumer products business. Headquartered in Dallas, TX, Kimberly Clark has operations in 34 countries, and its products are sold in more than 175 countries. It's truly an international business: last year, the company generated 46% of its net sales outside of North America. (Source: "CAGNY 2021," Kimberly Clark Corp, last accessed July 14, 2021.)
Kimberly Clark has quite a few iconic brands, such as "Kleenex," "Huggies," "Scott," and "Cottonelle." It's estimated that about one quarter of the world's population uses Kimberly Clark's products. The company's brands hold the No. 1 or No. 2 market-share position in 80 countries.
Having an entrenched position in the consumer staples business means the company can provide a reliable stream of dividends. After all, consumer staples are household necessities, products that people buy regardless of where they are in the economic cycle. Simply put, the business is recession-proof.
In fact, Kimberly Clark managed to pay not only a stable dividend, but an increasing one.
On January 25, the company's board of directors approved a 6.5% increase to KMB stock's quarterly dividend rate to $1.14 per share, starting with the April 2021 payment. The announcement marked Kimberly Clark stock's 49th consecutive annual dividend increase. (Source: "Dividend/Split History," Kimberly Clark Corp, last accessed July 14, 2021.)
That's right, KMB stock is just one year away from joining the elite group of Dividend Kings.
Kimberly Clark stock's dividends are backed by a rock-solid business. In 2020, the company's net sales grew by four percent from 2019 to $19.1 billion. Excluding currency headwinds, the company's organic sales rose by six percent. (Source: "Kimberly-Clark Announces Year-End 2020 Results and 2021 Outlook," Kimberly Clark Corp, January 25, 2021.)
The company's bottom line was even more impressive in 2020. Kimberly Clark's adjusted earnings came in at $7.74 per share, up by 12% from the $6.89 per share in 2019.
Considering the company declared total dividends of $4.28 per share last year, it was paying out just 55% of its adjusted profits. In fact, the company's evolving payout ratio is one of the reasons KMB stock stands out—even compared to other blue-chip dividend growth stocks.
Take a look at the following chart. It shows Kimberly Clark stock's dividend payout ratio—based on adjusted earnings per share (EPS)—from 2017 to 2020.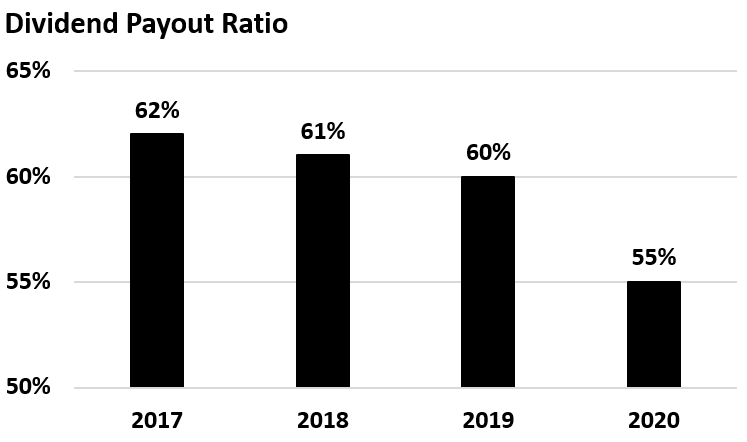 (Source: "2021 Fact Sheet," Kimberly Clark Corp, last accessed July 14, 2021.)
What the above chart shows is that, despite KMB stock paying higher dividends every year, the company's payout ratio has actually dropped over the years. This is made possible by the company's increasing adjusted EPS.
Other than paying a hefty dividend, Kimberly Clark returns cash to investors through its share repurchase program. In 2020, the company's dividends and share repurchases totaled $2.2 billion, marking the 10th consecutive year that Kimberly Clark stock returned at least $2.0 billion to shareholders.
In the first quarter of 2021, Kimberly Clark generated $4.7 billion in net sales, down by about five percent year-over-year. Its adjusted earnings were $1.80 per share for the quarter, compared to $2.13 per share in the first quarter of 2020. (Source: "Kimberly-Clark Announces First Quarter 2021 Results," Kimberly Clark Corp, April 23, 2021.)
Now, I should point out that part of the reason that the first-quarter year-over-year comparison seems disappointing is that, in the year-ago period, consumers were stocking up on essential supplies in light of the COVID-19 pandemic. That gave an extraordinarily strong boost to Kimberly Clark's sales.
How will the rest of the year turn out?
Well, management is now targeting organic sales growth of zero to one percent and adjusted EPS of $7.30 to $7.55. Considering that KMB stock is on track to pay total dividends of $4.56 per share this year, I'd say dividend investors have little to worry about.
Bottom Line on Kimberly Clark Corp
Because of the recession-proof nature of the company's business, Kimberly Clark stock had a strong rally in the summer of 2020, but it has since pared some of its gains. Year to date, the shares are up by just 1.2%.
However, the fact that KMB stock isn't shooting through the roof is one of the reasons it can still offer a generous payout. Trading at $135.35 per share, the company has an annual dividend yield of 3.4%.
And considering how Kimberly Clark Corp's business has been doing, I expect the company to continue its dividend-increase track record. That is, come 2022, Kimberly Clark stock would become a Dividend King.