My Favorite Bulletproof Dividend Stock Just Raised Its Payout Again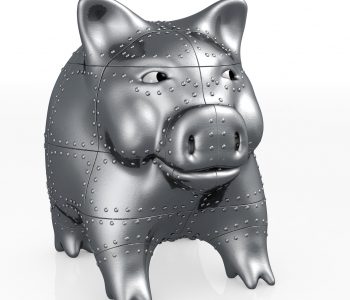 iStock.com/TaiChesco
If You Want to Be a "Lazy" Dividend Investor, Read This
There is a small group of companies called "bulletproof dividend stocks."
They rarely make headlines in the financial media and are not really in the hottest industries. In fact, some people may call their business outright boring.
However, if you are a "lazy" investor like me, meaning you want to treat investing as a "set-and-forget" activity, then my "bulletproof dividend stocks" will serve you well.
You see, as a long-term income investor, I don't want to be glued to my computer or smartphone checking financial news all the time. I'd rather let my investments work for me, not the other way around.
That's why I call these companies "bulletproof dividend stocks." If you own shares of these companies, you don't have to worry about quarterly earnings, the Federal Reserve's interest rate decisions, or even recessions. It's like putting your portfolio on autopilot.
Better yet, you get to collect regular dividend checks in the mail.
Last month, one of my favorite "bulletproof dividend stocks" raised its payout again.
I'm talking about Kimberly Clark Corp (NYSE:KMB), a consumer products company headquartered in Dallas, Texas.
Kimberly Clark Corp
A look at Kimberly Clark's product lineup would tell you why someone might call the business boring.
Kimberly Clark Corp has no intention of making the "next big thing." It's not coming out with a driverless car or virtual reality headset. Instead, the company makes things like diapers, baby wipes, facial tissue, bathroom tissue, and paper towels.
People don't get excited when they go shopping for these items. However, bathroom tissue and paper towels are things that people need rather than want. Therefore, the demand for these products stays relatively stable throughout economic cycles.
And if a company can differentiate itself from the competitors in this market, it will be able to earn profits through thick and thin.
As it turns out, that's exactly what Kimberly Clark Corp has done.
The company owns some of the biggest brands in the business, including "Huggies," "Pull-Ups," "Kleenex," and "Scott."
Kimberly Clark operates through three main segments: "Personal Care," "Consumer Tissue," and "K-C Professional." Its products from these three categories are sold in more than 175 countries around the world.
And like I said, the business is extremely durable. Around one-quarter of the world's population use one of Kimberly Clark's products every day, providing the company with a massive recurring business.
Returning Cash to Investors
The best part is that, as Kimberly Clark Corp grew its business over the years, it also returned an increasing amount of cash to investors. In fact, the company has been raising its dividends every year for 47 consecutive years. (Source: "Dividend/Split History," Kimberly Clark Corp, last accessed January 30, 2019.)
The latest dividend hike came last month, when Kimberly Clark's board of directors approved a quarterly dividend rate of $1.03 per share for 2019, marking a three-percent increase from KMB stock's previous payout. The first "new" dividend will be paid on April 2, 2019 to shareholders of record as of March 8.
Trading at $108.60 apiece at the time of this writing, KMB stock offers an annual dividend yield of 3.8%.
And if you are wondering whether the company can afford all the dividend hikes, don't worry; Kimberly Clark actually stands out when it comes to dividend safety.
In 2018, the company generated adjusted earnings of $6.61 per share, representing a six-percent increase from 2017. And since the company declared total dividends of $4.00 per share in 2018, its payout ratio came out to 60.5%. (Source: "Kimberly-Clark Announces Year-End 2018 Results and 2019 Outlook and Introduces K-C Strategy 2022," Kimberly Clark Corp, January 23, 2019.)
To have a margin of safety, I like to see companies paying out less than 75% of their profits. At just 60.5%, KMB stock's payout ratio means that even if business slows down, the company should still have enough resources to cover its payout.
Is the Best Yet to Come?
And don't think for one second that KMB stock is done with its dividend increases. While the consumer staples business isn't exactly the fastest-growing one at the moment, the company's new "K-C Strategy 2022," which was introduced at its latest earnings report, should fuel its future dividend growth.
According to the plan, Kimberly Clark is targeting medium-term sales and organic sales growth of one to three percent annually. The objective for adjusted earnings per share growth, on the other hand, is mid-single digits annually. Management plans to raise the company's dividend at a rate that's "generally in line with adjusted earnings per share growth." (Source: Ibid.)
Add up, you'll see that Kimberly Clark Corp is well-positioned to keep its dividend hike streak alive.
2019 is shaping up to be a year filled with uncertainty. A "bulletproof dividend stock" like KMB stock should provide income investors with peace of mind.