Kimberly Clark Corp: Boring Business, Exciting Returns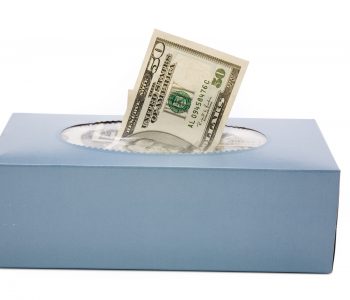 iStock.com/Devonyu
Why KMB Remains a Top Pick for Income Investors
Large-cap consumer staples companies are not known for making big moves in their share prices. But on the morning of April 22, Kimberly Clark Corp (NYSE:KMB) stock surged 5.7%.
And if you look further back, you'll see that KMB stock has climbed more than 32% in the past 12 months, substantially outperforming the 8.7% gain from the S&P 500 index during this period.
So, how did this Irving, Texas-based company that's known for making "Kleenex" deliver such impressive returns? Well, in the case of the stock's most recent rally, the catalyst was an earnings report.
On April 22, Kimberly Clark Corp reported that, in the first quarter of 2019, it generated $4.6 billion in net sales, representing a two-percent decline year-over-year. (Source: "Kimberly-Clark Announces First Quarter 2019 Results," Kimberly Clark Corporation, April 22, 2019.)
How is a lower top line good news?
Well, because exchange rate fluctuations had a five-percent negative impact on Kimberly Clark's sales during the quarter. On an organic basis, the company's sales actually grew three percent from a year ago, driven by a four-percent increase in net selling prices.
KMB stock's top-line number also topped Wall Street's expectations. On average, analysts expected the company to only earn $4.5 billion for the quarter. (Source: "Kimberly-Clark Corporation (KMB)," Yahoo! Finance, last accessed April 22, 2019.)
At the bottom line, Kimberly Clark Corp earned an adjusted net income of $1.66 per share in the first quarter, which was down from the $1.71 per share earned a year ago. Still, keep in mind that analysts' consensus estimate for the company's earnings per share was $1.54 for the quarter. So KMB actually beat Wall Street's bottom-line expectations by $0.12 per share. And that was good enough to cheer up investors.
Kimberly Clark Corp Providing Recession-Proof Dividends
On a deeper note, what really made investors like KMB stock over the long term was its recession-proof business.
As I mentioned earlier, Kimberly Clark is in the consumer staples business. That is, the company sells products that are essential, such as paper towels, toilet paper, diapers, and baby wipes.
Kimberly Clark has a well-established market position; the company's history can be traced all the way back to the 1870s. And over the years, many of its brands have become household names. Other than the aforementioned "Kleenex," they also include  "Scott," "Cottonelle," and "Huggies"— just to name a few.
Compared to companies in other industries, Kimberly Clark's products are probably on the boring side. However, keep in mind that toilet paper and paper towels are things that people need, rather than just want. Therefore, even when times get tough, most consumers likely wouldn't cut these items out of their budgets.
By being a deeply entrenched player in the consumer staples business, Kimberly Clark can make money through thick and thin.
And as you'd expect from a recession-proof business, KMB has the ability to return profits to investors through regular dividend payments.
The best part is, those payments have been on the rise. In 2013, Kimberly Clark declared four quarterly dividends totaling just over $3.10 per share. By 2018, that amount had grown to $4.00 per share, marking a 28.8% increase. (Source: "Dividend/Split History," Kimberly Clark Corp, last accessed April 22, 2019.)
Going further back, we see that the company has increased its dividend every year for 47 years. So, even during economic downturns—and there were quite a few of them over the last 47 years—Kimberly Clark managed to mail out bigger dividend checks than before.
For investors looking to earn recession-proof dividends, things don't get much better than this.
Maintaining a Safe Payout
If you are concerned about whether the dividend is safe after decades of continuous increases, don't be. Last year, Kimberly Clark earned an adjusted net income of $6.61 per share while declaring $4.00 per share in total dividends. So the company was paying out just over 60% of its profits. (Source: "Kimberly-Clark Announces Year-End 2018 Results and 2019 Outlook and Introduces K-C Strategy 2022," Kimberly Clark Corp, January 23, 2019.)
And as I mentioned earlier, Kimberly Clark's adjusted earnings came in at $1.66 per share in the first quarter of 2019. Considering that the company declared a cash dividend of $1.03 per share during that quarter, it had a payout ratio of around 62%.
How ever you look at it, these payout ratios have left wide margins of safety in Kimberly Clark stock's dividend policy.
And the company is expected to continue to grow its business. For full-year 2019, management expects Kimberly Clark's organic sales to increase by another two percent.
Kimberly Clark Corp Stock Chart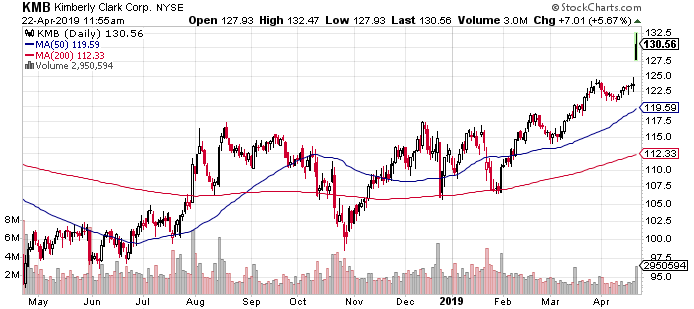 Chart courtesy of StockCharts.com
The Bottom Line on Kimberly Clark Stock
Due to the inverse relationship between a company's share price and its dividend yield, a soaring stock price often means a less-than-satisfying payout for yield-seeking investors.
However, with a quarterly dividend rate of $1.03 per share and a share price of $130.56, KMB stock currently offers an annual yield of 3.2%, which is not bad, considering that the average S&P 500 company pays 1.9%. (Source: "S&P 500 Dividend Yield," Multpl.com, last accessed April 22, 2019.)
Like every stock, Kimberly Clark Corp will see volatility from time to time. But for investors who want to collect a steadily increasing stream of dividends, KMB stock remains one of my top picks to consider.