The 7.7% Income Stream You Likely Haven't Considered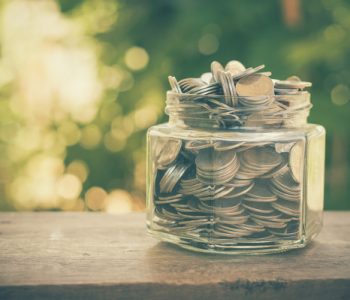 All-Weather Bond Fund Yields 7.7%
Does this sound familiar? Your head says, 'I need stocks if I'm ever going to put away a big nest egg." But your gut says, "Safety. Yield. And I don't want anything that will plunge in value the next time shares dive."
You're hardly alone. If only something offered stock-like returns when the market soars. Then when things turn ugly, it suddenly starts acting like a bond: plenty of stability, lots of income.
Actually, such a portfolio exists. It's run by some of the smartest, most reliable money managers around. And right now, the fund pays out a yield of 7.7%.
Let me explain…
For fixed-income investments, I often turn to a large, well-known firm called Allianz Global Investors. Allianz manages over $500.0 billion for institutions and small investors like us. I'm a big fan of this investment firm because:
The company hates volatility. Its risk profile is strikingly similar to a lot of my readers, which is to say they want to own stocks during the good years, but run for cover in bonds whenever things turn awry.
It doesn't time the market. The company believes, as I do, that nobody can call tops and bottoms. Allianz also believes that market-timers tend to lag the buy-and-hold investors.
One of Allianz's funds focuses on a special class of bonds; they have a credit rating, a fixed maturity date, and a high interest rate. But, because these bonds can convert into common shares, these issues go up right alongside stocks. That's why they're called "convertible bonds."
Think about it: whenever "Mr. Market" catches the flu, you own a professionally managed portfolio that throws off good income. And when business is rockin' and rollin', these bonds rise right alongside the stock market.
The portfolio is called—no shocker here—the AGIC Equity and Convertible Income Fund (NYSE:NIE). The total size of the portfolio is about $500.0 million; large enough for it to stay diversified, but small enough to stay nimble.
Unlike bond funds, units have soared in value right along with the stock market. Over the past five years, investors have earned a total return of 67%. If stocks keep rising, investors should get some of that upside too.
Allianz, though, manages this fund extra-conservatively. They stick to investment-grade convertible notes which pay out lots of current income. If equities crash, these issues suddenly start acting like boring, stodgy bonds. So investors get the best of both worlds.
Right now, the fund pays out a quarterly distribution of $0.38 per unit, which comes out to an annual yield of 7.7%. That number might sound high, especially considering it comes from a portfolio of defensive, investment-grade securities. The results, though…well, it just goes to show you what convertible bonds that are managed by smart people can return over time.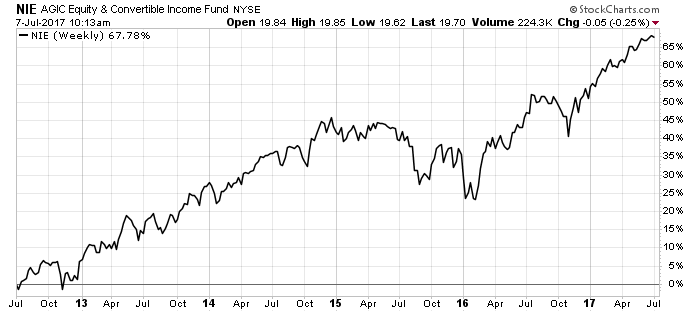 Chart courtesy of StockCharts.com
The Bottom Line on NIE
Of course, you can't call convertible bonds sure things. Companies can (and do) default on their bonds from time to time. That's why having a professional manager, watching credit quality like a hawk, is a big advantage. That said, this usually isn't a problem if you stick to the highest-quality securities like Allianz.
If you're looking to mix the upside of stocks with the safety of bonds, convertible funds like NIE represent the perfect solution. Your head and your gut can agree on this one.