JPMorgan Chase & Co.: Why JPM Stock is a Top Bank Pick for Income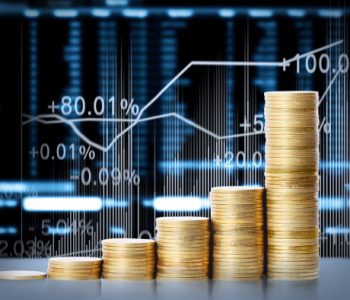 JPM Stock: Good for Current Income and Dividend Growth
JPMorgan Chase & Co. (NYSE:JPM) is the biggest bank stock in the U.S. by total assets and is a perfect example of a best-in-class bank stock. JPM stock enjoys strong fundamentals backed by rising earnings and a strong loan portfolio and it stands to benefit greatly from a key growth catalyst.
Going forward, stock investors should view the possibility of rising interest rates as a major catalyst for big bank stocks like JPMorgan. Until then, JPM stock is highly profitable and returns a significant portion of its earnings to investors as share repurchases and dividends.
JPMorgan stock also grows its dividend each year, and at rates that far exceed inflation. For example, earlier this year it hiked its dividend by 9%. Its quarterly dividend has nearly doubled over the past five years. (Source: "Dividend History," JPMorgan Chase & Co., last accessed October 4, 2016.)
Based on its current share price, JPMorgan's forward annualized dividend of $1.92 per share represents a 2.9% dividend yield, which is above the S&P 500 Index average dividend yield.
JPM Stock: Strong Performance in a Difficult Climate
Many big banks, including JPMorgan, have struggled to produce growth in this difficult operating environment. Since interest rates in the U.S. remain near historic lows, it is difficult for banks to increase earnings. Banks like JPMorgan earn a spread between interest paid on deposits and interest collected on loans. The spread between these rates is referred to as the net interest margin, which has declined for JPMorgan because interest rates are so low. For example, JPMorgan's total revenue fell 1.6%, in 2015.
The positive aspect of JPMorgan's huge business model is that it has a lot of flexibility to cut costs. The company reduced headcount significantly last year, which generated $2.0 billion in noninterest expense reductions. This allowed it to generate 13% earnings growth for the full year. Earnings reached $6.00 per share, which set a record for the company. (Source: "JPMorgan Chase Reports Fourth-Quarter 2015 Net Income Of $5.4 Billion, Or $1.32 Per Share, On Revenue Of $23.7 Billion," JPMorgan Chase & Co., last accessed October 4, 2016.)
Rising Interest Rates Are a Growth Catalyst for JPM Stock
The good news for U.S. banks is that the Federal Reserve is likely to raise interest rates once this year, as it did last year. Last December, the Fed hiked interest rates, which was the first such increase in nearly a decade; this has helped banks improve profitability throughout 2016. JPMorgan's net interest income rose six percent last quarter year over year, which drove a 2.8% revenue growth, along with 0.6% growth in earnings per share for the period. (Source: "JPMorgan Chase Reports Second-Quarter 2016 Net Income Of $6.2 Billion, Or $1.55 Per Share," JPMorgan Chase & Co., last accessed October 4, 2016.)
Separately, another key growth catalyst for JPMorgan is the growth of the U.S. economy. As the national economy continues to steadily improve, banks are among the biggest beneficiaries. Economic conditions remain favorable for banks. The housing and labor markets are firm, which is very positive for JPMorgan. In the second quarter, JPMorgan notched 16% growth in loans, which management attributed to strong mortgage issuance in the residential and commercial real estate markets.
In addition, JPMorgan generated 10% growth in retail deposits last quarter, which signifies the U.S. consumer is getting more financially healthy. Now that the unemployment rate has dipped below five percent in the U.S. and home prices are rising across many parts of the country, consumers are on better financial footing. And, due to the drop in gas prices, consumers have more disposable income which they are putting into savings.
JPMorgan Stock: Final Thoughts
JPMorgan stock has a below-market valuation multiple. JPMorgan stock trades for a trailing price-to-earnings (P/E) ratio of 11 and a forward P/E ratio of 10. By comparison, the average P/E ratio in the S&P 500 is approximately 20. It could be that investors remain pessimistic regarding the big banks in light of the Fed's decision to postpone a second interest rate increase. However, higher interest rates are symptomatic of a healthy economy, and are likely only a matter of time.
Not only is JPMorgan an interesting stock for value, but it is also a dividend growth company. With a solid 2.8% dividend yield and a strong outlook for dividend growth, value and income investors may want to add JPMorgan stock to their watch lists for further consideration.