JPMorgan Chase & Co.: Up 92%, with More Upside Ahead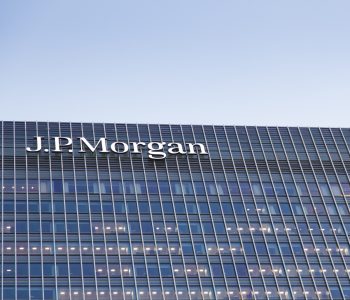 iStock.com/grummanaa5
Solid Returns from Bank Stocks
Over the past couple of years, few recommendations have performed as well as our "Automated Income Codes."
For those of you who aren't familiar, we coined the term "Automated Income Codes" to describe America's elite financial firms. These firms serve as the financial backbone of the U.S. economy, earning steady profits on just about every transaction in the country.
This has created a lucrative income stream. Because these businesses make so much money, they lavish shareholders with oversized dividends and buybacks. And following the recovery from the financial crisis, many of these stocks have delivered triple-digit returns for our readers.
And this could be just the beginning. Last month, JPMorgan Chase & Co. (NYSE:JPM) provided an optimistic outlook at the company's annual investor day presentation. That bodes well for shares and the rest of the banking industry. (Source: "JPMorgan Chase Strategic Update," JPMorgan Chase & Co., February 27, 2018.)
The bank's biggest source of revenue, net interest income, could jump by as much as $2.5 billion in 2018. Executives continue to squeeze savers with low yields on checking accounts, saving products, and certificates of deposit. At the same time, management has already started to jack up interest rates on outstanding loans.
Fee income has also become an increasingly important profit center. JPMorgan grossed $52.2 billion in non-interest revenue (NIR) last year, earning fees on everything from credit cards and auto leases to banking services and asset management. Management projects NIR to grow around seven percent in 2018 and approximately three percent annually going forward.
Along with rising interest rates and fee income, JPMorgan will earn a windfall from President Donald Trump's new tax plan. Executives said last month they would use some of the proceeds to boost wages, expand their business, and lower prices for customers. The majority of the benefits, however, will get passed on to shareholders in the form of higher dividends and share buybacks.
That one-two combo could turn the bank into a money machine. Analysts forecast that the banks's annual net income will come in between $33.0 billion to $36.0 billion in 2018. That's up significantly from the $27.0 billion profit that JPMorgan earned over the 12 months ended in September.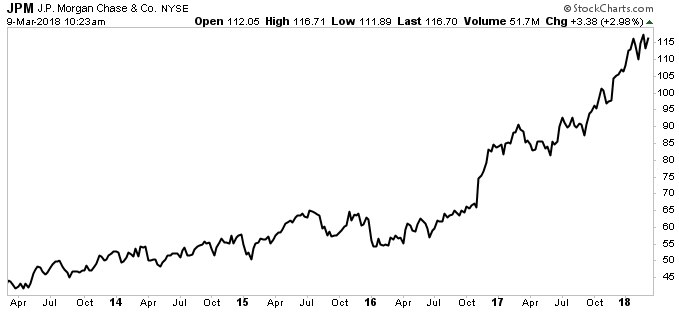 Chart courtesy of StockCharts.com
In other words, expect another strong year from JPMorgan. Since we recommended the shares to our Retirement Riches subscribers, the stock has delivered a total return, including dividends, of 91.7%. We expect more of the same in 2018.