JPMorgan Chase & Co.: Why JPM Stock Climbed 2% on Friday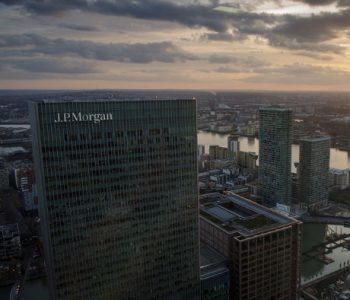 JPM Stock Beats Quarterly Earnings Expectations
JPMorgan Chase & Co. (NYSE:JPM) stock opened up two percent in early market trading Friday after the banking behemoth reported better-than-expected quarterly earnings results. (Source: "JPMorgan's Results Beat Estimates, Propelled by Investment Bank," The Wall Street Journal, October 14, 2016.)
For the third quarter, JP Morgan stock reported $1.58 per share of profit and $25.51 billion of revenue. Both figures beat analyst expectations for JPM stock, which called for $1.39 per share of earnings on roughly $24.0 billion of revenue.
This is not an easy time for banks. With global economic uncertainty rearing its ugly head in the aftermath of the Brexit vote and slow economic growth in the U.S., there is an elevated level of risk in the global financial system. Add to this the pressure that banks are facing from extremely low interest rates and the business climate throughout 2016 is challenging, to say the least.
Nevertheless, JP Morgan stock handily beat forecasts on both the top and bottom lines. Such an impressive performance by JPM stock is a testament to the company's strong business model. Despite the pressure from eroding net interest margin, JP Morgan stock is seeing robust growth across multiple business lines to help it continue to stay highly profitable, even in a difficult environment.
Broad-Based Success on JPM Stock
As the nation's largest financial institution by market capitalization and net assets, JP Morgan Chase & Co has a hand in nearly every financial services business. Nearly every one of them performed well for the company last quarter. JP Morgan generated particularly strong results in its capital markets business, which saw 48% growth in fixed-income-trading revenue. JPMorgan produced record profit in commercial banking, had record loan balances in its asset management division, and reported its highest third-quarter revenue total on record. (Source: "JPMorgan Chase Reports Third-Quarter 2016 Net Income Of $6.3 Billion, Or $1.58 Per Share; 13% Return On Tangible Common Equity," October 14, 2016.)
However, it was not a perfect quarter for JPM stock. The company set aside $1.27 billion in provisions for bad loans last quarter, which was up 86% compared with the same quarter last year. Much of this is due to worsening credit quality within JP Morgan stock's energy portfolio. Due to the crash in commodity prices, defaults are rising among loans made to oil and gas companies.
This is a situation that investors should monitor going forward. But the good news is that the company remains highly profitable and returns lots of cash to shareholders. JPM stock returned $3.8 billion to investors last quarter in dividends and share repurchases. JP Morgan stock has a 2.8% current dividend yield.