JPMorgan Chase & Co., Goldman Sachs Group Inc Surprising COVID-19 Winners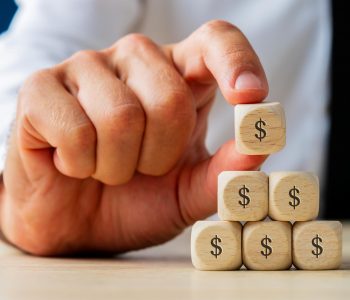 JPMorgan Chase & Co., Goldman Sachs Group Inc Earnings Shock Wall Street Analysts
The COVID -19 pandemic has pushed millions of Americans into bankruptcy. Hundreds of thousands of small businesses will close their doors for good. Analysts have forecasted a mass wave of defaults on loans, credit cards, and mortgage payments.
But you wouldn't know it looking at the latest earnings reports from JPMorgan Chase & Co. (NYSE:JPM) and Goldman Sachs Group Inc (NYSE:GS).
Last week, both banking giants reported numbers that crushed expectations. The financial results have shocked analysts, who generally expected the banking industry to perform in line with the border economy.
They also show a distinctive "two-tier" COVID economy, where Wall Street has thrived while Main Street remains on proverbial life support.
JPMorgan Chase & Co. kicked off earnings season by reporting that quarterly profits have returned to pre-pandemic levels, driven by a big boost from its corporate and investment business.
Management reported that companies have rushed to shore up their finances, raising cash, refinancing debt, and selling shares, in a bid to survive the recession. This saw the company's investment banking revenues soaring 20% year-over-year. Higher trading volumes, driven by the spring spike in market volatility, also padded the bottom line. (Source: "JPMORGAN CHASE REPORTS THIRD-QUARTER 2020 NET INCOME OF $9.4 BILLION, OR $2.92 PER SHARE," JPMorgan Chase & Co., October 13, 2020.)
Goldman Sachs Group Inc did even better. The investment bank reported that third-quarter earnings topped $3.6 billion, crushing the $2.0-billion profit figure analysts had expected.
Management said the company's trading desk reported a 49% year-over-year bump in profits, thanks to heavy volume in products linked to interest rates, mortgages, corporate bonds, and commodities. A slew of initial public offerings, credited to soaring valuations for tech stocks, also added to the company's investment banking transaction backlog. (Source: "Third Quarter 2020 Earnings Results," Goldman Sachs Group Inc, October 14, 2020.)
Goldman Sachs Group Inc's asset management group also surprised analysts. The division posted net revenues of $2.8 billion for the third quarter, up 71% from the same period in 2019. Given the business fees based on a percentage of assets under management, Goldman benefited from soaring stock and bond prices. And with investors rushing to get in on the action, management also reported an uptick in new account openings. (Source: Ibid., Goldman Sachs Group Inc.)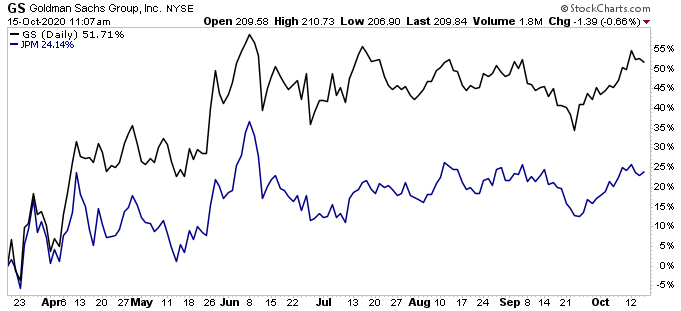 Chart courtesy of StockCharts.com
Yet despite this slew of positive results, JPMorgan Chase & Co. and Goldman Sachs Group Inc can't rest on their laurels.
Both companies have built out large consumer banking and lending operations, which have struggled since the beginning of the COVID-19 pandemic. So far, stimulus measures and unemployment benefits have staved off large-scale defaults. But if Congress can't pass emergency legislation to support households, Wall Street banks will start posting losses.
However, these dire predictions haven't come to pass yet. This has made JPMorgan Chase & Co. and Goldman Sachs Group Inc unexpected winners in this COVID-19 pandemic.