Johnson & Johnson: A Top Dividend Stock for 2020 & Beyond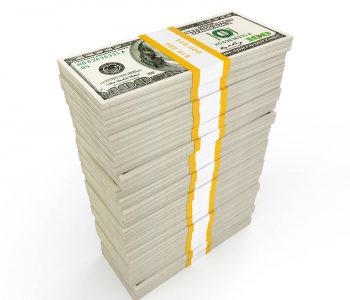 A Dividend Stock Worth Owning Forever?
If your goals for 2020 include investing for passive income, there's one company that you should not ignore: Johnson & Johnson (NYSE:JNJ).
Headquartered in New Brunswick, New Jersey, the company has been around for well over 100 years. It operates through three main segments: "Consumer," "Pharmaceutical," and "Medical Devices." With about 135,000 employees, JNJ is one of the biggest players in the global healthcare industry.
Trading at $149.74 apiece, JNJ stock offers investors a decent annual yield of 2.5%.
Of course, as an established company commanding about $390.0 billion of market capitalization, Johnson & Johnson stock is probably not going to shoot through the roof anytime soon. But JNJ's deeply entrenched market position means it has the ability to return cash to investors.
How much cash does it actually return?
Well, in 2019, Johnson & Johnson paid $9.9 billion of dividends to its shareholders. (Source: "Full Year 2019 Results," Johnson & Johnson, January 22, 2020.)
On top of those dividend payments, the company spent $4.1 billion to buy back its own stock last year. That money was used to reduce the number of shares outstanding, which means each remaining shareholder now gets to own a larger portion of the business.
What's even more impressive is JNJ stock's dividend growth.
Consider this: the company has increased its quarterly dividend rate every year for 57 consecutive years. (Source: "Dividend History," Johnson & Johnson, last accessed February 3, 2020.)
Just think about that for a second. During the past 57 years, the world economy has had plenty of ups and downs. Yet in every one of those years, Johnson & Johnson stock investors collected bigger dividend checks than they did in the previous year.
This also means JNJ is a Dividend King, a title that's reserved for companies with at least 50 consecutive years of annual dividend hikes. Among the thousands of companies trading on U.S. stock exchanges, there are only 28 Dividend Kings at the moment.
And despite raising its payout for decades, JNJ's recent dividend increases have been quite substantial. In just the last five years, the company's quarterly dividend rate went from $0.70 per share to $0.95 per share, marking a total increase of 35.7%.
The best part is, given what the company has been doing, it should be able to raise that payout even further.
Johnson & Johnson: More Dividend Growth Ahead
Johnson & Johnson recently reported its 2019 fourth-quarter results. For the quarter, the company generated $20.7 billion of sales, a 1.7% increase year-over-year. Excluding the net impact from exchange-rate fluctuations, acquisitions, and divestitures, JNJ's adjusted operational sales grew 3.4% year-over-year. (Source: "Johnson & Johnson Reports 2019 Fourth-Quarter and Full Year Results," Johnson & Johnson, January 22, 2020.)
Growth was across the board. In the fourth quarter, the company's Consumer, Pharmaceutical, and Medical Devices segments delivered adjusted operational sales growth of 1.4%, 4.5%, and 2.7%, respectively.
"We delivered strong underlying sales and earnings growth in 2019, driven by the strength of our Pharmaceutical business, accelerating performance in our Medical Devices business and improved profitability in our Consumer business," remarked JNJ's chairman and chief executive officer Alex Gorsky. (Source: Ibid.)
At the bottom line, Johnson & Johnson's adjusted earnings came in at $1.88 per share in the fourth quarter. While the amount represented a 4.6% decline from a year ago, it was more than enough to cover its quarterly dividend rate of $0.95 per share.
In full-year 2019, JNJ generated adjusted net income of $8.68 per share, which was actually 6.1% higher than in 2018. And considering that the company declared and paid total dividends of $3.75 per share in 2019, its payout ratio was just 43.2%.
Such a conservative payout ratio has two implications: first, the dividend is safe; second, if management wants to continue raising the payout, there's plenty of room to do so.
The best part is, Johnson & Johnson is not standing still. In fact, according to the company's latest guidance, 2020 could turn out to be a better year than 2019.
In particular, management expects the company's adjusted operational sales to grow five to six percent for the year. At the same time, JNJ is expected to earn an adjusted profit of $8.95 to $9.10 per share in 2020, which would be a 3.1% to 4.8% increase from 2019.
Bottom line: over the decades, few companies have served income investors better than Johnson & Johnson. And considering what the company has been doing, it should have no problem continuing its track record of dividend growth. As it stands, Johnson & Johnson stock remains a top dividend stock for 2020 and beyond.