John B. Sanfilippo & Son May Declare Special Dividend in 2017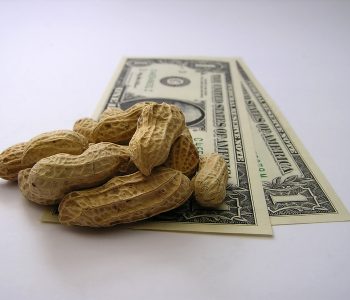 Seller of Nuts Says it Has Generated Record Cash
John B. Sanfilippo & Son, Inc. (NASDAQ:JBSS) may declare a special dividend in the second quarter of 2017 as the seller of nut and dried fruits said its cash position strengthened.
The company announced that its net income for the fiscal year 2016 rose $30.4 million, compared to $29.3 million last year. Its net profit for the fourth quarter of 2016, however, dropped to $7.3 million, or $0.64 per diluted share, compared to $8.5 million, or $0.75 per share, a year ago.
John B. Sanfilippo & Son reported a 4.6% increase in the fourth quarter sales to $231.5 million. Sales volume increased in all distribution channels, and for all major product types except pecans. (Source: "John B. Sanfilippo & Son, Inc. Net Sales Grew by 4.6% to a Fourth Quarter Record $231.5 Million on Strong Brand Performance," Business Wire, August 24, 2016.)
Net cash for 2016 rose to $89.2 million, which exceeded the previous record of $43.4 million in fiscal 2009, the company said.
"As a result of record cash flow, we were in a position to pay a $2.50 special dividend in the first quarter of fiscal 2017," said Jeffrey Sanfilippo, chief executive officer in the earning statement. "As in past years, our Board of Directors may consider declaring another special dividend in the second quarter of our 2017 fiscal year." (Source: Ibid.)
While providing the full-year financial performance, the company said sales in 2016 rose by 7.3% to $952.1 million due to a significant increases in the sales of the company's branded products, the introduction of new items, and increased promotional activity implemented by customers in this channel.
"As was the case in the third quarter, our brands continued to grow significantly in respect to sales volume," Sanfilippo said. "Our consumer channel sales and marketing teams were very effective in executing our most important growth strategy, which is grow our brands." (Source: Ibid.)
The distributor of the Fisher brand of nuts said its gross profit margin fell to 14.5% of net sales in the fourth quarter from 15.5% for the same period a year ago. The company attributed that performance to a, " decrease in gross profit margins on sales of peanuts due to increased processing costs associated with the lower quality of the 2015 peanut crop and on sales of pecans, cashews and macadamia nuts as a result of higher acquisition costs."
John B. Sanfilippo's shares were down two percent in early trading in New York. They've gained eight percent since early last month, trading at $44.44 in New York.