Why Jim Cramer Just Turned Bullish on My Top Dividend Stock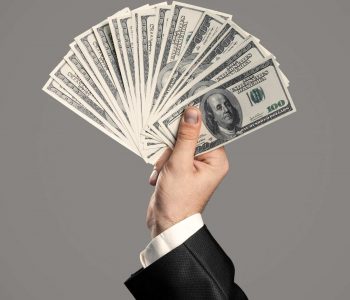 Jim Cramer Pounding the Table on This Top Dividend Stock; Here's Why
It's one of my top dividend stocks in America right now…and apparently popular TV pundit Jim Cramer agrees with me.
The company is Prologis Inc (NYSE:PLD).
Over the past two decades, this real estate investment trust (REIT) has acquired some 4,700 warehouses totaling over 963 million square feet. Altogether, these properties gross more than $275.0 million in monthly rental income. (Source: "Home Page," Prologis Inc, last accessed August 21, 2020.)
Analysts love this type of business. Corporate tenants generally pay their bills on time and tend to sign long-term lease agreements. In many cases, warehouse landlords like Prologis can project their revenue from a particular income property years or decades into the future.
And, unlike residential buildings, the tenants, not the owner, pay for most of the overhead costs, like maintenance, insurance, renovations, and property taxes. This means almost every dollar of rental income flows straight to the bottom line.
But here's the best part: COVID-19 has turned this business into a money machine.
With the government shutting down public spaces, people have turned to online shopping to get essential supplies. Between April and June, U.S. online sales jumped 32% year-over-year according to numbers from the U.S. Department of Commerce.
This has e-commerce companies like Amazon.com, Inc., Wayfair Inc, and Walmart Inc scrambling to hire more workers. (Source: "Report: U.S. Q2 online sales up 31.8%; to account for 14.5% of retail sales in 2020," Chain Store Age, September 4, 2020.)
But this boom in virtual shopping requires a surprisingly large amount of real-world space. E-commerce companies need extra room to keep inventory on hand, package outgoing shipments, and process returned items. Industry experts say that online retailers need an average of three times more warehouse space than your typical brick-and-mortar store. (Source: "COVID-19 Special Report #6: Accelerated Retail Evolution Could Bolster Demand for Well-Located Logistics Space," Prologis Inc, last accessed August 21, 2020.)
All of this is great news for Prologis. Booming demand for warehouse space has translated into low vacancy rates and soaring rents. And in the partnership's most recent quarterly report, management in fact raised their profit outlook for full-year 2020. (Source: "Prologis Reports Second Quarter 2020 Earnings Results," Prologis Inc, July 21, 2020.)
This boom has also resulted in jaw-dropping returns for unitholders.
I first featured this top dividend stock to my Automated Income subscribers back in November 2017. Since then, Prologis has posted a total return, including distributions, of 63%.
Moreover, management has boosted the payout to investors by more than a third over that period. Today, units pay a quarterly distribution of $0.58 per unit, which comes out to an annual yield of 2.3%. (Source: "Annual Common Dividend History," Prologis Inc, last accessed September 21, 2020.)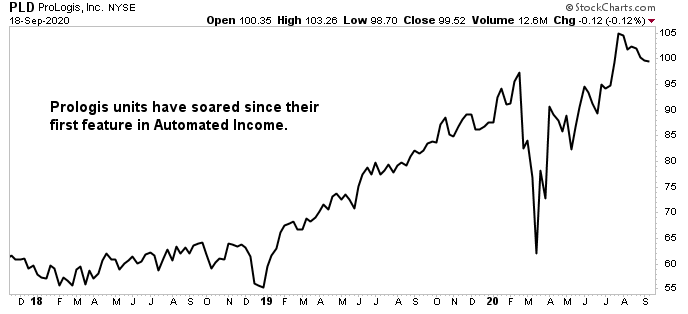 Chart courtesy of StockCharts.com
Now it seems that some of the smartest people on Wall Street have caught on to this top dividend stock, too.
In a recent Mad Money segment, Jim Cramer apologized to viewers for not recommending Prologis sooner. He then pounded the buy button and practically begged his audience to get into this stock. (Source: "Prologis is more prepared to weather this downturn, compared to 2008: CEO," CNBC, April 7, 2020.)
And he's not the only one. In a recent filing with the Securities and Exchange Commission, hedge fund manager Jeffrey Furber revealed a $202.0-million position in Prologis. Other money managers, including Cliff Asness, Israel Englander, and Jim Simons, have also built large stakes.
What could all of these hedge fund honchos see in Prologis? I'd say it means one thing…
There's a lot more upside ahead for this top dividend stock.