JACK Stock: Here's Why Jack in the Box Inc. Is Down Today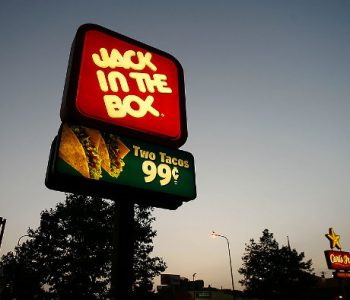 Photo: David McNew / Staff / Getty Images
JACK Stock Tumbles 3.6%
Jack in the Box Inc. (NASDAQ:JACK) has been serving burger lovers for over six decades. Investors in JACK stock have also made decent gains. But on Monday, November 21, JACK stock slipped more than three percent in after-hours trading. Why? Because the company just reported earnings.
The fast food restaurant chain reported fourth-quarter results after the closing bell on Monday. In the three months ended October 2, 2016, the company generated $398.4 million of revenue, up 12.6% year-over-year but slightly below Wall Street's expectation of $398.6 million. (Source: "Jack in the Box Inc. Reports Fourth Quarter FY 2016 Earnings; Issues Guidance For FY2017; Raises Quarterly Cash Dividend By 33%," Jack in the Box Inc., November 21, 2016.)
The bottom line was a nice surprise. For the quarter, adjusted earnings came in at $1.03 per share, a 66.1% increase from the year-ago period, smashing analysts' estimates of $0.88 per share.
"Operating earnings per share for the fourth quarter exceeded our expectations, due primarily to a reduction in G&A costs resulting from our restructuring initiatives, as well as lower impairment charges and a lower tax rate," said Lenny Comma, Jack in the Box's CEO, in a statement on Monday. "We were pleased that Jack in the Box system same-store sales outperformed sluggish industry trends, and although sales and traffic growth at Qdoba were solid, margins were hampered by the impact of new restaurant openings."
Still, JACK stock tumbled as much as 3.6% after the earnings release.
One of the reasons why investors weren't impressed was same-store sales. For the quarter, the fast food chain's same-store sales at company-owned locations rose 0.5% year-over-year, while analysts were expecting a 1.6% increase.
For fiscal 2017, Jack in the Box expects to generate adjusted earnings of between $4.55 and $4.75 per share, while analysts were anticipating $4.75 per share.
Note that the company also announced a quarterly dividend of $0.40 per share, representing a 33% increase from its current payout of $0.30 per share. The dividend will be payable on December 16, 2016 to shareholders of record as of December 5. (Source: Ibid.)
Based on the current price, JACK stock would have an annual dividend yield of 1.63%.
Despite the market's reaction on Monday, JACK stock is still up more than 32% year-to-date.