J M Smucker Co: This Value Stock Is About to Raise Its Dividend Again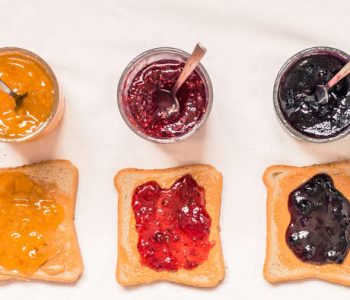 1 Value Stock for Dividend Investors
While income investors are constantly on the lookout for undervalued stocks, most of the time, you get what you pay for.
And that, my dear reader, is why J M Smucker Co (NYSE:SJM) deserves your attention. The company has been running a rock-solid business for over a century and is currently trading at a sizable discount compared to its peers.
The best part is, within the next few weeks, the company will likely raise its payout to shareholders again. Let me explain.
To consumers in North America, J M Smucker Co should be a familiar name. The company is a leading producer of consumer food and beverage products, as well as pet food and pet snacks.
Its consumer product portfolio includes many household names, such as "Smucker's" jam, "Jif" peanut butter, "Robin Hood" flour, and "Folgers" coffee, just to name a few. In the pet food and pet snacks segment, Smucker's brands include "Meow Mix," "Milk-Bone," "Kibbles 'n Bits," "Natural Balance," and "9Lives."
In other words, the company is deeply entrenched in the consumer staples business. If you follow us here on Income Investors, you would know that consumer staples is one of our favorite types of businesses.
The reason is dividend stability. The economy moves in cycles. Things look great right now, but, at some point, there will be another downturn. And in those down times–not to mention recessions–a lot of companies make less money than before.
Dividends come from profits. When a company's profits drop, it could impact their ability to pay a dividend. If you are an income investor with a long-term horizon, then you wouldn't want your portfolio company to cut its payout when times get tough. Instead, you should look for companies that can pay stable dividends through thick and thin.
Reliable Dividends
And that's exactly what SJM stock is capable of. As a consumer staples company, J M Smucker Co is not making some luxury good. Instead, it makes products that people consume on a daily basis.
During a recession, new car sales could see a big drop, but when kids want to have Smucker's jam or Jif peanut butter with their toast in the morning, parents will likely still add these items to their shopping lists.
Therefore, J M Smucker Co can run a stable business through thick and thin. As a matter of fact, the company has been producing jellies and jams for over 120 years. Our economy went through plenty of ups and downs during that period, but Smucker's remained resilient.
To income investors, the company's reliable business has translated to an increasing dividend stream. In fact, Smucker's has raised its quarterly dividend rate every year for the past 16 years. (Source: "The J. M. Smucker Company Announces Dividend Increase," J M Smucker Co, July 19, 2017.)
In just the last five years alone, the company's quarterly dividend rate has grown by 50%. This is particularly impressive, given that J M Smucker Co is a century-old business operating in a slow-changing industry.
SJM Stock Dividend Growth History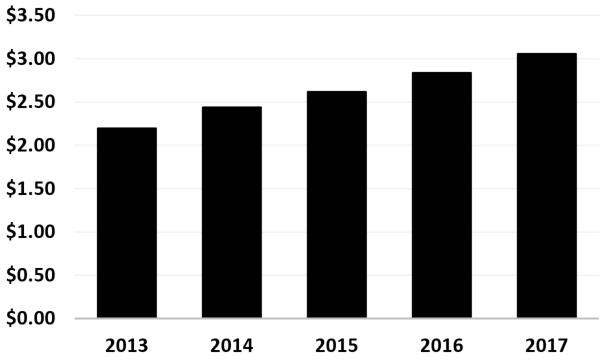 (Source: "Dividend Information," J M Smucker Co, last accessed May 30, 2018.)
Trading at $108.52 apiece, SJM stock offers an annual dividend yield of 2.9%.
And if you are concerned about whether these payout increases might be a bit too aggressive, a look at the company's financials should be reassuring. J M Smucker Co last reported earnings in February. In the third quarter of the company's fiscal-year 2018, ended January 31, the company generated net sales of $1.9 billion, representing a one-percent increase year-over-year. (Source: "The J. M. Smucker Company Announces Fiscal 2018 Third Quarter Results," J M Smucker Co, February 16, 2018.)
The bottom line number turned out to be much more impressive. Excluding nonrecurring items, Smucker's earned an adjusted net income of $2.50 per share, up 25% from the year-ago period. Note that the company's adjusted earnings per share easily covered its quarterly dividend rate of $0.78 per share.
And the best could be yet to come. Management expects Smucker's adjusted earnings per share to come in between $8.20 and $8.30 for full-year fiscal 2018. If the company achieves the midpoint of the guidance range and earns $8.25 per share, its annual dividend of $3.12 per share would translate to a payout ratio of just 37.8%.
A conservative payout ratio like this not only leaves a wide margin of safety, but also creates plenty of room for future dividend increases.
Good Value for Money
When a company has such an impressive dividend growth track record, you'd expect it to be expensive. But that's not really the case for SJM stock.
In fact, J M Smucker Co currently has a price-to-earnings (P/E) multiple of just 6.1 times, significantly lower than the industry's average P/E ratio of 20.8 times. Moreover, the company's price-to-sales and price-to-cash flow ratios are also lower than the industry's averages. (Source: "J M Smucker Co (SJM)," Reuters, last accessed May 30, 2018.)
Smucker's board of directors usually reviews the company's dividend policy in July. Given this value stock's rock-solid business and low payout ratio, I expect Smucker's to announce its 17th consecutive dividend increase in the next month or so.