TD Stock Is a Must-Own for Dividend Investors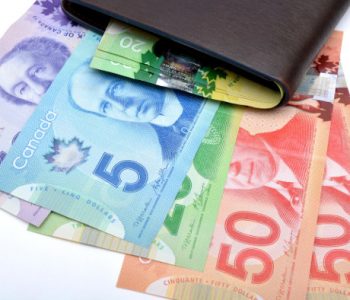 Why Dividend Investors Should Consider This Bank Stock
Dividend investors are not strangers to the financial services industry. But while there are plenty of American banks paying handsome dividends, investors shouldn't ignore this solid company north of the border.
I'm talking about Toronto-Dominion Bank (NYSE:TD), a multinational banking and financial services company headquartered in Toronto, Ontario, Canada. TD stock is listed on both the Toronto Stock Exchange and the New York Stock Exchange, so U.S. investors can purchase shares of TD stock just like they would with an American company.
So, why is TD stock a top pick for dividend investors?
First of all, there's the dividend yield. TD bank currently pays CA$0.55 per share on a quarterly basis. That translates to an annual dividend yield of 3.23%.
What's more impressive is the company's ability to raise its payout. TD stock's dividends have been increasing for decades, and in the past 10 years alone, the bank's quarterly dividend rate has more than doubled. (Source: "Dividends," Toronto-Dominion Bank, last accessed February 1, 2017.)
TD stock's track record of dividend hikes makes the company stand out. As you know, there was a huge crisis in the subprime mortgage market in the U.S. 10 years ago, which led to a full-blown international banking crisis from 2007 to 2008. Lehman Brothers Holdings Inc., the fourth-largest investment bank in the U.S., had to declare bankruptcy. Many banks saw their balance sheet deteriorate, and some had to cut back their dividends. Toronto-Dominion Bank, which has a sizable operation in the U.S., not only didn't reduce its dividends, but was actually increasing them during that period.
In TD stock's case, the key to generate reliable dividends lies in the nature of its business. The company focuses on retail banking. In the fourth quarter of TD's fiscal 2016, Canadian and U.S. retail accounted for 87% of the company's total net income. (Source: "Quick Facts," Toronto-Dominion Bank, last accessed February 1, 2017.)
Retail banking might not sound as exciting as wholesale banking, but having a retail focus gives TD stock a few advantages. You see, setting up branch networks and convincing individual customers to bank with you is a tough task. This means the industry has high barriers to entry. Toronto-Dominion Bank currently serves more than 13-million customers in Canada and more than 8.9 million customers in the U.S. Competition at this level is limited, which allows incumbents like TD to keep generating sizable profits. (Source: "Corporate Profile," Toronto-Dominion Bank, last accessed February 1, 2017.)
Furthermore, retail banking tends to be more recession-proof than wholesale banking. While wholesale banking can be profitable with just a small number of large accounts, their business tends to slow down more dramatically than retail during an economic downturn. As we have seen, by having a retail focus, TD stock not only survived the Great Recession—which many consider to be the biggest downturn since the Great Depression—but was still raising its payout to dividend investors.
TD Stock: Business Still Growing
Retail banking is a relatively slow-changing industry, but TD's business is still growing. In the most recent quarter, TD's total revenue grew 8.7% year-over-year to CA$8.7 billion. The bottom line improved as well, as the bank's adjusted net income increased 7.8% year-over-year to CA$2.3 billion. (Source: "TD Bank Group Reports Fourth Quarter and Fiscal 2016 Results," Toronto-Dominion Bank, December 1, 2016.)
Growing financials is good news for dividend investors. It means that despite all the dividend hikes over the years, the company still has potential to further increase its payout. In fiscal 2016, TD Bank generated CA$4.87 in adjusted earnings per share while paying CA$2.16 of dividends per share. With a payout ratio of just 44.3%, the company has left a sizable margin of safety.
TD stock might not make headlines very often, but it is still one of the top picks for dividend investors.