Is Preferred Apartment Communities Inc.'s 10% Yield Safe?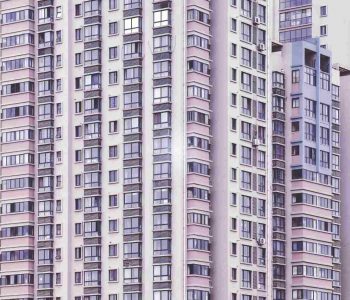 Can You Trust Preferred Apartment Communities Inc.'s Distribution?
I loathe companies that slash their dividends, but once in a while I make an exception.
Firms, after all, tend to resist cutting their payouts to shareholders. So if a management team resorts to a dividend cut, it tends to signal a big problem with the business.
That said, income investors often run for the exits after a company reduces its distribution. So after these announcements, you can sometimes pick up good, albeit slightly damaged, assets for a real bargain. It's like shopping through the "Returned Merchandise" section at Staples.
Case in point: Preferred Apartment Communities Inc. (NYSE:APTS). Traders have gone "Thanos" on this real estate investment trust, sending units of the apartment landlord down more than 50% since the start of the year. But for dividend hunters, that could present an opportunity.
Look, I'll admit that Preferred Apartment Communities faces some challenges, to put it lightly.
Thanks to the COVID-19 pandemic, many tenants have stopped paying rent. In the partnership's first-quarter conference call, management said almost one-third of its residential renters had failed to make their payment last quarter.
So it was no surprise to see core fund flows from operations per share (an important measure of financial performance in the real estate business) plunge seven percent year-over-year. As a result, executives announced that they will cut the quarterly distribution from $0.2625 per unit to $0.175. (Source: "Supplemental Financial Data: Q1 2020," Preferred Apartment Communities Inc., May 11, 2020.)
No doubt that decision will disappoint a lot of unitholders. And around our research office, a dividend cut often makes a firm the corporate equivalent to persona non grata.
The payout reduction, however, has left Preferred Apartment Communities Inc. on a firmer financial footing.
For full-year 2020, analysts project that the business will generate around $50.0 million in fund flows from operations. Admittedly, any forecast nowadays amounts to a glorified coin flip. But Wall Street seems to have baked in pretty much the worst-case scenario.
Over the same period, the partnership expects to send unitholders $38.0 million in distributions. That comes out to a payout ratio of 76%.
Generally, I like to see companies pay out no more than 90% of their profit to investors. That leaves management with a little bit of wiggle room to keep writing checks in the event of a downturn. So in the case of Preferred Apartment Communities Inc., the new distribution sits well within my comfort zone.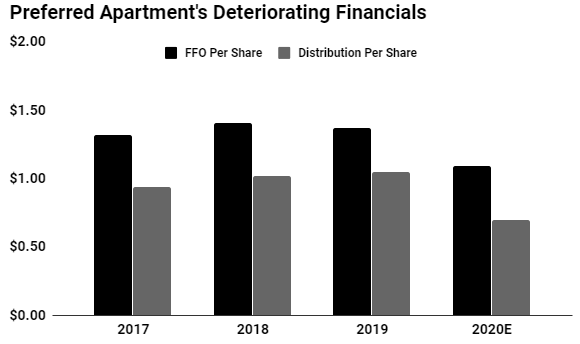 (Source: "Investors," Preferred Apartment Communities Inc., last accessed July 24, 2020.)
Furthermore, patient investors could get rewarded.
COVID-19 won't destroy Preferred Apartment Communities' real estate holdings. The apartments are still there. The student housing is still there. The grocery stores are still there.
Once the pandemic eventually clears, these properties will likely resume generating cash flow. So I wouldn't be surprised to see management restore the partnership's full dividend.
In the meantime, prospective unitholders can cash in on a respectable payout. At current prices, Preferred Apartment Communities Inc. sports an upfront yield of about 10%.
No, it's not the prettiest, but this beaten-up dividend stock could reward investors yet.