Is Microsoft's (NASDAQ:MSFT) Special Dividend Expected Soon?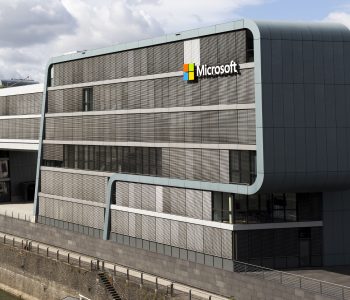 iStock.com/WoodyAlec
Microsoft Special Dividend 2017
For more than a decade, Microsoft Corporation (NASDAQ:MSFT) has been rewarding investors with a steadily increasing stream of dividends. Now, income investors may have something else to look forward to: special dividends. With a potential repatriation tax holiday, the multinational software giant could bring some of its overseas cash back to the U.S. Will MSFT stock issue a special dividend? In this article, we are going to take a look at everything you need to know about the possibility of a Microsoft special dividend in 2017.
Special Dividend Announcements in 2017
As the name suggests, a special dividend is a payment that's separate from a company's regular dividends. Regular dividends are recurring and sticky. When a company declares a regular dividend rate, the expectation is that it will keep paying at least this much going forward. When a company issues a special dividend, on the other hand, there is no such implication. The expectation is that it's going to be a one-off payment.
Even though these are one-time distributions, special dividends can be great for income investors. After all, who wouldn't want to have some extra cash deposited into their bank accounts?
Moreover, special dividends tend to send a positive message about the companies paying them. When a company announces a special dividend, it could be that the company just had an extraordinary year, or it has built up a huge pile of cash. And because these payouts are not expected by market participants, a special dividend announcement can sometimes lift a company's share price as well.
So far into 2017, there have been quite a few companies that have already paid special dividends. These include some familiar names to income investors, such as Ford Motor Company (NYSE:F), Cracker Barrel Old Country Stores, Inc. (NASDAQ:CBRL), and Costco Wholesale Corporation (NASDAQ:COST).
Microsoft as a Dividend Stock
For income investors, tech stocks are probably not the first ones to come to mind when they are looking for names to add to their dividend portfolios. Dividends are paid in cash, and due to the fast-changing nature of the tech sector, many companies have to reinvest their cash just to keep up with the latest developments.
And that's why MSFT stock is special. Even though the company operates in a fast-changing industry, Microsoft has established itself as a solid dividend stock over the years.
The company started paying quarterly dividends in 2004 and has increased its payout every year since then. This makes MSFT stock a member of the "dividend achievers," a group of companies that have raised their dividends for at least 10 consecutive years.
The chart below shows Microsoft stock's annual dividend payout since 2010.
Also Read:
MSFT Stock: Yield, Dates, Splits, Prediction, and Everything You Need to Know
Microsoft Stock Dividend History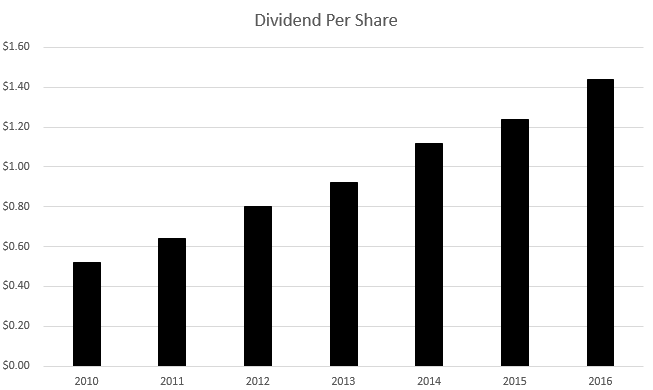 Source: "Dividends and Stock History," Microsoft Corporation, last accessed September 18, 2017.
As you can see, MSFT's dividend increases have been nothing short of impressive. In 2004, Microsoft's quarterly dividend rate was $0.08 per share; today, the amount is $0.39 per share. That's an increase of 388%, or a compound annual growth rate of 14%. What makes Microsoft even more special is that when many companies fell deep into the doldrums during the financial crisis of 2008, Microsoft was still raising its payout to investors.
Now that we know Microsoft has a solid history of paying regular dividends, let's take a look at its special dividends.
Will MSFT Issue a Special Dividend?
If you started following Microsoft stock only recently, you may not think of it as a contender for paying special dividends. At the end of the day, the rapidly growing tech sector demands constant reinvestment of profits, right?
Well, while it's true that tech companies have to reinvest quite a bit for the future, Microsoft is capable of paying special dividends. As a matter of fact, the company has already done it once, and it made headlines.
On July 20, 2004, Microsoft announced that it would pay a special one-time dividend of $3.00 per share, for a total of $32.0 billion. (Source: "Microsoft Outlines Quarterly Dividend, Four-Year Stock Buyback Plan, And Special Dividend to Shareholders," Microsoft Corporation, July 20, 2004.)
Considering that Microsoft stock was trading at around $28.00 apiece at that time, a $3.00-per-share special dividend translated to a onetime yield of 10.7%.
Because of the size of the company's special dividend and its large shareholder base, Microsoft's onetime payment received national attention. The U.S. Commerce Department estimated that approximately 75% of that special payout were deposited to the bank accounts of individual investors (as compared to institutional investors), boosting personal income on a macro level. (Source: "How large are the impacts of the Microsoft special dividend payments?," Bureau of Economic Analysis, December 6, 2005.)
MSFT stock's special dividend announcement came after a major tax holiday. In 2003, President George W. Bush's administration persuaded Congress to cut the maximum tax rate on dividends from 35% to 15%. The tax cut, they argued, would encourage many companies to distribute more profits to shareholders. (Source: "Microsoft to Dole Out Its Cash Hoard," The Wall Street Journal, July 21, 2004.)
Of course, past performance does not guarantee future results, especially when it comes to one-time special dividends. So the big question now is, will there be an upcoming special dividend from the Redmond, Washington-based tech giant?
Well, based on the company's financials and the current policy environment, it is possible for Microsoft to announce another special dividend.
The keyword here is "cash." One of the most common reasons why companies may choose to pay special dividends is to return cash to investors.
And Microsoft has a lot of cash. According to the company's most recent earnings report, its total cash, cash equivalents, and short-term investments was $133.0 billion by the end of June. (Source: "Earnings Release FY17 Q4," Microsoft Corporation, July 20, 2017.)
Now, I know what you are thinking: after building up such a huge cash pile, why hasn't the company paid a special dividend already?
The answer is that most of the cash is stored overseas. If Microsoft wants to bring that cash back, it would be facing the U.S. corporate tax rate of 35%. In fact, many multinational corporations have huge amounts of cash stored overseas for this reason. Apple Inc. (NASDAQ:AAPL), for instance, has more than $260.0 billion in cash, most of which is stashed outside of the U.S. (Source: "Apple Inc. Condensed Consolidated Statements Of Operations," Apple Inc., last accessed September 18, 2017.)
Here's the neat part: President Donald Trump has proposed to cut the U.S. corporate tax rate from 35% to 15%. Moreover, his tax reform plan includes a onetime tax rate of just 10% on the profits of American companies that want to bring their foreign cash back to the U.S. (Source: "President Trump weighs steep cuts to corporate tax rates, repatriated earnings," CNBC, April 25, 2017.)
This could be a big deal for Microsoft stock. If President Trump's tax repatriation holiday comes into effect, Microsoft would be able to bring its more than a hundred-billion-dollar cash pile back to the U.S. If the company decides to use, say, just $50.0 billion to pay a special dividend, it could result in a per-share payout of $7.14. At the current price, that's a potential yield of 9.5%!
So for investors wondering whether there will be a Microsoft special dividend in 2018, the answer is that it will depend on the fate of President Trump's tax reform plan. If the plan goes through, a sizable onetime payout from the maker of "Windows" will be something investors can look forward to.
Final Thoughts on Microsoft Stock
At the end of the day, keep in mind that while a special dividend would certainly be nice, Microsoft's regular dividends should already make the stock worth considering. In an earlier analysis of the company's dividends, I discussed why Microsoft would likely announce another dividend increase sometime this September. So sit tight, as the good news may arrive at any minute.