Is Iron Mountain Inc's 10% Yield Safe?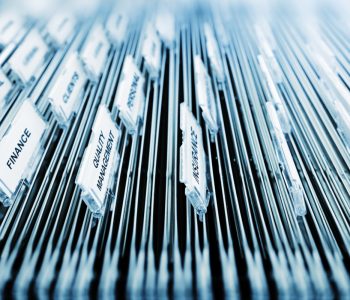 Can You Trust Iron Mountain Inc's Dividend Payout?
The COVID-19 crisis has hammered income investors.
Hundreds of blue-chip companies have slashed or suspended their dividends in recent weeks. But even in a downturn, companies that provide the basics continue to thrive.
Case in point: Iron Mountain Inc (NYSE:IRM). Analysts have long prized this document storage company for its annuity-like cash flows. That has allowed Iron Mountain stock to reward investors through previous downturns.
But will the same thing play out in this recession? Let's dive into the financials.
First off, Iron Mountain has soldiered through the coronavirus pandemic relatively unscathed. Governments have widely labeled the partnership's data center and record storage businesses as essential services. So worldwide, 96% of Iron Mountain's facility have remained open. (Source: "Investor Presentation Q2 2020," Iron Mountain Inc, last accessed June 25, 2020.)
This has allowed the business to post respectable financial results. Iron Mountain's second-quarter top-and bottom-line numbers beat Wall Street expectations. And on a constant-currency basis, the partnership even managed to grow revenues 3.2% from the same period in 2019.
Admittedly, those kinds of numbers won't knock your socks off. But given that many businesses have shut their doors in recent months, any kind of growth whatsoever looks exceptional.
All of which leaves IRM stock's dividend on solid ground.
For 2020, management projects the adjusted fund flows from operations to come in between $930.0 and $960.0 million. Based on the current distribution, Iron Mountain stock will pay out around $750.0 million to unitholders over the same period. (Source: "Supplemental Financial Information Fourth Quarter 2019," Iron Mountain Inc, last accessed June 25, 2020.)
That comes out to a payout ratio of about 80%. Generally, I like to see companies pay out less than 90% of their cash as distributions, just to leave themselves with some wiggle room in the event of a downturn. So Iron Mountain's dividend sits well within my comfort zone.
Of course, you can't call IRM stock a slam dunk.
Iron Mountain Inc has earned steady income from services like shredding and document retrieval. But due to a nationwide lockdown and the growing remote-work trend, those revenues have dried up. That will likely limit management's ability to boost the partnership's payout in the coming year.
Iron Mountain unitholders, however, probably won't mind. With an upfront yield of 10%, investors can still earn a respectable return with or without any growth.
That's the benefit of investing in companies that provide the basics.