Is Altria Group Inc's 7.3% Yield Safe?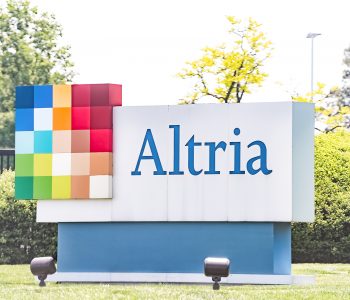 iStock.com/krblokhin
Can Investors Really Trust Altria Group Inc's Dividend?
Altria Group Inc (NYSE:MO) used to rank as one of the most popular stocks among income investors. In recent years, however, the once-safe cigarette company has burned dividend hunters.
Falling volumes, poor acquisitions, and new competition have spooked investors. Since Altria stock hit an all-time high in July 2017, its shares have lost more than a third of their value. Analysts fear the worst has yet to come.
But the recent downturn may have created an opportunity. With MO stock trading near multi-year lows, it now yields 7.3%. That represents an attractive payout in a world of zero-percent interest rates.
But can such a high yield possibly be safe? Let's dive into the financials.
First, Altria's profits remain far more robust than the headlines suggest.
Last year, earnings came in at $3.99 per share. From that, management paid out $3.00 in dividends. (Source: "Altria Reports 2018 Fourth-Quarter and Full-Year Results; Provides 2019 Full-Year Earnings Guidance," Altria Group Inc)
That comes out to a payout ratio of 75%. Generally, I like to see companies pay out 90% or less of their profits as dividends, so this figure sits well within my comfort zone.
Moreover, those earnings should continue to grow.
Analysts forecast U.S. cigarette volumes to keep dropping, even slightly faster than the rate of decline in previous years. Yet Altria has managed to consistently raise its prices to offset lower smoking rates.
New acquisitions could soon pad the company's bottom line, too. In recent years, Altria executives have made large investments in e-cigarettes and marijuana.
Overall, the street is looking for Altria to grow its earnings per share at a mid-single-digit annual clip over the next five years.
Sure, that's a big slowdown from what the company posted in the previous decade. But a growing income stream ensures that management has plenty of cash flow to keep paying investors.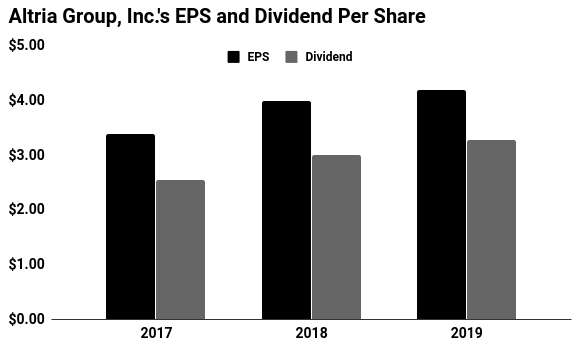 (Source: Yahoo! Finance, last accessed October 29, 2019.)
So what could go wrong here? A lot of things.
With the introduction of e-cigarettes, Altria has lost market share. Executives have spent billions of dollars on new acquisitions just to replace declining sales. Marijuana legalization could bite into cash flows further.
And some of those acquisitions might not pay off. Just recently, the company's vaping business, Juul Labs, Inc., announced a management shakeup. The maneuver suggests that Altria's investment in the fast-growing company has stalled amid mounting health and political concerns.
All those factors explain why Altria Group Inc sits at the wrong end of its 52-week trading range.
The business, however, still gushes cash flow. Its payout, therefore, looks safe for now.