Bullish, 4.6%-Yielding Iron Mountain Stock Up 19.5% Year-Over-Year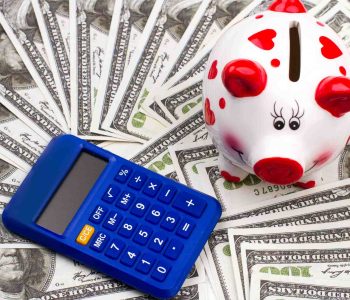 IRM Stock Up in Price & Still Has Room to Run
Iron Mountain Inc (NYSE:IRM) is an excellent high-yield dividend stock that's often derided by online talking heads as being overpriced and ripe for a pullback. But frankly, the pessimism doesn't add up.
In fact, Iron Mountain stock has been on a great run since it went public in early 1996. That's 26 years of providing investors with financial growth. In addition to high capital appreciation, IRM stock provides investors with reliable dividends, which currently stand at $2.47 per share, for a yield of 4.6%.
Just how well has Iron Mountain stock done since its initial public offering (IPO) on January 31, 1996? With dividends reinvested, IRM stock has posted total returns of 3,933%. Over the same time frame, the S&P 500 has posted returns of just 525.6%.
As of this writing, Iron Mountain stock is up by:
22% since the beginning of October
Five percent year-to-date
Five percent year-over-year
Technical traders might not like that IRM stock has formed a double top (a bearish pattern that forms after a stock hits a record level twice but fails to break through) this year, but that had more to do with macroeconomic headwinds and investor pessimism than anything going on at Iron Mountain Inc.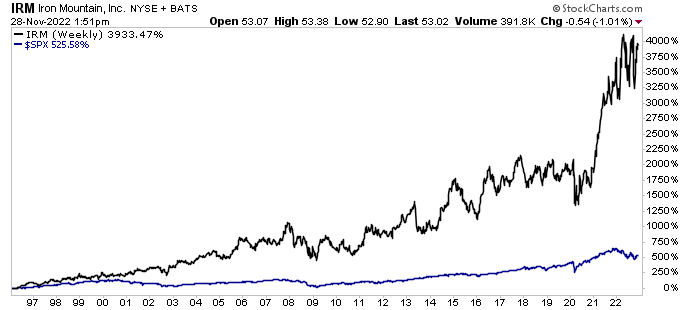 Chart courtesy of StockCharts.com
Despite the bearish near-term double-top formation, the long-term outlook for Iron Mountain stock is bullish. Wall Street analysts have provided a 12-month share-price target in the range of $59.40 to $63.00. This points to potential gains in the range of 12% and 19%. Both target prices are in excess of IRM stock's 52-week high of $58.61.
About Iron Mountain Inc
Iron Mountain is the global leader in storage, asset lifecycle management, and information management services. The company stores and protects billions of valued assets, including critical business information, highly sensitive data, and cultural/historical artifacts. It has about 225,000 customers worldwide (including 95% of the Fortune 1000) and a customer retention rate of 98%. (Source: "Investor Event & Site Tour," Iron Mountain Inc, September 20, 2022.)
Iron Mountain's real estate network includes 1,380 facilities in 63 countries comprising 95 million square feet (730 million cubic feet of physical volume). That's the equivalent of 2,180 acres or 1,650 NFL football fields.
In January, Iron Mountain closed on its acquisition of ITRenew, a global leader in mission-critical data center lifecycle management solutions, for $725.0 million. (Source: "Iron Mountain Closes Acquisition of ITRenew," Iron Mountain Inc, January 26, 2022.)
This acquisition provides Iron Mountain with significant opportunities to capitalize on the large and growing asset disposition market. Management estimates that the IT asset disposition total addressable market is $30.0 billion and that this market will expand at a compound annual growth rate (CAGR) of 11% over the next five years.
On November 17, Iron Mountain announced that it had expanded its data center footprint through the acquisition of XData Properties, one of the largest data center parks in Madrid, Spain. The Madrid property has enough power to eventually develop 79 megawatts in the coming years. In addition to the existing three-megawatt data center already on site, there are plans to build a 20-megawatt data center, with a 2024 completion date. (Source: "Iron Mountain Data Centers Expands EMEA Footprint," Iron Mountain Inc, November 17, 2022.)
Iron Mountain also announced that it had expanded its North American data center footprint with its purchase of a 10-acre land parcel and substation in Phoenix, AZ to develop a 36-megawatt, 230,000-square-foot data center called "AZP3." The Phoenix property is adjacent to Iron Mountain's existing 39-acre campus that houses its "AZP1" and "AZP2" data centers. (Source: "Iron Mountain Data Centers Expands Footprint in North America," Iron Mountain Inc, November 17, 2022.)
Phoenix is one of North America's leading data center markets in large part due to fiber infrastructure, relatively low costs, and a low risk of disasters compared to other markets. Phoenix currently has more data center projects planned or under construction than any market other than Virginia.
Record Financial Results in Third Quarter
For the third quarter ended September 30, Iron Mountain reported total revenue of $1.3 billion, a 13.9% increase over the $1.1 billion it reported for the same period of last year. Excluding the impact of foreign currency exchange, the company's total revenue went up by 18.2% year-over-year. (Source: "Iron Mountain Reports Third Quarter Results," Iron Mountain Inc, November 3, 2022.)
The company's net income went up significantly in the third quarter to $192.9 million, or $0.66 per share. That's compared to $68.1 million, or $0.23 per share, in the third quarter of 2021. Iron Mountain Inc's adjusted earnings before interest, taxes, depreciation, and amortization (EBITDA) went up by 16.5% year-over-year in the third quarter to a record $469.4 million.
Iron Mountain Inc's funds from operations (FFO) went up by 5.6% year-over-year in the third quarter to $0.76 per share. Its adjusted FFO climbed by 9.3% year-over-year in the quarter to $288.0 million, or $0.98 per share.
Iron Mountain Inc's year-to-date net income was $436.5 million, or $1.49 per share. That's compared to $391.3 million, or $1.34 per share, in the first nine months of 2021. Its year-to-date normalized FFO grew by 7.2% year-over-year to $2.17 per share. The company's year-to-date AFFO increased by 10.5% year-over-year to $823.1 million, or $2.82 per share.
William L. Meaney, Iron Mountain Inc's president and CEO, commented, "We are pleased to report a set of very strong results for the third quarter, including all-time record Adjusted EBITDA and AFFO. As we shared with the market at our Investor Event in September, we have set out a path for our growth trajectory with Project Matterhorn." (Source: Ibid.)
In September, the company unveiled its "Project Matterhorn" growth target of annual revenue of $7.3 billion for 2026. This represents a compound annual growth rate (CAGR) of roughly 10%. (Source: Iron Mountain Inc, September 20, 2022, op. cit.)
Iron Mountain Inc is also targeting adjusted EBITDA of $2.5 billion and adjusted FFO of $1.5 billion. To get there, the company plans to invest 16% of its revenue (roughly $4.0 billion) over the next four years. That kind of transformation will result in one-time costs of $150.0 million per year from 2023 to 2025.
The Lowdown on Iron Mountain Stock
Iron Mountain Inc is a tremendous real estate stock for both income and growth. The company has a rock-solid balance sheet, it recently reported record quarterly adjusted EBITDA and AFFO, and it continues to expand its international operations.
Management expects the good times to continue, projecting that the company's total 2022 revenue will climb by up to 17%, its adjusted EBITDA will advance by at least 10%, and its adjusted FFO per share will grow by six percent to 10%.
That bodes well for the value of IRM stock.